Screen sharing is a vital part of live videos and videos on demand. It's how people show their presentations online, their stats, reports, images and so on. It's also a great way to create tutorials and teach others how to do something on their computers. The audience gets to see you in action and it helps them learn faster. Since it's a common question from our community, we decided to write this blog post to help you share your screen on Facebook live, the easy way.
There are different ways to share your screen on Facebook live, such as extensions, apps, software and some people still turn their cameras around and record their desktop screens. We definitely do not recommend that last one, because the brightness of the screen makes it very hard to get any quality on your footage. Your viewers need to be able to see the screen properly. You need the right tool to screencast your desktop with quality and ease.
On this blog post, we'll discuss 2 ways of screencasting your desktop on Facebook. The first one is with a Chrome extension and the second is with ManyCam, a live streaming software.
Chrome Extension
If you are a Chrome user and want to share your screen on Facebook, they offer you a chrome extension that allows you to do that. To use the extension Facebook Screen Sharing, all you need to do is install it before your live video and you'll get a button "Share Screen" on the UI. But don't expect too many options, because this extension has limited functions. You can only choose the entire desktop or entire windows.
Another set back with this extension is that even if you don't plan to appear on camera, you'll need a webcam to be able to go live. So, if you are planning to share your screen on Facebook live with this extension, make sure you have your equipment set up. Apart from that, the great thing about this option is its practicality, because it will always be right there on your browser. If you use Chrome. For any other browser, Facebook doesn't offer a solution like this.
Software for Screencasting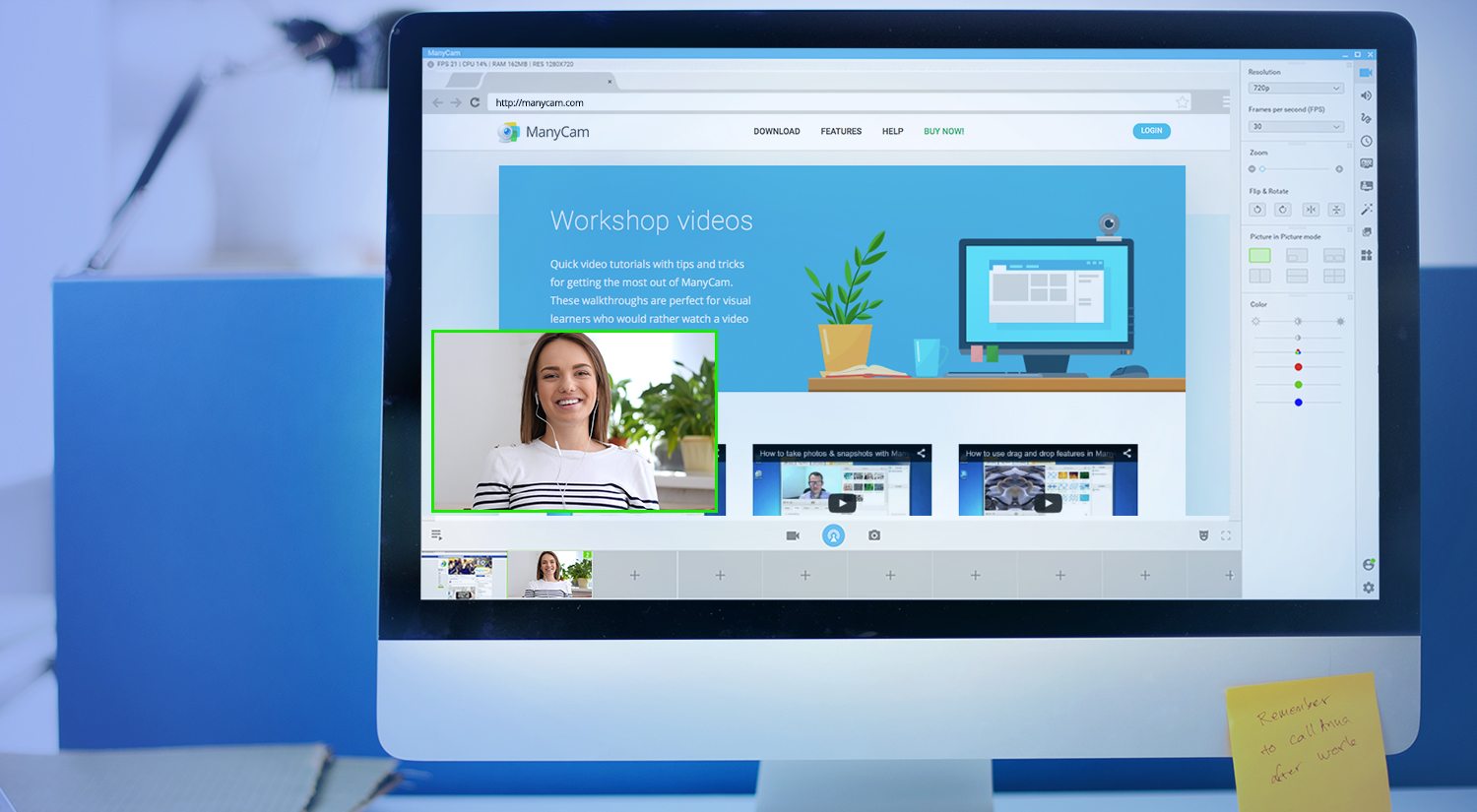 An easy, yet powerful option when it comes to screen sharing on Facebook is a software like ManyCam. Although it also requires installation and setup, it will work on any browser. A live streaming software like this also gives you more options when it comes to screencasting.
Apart from screencasting your entire desktop, you can select a custom area of your desktop to share or you can share whatever is under your cursor, which allows people to follow your moves. You can also choose apps or windows as the screen sharing option.
Get the free version here to give it a try!
Since ManyCam is also a virtual webcam, that means you can stream your desktop without having a webcam or any other equipment. Before you start your Facebook live, Facebook will see ManyCam as your webcam and connect to it.
With ManyCam, you'll have access to text and drawing tools when you're sharing your screen on Facebook. It helps to drive the attention of your audience to what you're showing them.
Have a closer look at each of the screencasting option here.
Having a software makes it easier for you to switch between different video sources, like showing your computer screen and switching to your webcam view. Better yet, you can have a Picture in Picture, so you keep your webcam view on the corner of your broadcast. Possibilities are endless when you have a software to manage your live video.
In Summary
Though the extension is practical, it can also be very limiting. When it comes to live video, you need the right technology to help you bring forward your best. Having more options can help you create engaging and clear live videos when you share your screen on Facebook live. Make sure you give ManyCam a try today! It's free!

Here are other blog posts that you might like:
Creating live streams is time-consuming. When you invest your time, you want to make the most out of it. That means reaching as many people within your target audience as you can. When you go live on Facebook and YouTube at the same time, you'll double your exposure…  (Continue reading)
Most likely, you already know you need live video on Facebook. But coming up with new Facebook Live ideas can be tricky….  (Continue reading)