In the YouTube live vs Facebook live battle, here is how can you choose the best platform for your content!
Live streams are now, mainstream. Live video has grown faster than most mediums because it establishes a real-time connection and facilitates a conversation between the streamer and the audience. Nowadays, most social media platforms and video platforms allow you to stream live video. But, between the 2 major platforms, YouTube and Facebook, which one is actually the best for you to live stream to? On this blog post, we'll talk about YouTube live vs. Facebook live. Here, you'll find a side-by-side comparison between Facebook and YouTube, to help you decide where to focus your live streaming efforts as a brand or individual.
Regardless of the platform, you prefer, keep in mind that they are the 2 biggest platforms out there. If you want to build an online audience, it's wise to have an online presence on both. You can share different content on each of them, but for live streaming events and intricate live videos, you can and should go live on both platforms at the same time. This way, you'll be able to take advantage of each platform's best qualities.
On the other hand, for more spontaneous live video content or a more specific type of content, you might be better off choosing one of the 2 platforms. As we'll see below, Facebook has its own upsides and so does YouTube.
Want to enhance your live streams and create engaging content? Download ManyCam for free today to get the live video tools you need!
Side-by-side YouTube live vs Facebook live Live Comparison
Facebook users vs. YouTube users & Viewing time

As far as active users go, Facebook has 1.9 billion per month and YouTube has "only" 1.3 billion. But, Facebook users are not there only for videos, they might be engaging with their friends, checking their news feed, reading articles, visiting pages and groups etc. Whereas, YouTube users are on the platform mostly to watch on-demand or live videos. That's why, when it comes to video's viewing time, YouTube is still ahead, but not by far.
Live Streaming – Technical comparison YouTube live vs Facebook live
When it comes to the technical side of the YouTube live vs Facebook live comparison, the differences are more significant. The first thing you'll notice is that Facebook's settings for live video are much more limiting than on YouTube. While on YouTube live you can choose between a wide range of resolutions and bitrates, on Facebook you can't go above 720p. Although 720p gives you a good video quality for live streaming, it's not the best.
Based on the progress of live streaming and video content in general, it's safe to say that things are going towards higher quality and longer videos. Which means Facebook needs to step up their game. Though, it's understandable that YouTube has better video settings because it's a video platform after all.
On both platforms, it's possible to get stream keys that allow users to use other software for live streaming or tools and create more professional live streams. They also allow users to stream to their own website or anywhere with the embed link. To either Facebook or YouTube, you can stream live videos from your mobile phone, which is essential for spontaneous live streams on the go.
Another crucial difference between YouTube live vs. Facebook live is the monetization process. YouTube makes it easier for content creators to get paid when live streaming, through ads, sponsors and fans' support (super chats). Although not every channel is eligible for it. If your goal is to generate a revenue with your live streams, then, YouTube might be a better option. On Facebook, you can also have ads and shared revenue, but it's not so simple.
YouTube live vs Facebook live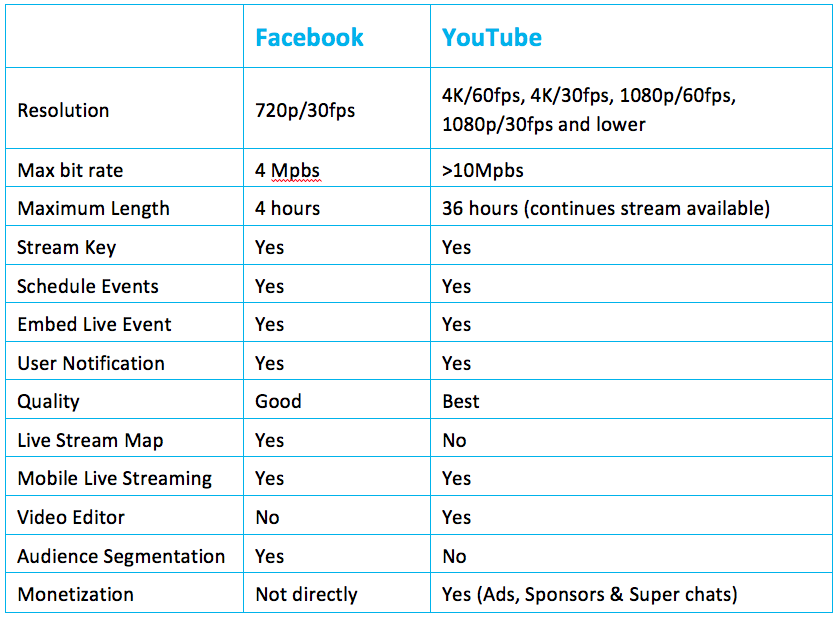 Sources: YouTube Statistics & Facebook video statistics 
Best Live Streaming Platform Overall – YouTube live vs Facebook live
Considering all tools and settings, YouTube is a more professional platform for live streaming. It has video editing and managing tools, which are important if you want to consistently create video content.  As mentioned before, YouTube is a platform dedicated to video, and users go there to find videos of their interest. More than that, when someone subscribes to your channel, it means they want to see your videos. While people that follow your page on Facebook, aren't necessarily there for your videos.
On top of all the settings options, YouTube videos are easily indexed by search engines, which means your videos are "searchable". Even after your live video is over, people can find it on Google when searching for something related. While Facebook content is mostly discoverable within the platform itself, and sometimes, not even. Facebook videos rarely show up on the first page of google searches, unless the search has the term Facebook in it.  
A video on YouTube has a longer lifespan because YouTube prioritizes view time and relevance. So, even after a while, your video can show up as suggestions for viewers. Whereas Facebook content is short-lived, because Facebook will always show the latest posts. The discoverability of videos on YouTube is one of their main advantages, but when it comes to the actual live video both platforms will favorite live video. Live video has the upper hand and will show up first on news feeds and searches.
So, why use Facebook live?
Facebook also has its advantages, since it's THE most popular social media platform in the world. Chances are, you already have followers on Facebook as a business or individual, and you can connect with this audience through live video. Whereas, if you decide to start a channel on YouTube, you'll start with 0 followers.
On Facebook, you can leverage the audience you already have and engage with them. If they like your live videos, they might share it with their friends, friends or friends and so on. It's easier to share things on the same platform. For example, when you're live on Facebook, people can share it on the same platform and others will also watch it there. On YouTube, they would have to share it to other platforms. Then, their friends would have to click on it and go back to YouTube.
Other Facebook Live advantages over YouTube
Another great advantage of Facebook live vs YouTube live is the notification system. While Facebook sends out multiple notifications to your followers, YouTube will send an email and maybe push notifications in the app. When you schedule a live stream, Facebook will notify your followers 1 hour before, 20 minutes before and 1 minute before you go live.
On Facebook, is also easy for your audience to engage with you or your brand and they can even use the "Reactions" instead of just liking the video. What's more, you can be really specific when it comes to audience segmentation. So, you can choose who you want to share that live video with, which will also increase engagement if you target the right audience.
Last but not least, Facebook has a Facebook Live Map which is a really cool feature. It shows you all the live streams happening on Facebook around the world. You can also see how many people are watching each of them and where they are watching from. Like this: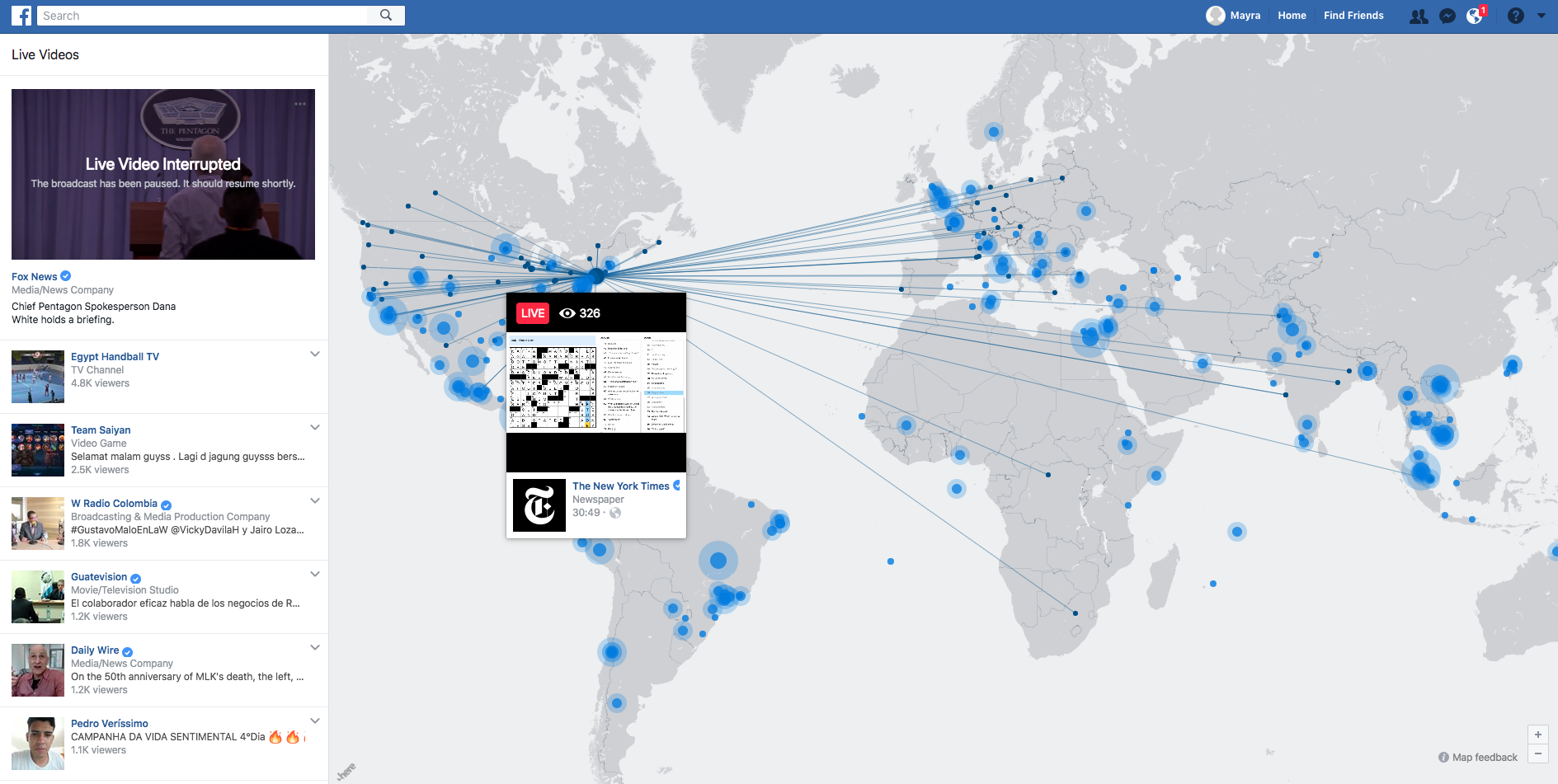 As we can see, each platform has its own upsides and it can be hard to choose between a YouTube live vs Facebook live session. The decision has to come down to your goals with your live stream. In other words, if your goal is monetization, YouTube will probably be the best option. On the other hand, if you want to reach and engage your existing audience, a Facebook live will help you out more. You can always go live on multiple platforms if you feel it's going to be to your benefit.
In Summary
There are many other social media and video platforms that support live streaming, like Twitter, Instagram, Vimeo and many more. Or others that are specifically live streaming platforms, such as Twitch.tv and YouNow. At the end of the day, you'll need to be where your audience is. If you are in a specific niche, Game streaming, for example, Twitch will probably be the place to go. In the battle between YouTube live vs. Facebook live and all the other platforms, each will have their upsides and setbacks, so the decision lies with what's important for your live videos and where your audience is (or could be).


Here are other blog posts that you might like related to YouTube live vs Facebook live:
Creating live streams is time-consuming. When you invest your time, you want to make the most out of it. That means reaching as many people within your target audience as you can…  (Continue reading)
Most likely, you already know you need live video on Facebook. But coming up with new Facebook Live ideas can be tricky….  (Continue reading)