English is one of the most relevant languages around the world. In many countries, this language is part of the mandatory curriculum for young kids. It's no coincidence that teaching English as a Second language (ESL) online has grown exponentially in popularity. Since there are many new teachers out there, we've put together this list of online ESL teaching resources for beginners to help you get started.
Online teaching challenges
Generally speaking, online teachers often deal with:
Inattentive, disengaged or uninterested students

The struggle to come up with new classes

Software issues and technical limitations
If you are just starting as an online teacher, most likely, you'll encounter some of these hurdles. Or maybe you already have, and that's why you are here. Either way, despite its challenges, being an online teacher can be extremely rewarding. Plus, with the right resources, it doesn't have to be as complicated as people set it out to be.  
Online ESL Teaching Resources
Live Streaming Software
Most teaching platforms have limited tools when it comes to live video functionalities, which is to be expected since they focus on establishing the connection between the teacher and the student. When it comes to online ESL teaching resources, this is the one to beat. Having an application specifically to enhance your live video will take your online class to a whole new level.
ManyCam for Education
ManyCam can be connected to your teaching platform as a virtual webcam, allowing you full access to every feature available*. Which means, you'll be able to:
Add multiple video sources to your lesson, from pre-recorded videos and images to your desktop or other cameras.

Apply effects, backgrounds, overlays, and digital props while teaching live.

Write and draw on your screen, add a countdown, tweak your video settings and much more.

Record classes and take snapshots
*Depends on your subscription
Each tool helps you create engagement and keep students focused on your class. They also make it easy for you to come up with new classes, prepare in advance and be more productive.
Don't take our word for it, take it from your fellow teachers. Here is what VipKID's Teacher Elly said about ManyCam:
"I love that ManyCam keeps my students excited and engaged in the lesson material! They are always eager to come to class and participate in the lesson I've prepared.ManyCam has helped me maintain a 100% positive rating and a very high rate of parent ratings." – Teacher Elly, ManyCam for Education
Download the free version and give it a try.
Drive students focus with Digital Props
Another fantastic online ESL teaching resource is digital props. Adding objects and images to your classes can help students learn the most and keep them engaged.
For instance, when you're talking about an elephant, placing an elephant on your screen will help your student assimilate the content.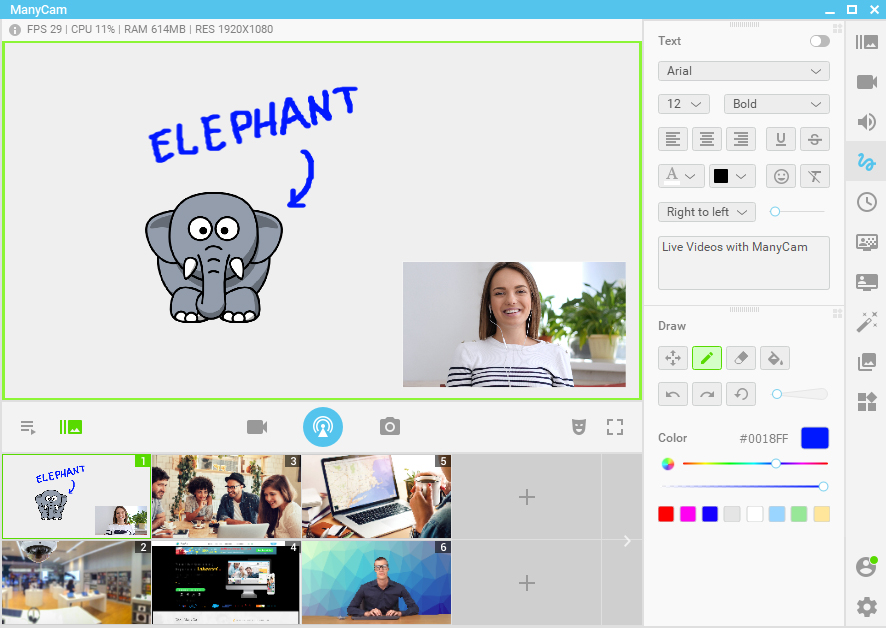 YouTube Channels
Apart from ManyCam's YouTube channel, where you can find many tips for online teachers, there are also many channels created by ESL online teachers. You can also find teachers that give tips related to your current teaching platform, whether you're with VipKid, DadaABC or any other platform.
Here are some of our favorites:
Digino's Channel (DadaABC)
Teacher Elly (VIPkids)
Google Slides
Any free online application can become an excellent resource for ESL online teachers. On Google slides, you can prepare your class with images and texts to help students grasp new concepts. Google slides can be your very own flashcard deck, or you can use it to create guessing games.
Here's how Teacher Samantha uses it:
Teacher Samantha (VipKids)
ManyCam for Education – Help Page
Since many ESL online teachers use ManyCam in their classes, we created a help page specifically for online teaching.
Within the Help page, you'll find tons of videos and tutorials to help you deliver creative and effective classes. This is such a useful online ESL teaching resource that it should be bookmarked, saved, added to favorites and to your reading list.
Advice for online ESL teaching beginners
Regardless of the online ESL teaching resources you use, just like anything else in life, online teaching requires practice. There's a learning curve, and the fastest way to improve is through practice, trial, and errors.
Being familiar with your teaching platform and additional software will boost your confidence and help you deliver amazing classes. A great practice is to rehearse classes and record the rehearsal. When you watch it, you'll be able to analyze your performance and improve upon it.
Want more on Online Teaching? Check out these posts:
English is such an essential language around the world that online ESL teaching is more popular than ever. Since we have many online teachers in our community, we noticed that every teacher has the same goal – help students learn the most...  (Continue reading)
Do you want to help your students learn the most? How about delivering creative lessons while you work smarter, not harder? Digital props and effects give you endless possibilities when it comes to applying creativity in your online classes. […] (Continue reading)