Do you want to help your students learn the most? How about delivering creative lessons while you work smarter, not harder? Digital props and effects give you endless possibilities when it comes to applying creativity in your online classes. They can help you drive students focus and increase their engagement, which is crucial for e-learning.
---
Summary
Online teaching with Digital props can help you:
Increase students' engagement

Get (and retain) the audience's attention

Deliver a unique experience every time
Create your own effects with this tool
Download effects from our Effects Gallery
Search the effect you need

Go through the newly created categories

Example: Games > ESL Teaching Games

Example: Education > Classes
Adding downloaded effects
Download the effect on the website

Click to open inside ManyCam
Organize your Effects Panel
Add a new folder (type in a title and create)

Go into the folder you created and click "+"

Find the folder the object is

Select the effects you want to move and click "move"
Manage your effects to increase your productivity and deliver engaging classes
---
Ready to enhance your online teaching? Download ManyCam today for free! 
Online teaching with Digital Props
Every teacher knows that keeping your students engaged and focused on the class is no easy task. Though physical props can help you drive students' attention, there's only so much you can do with them. Plus, it requires a lot of storage room, depending on your commitment to bringing in new props every other class.
Digital props can help you increase students' engagement and retain their attention. More than that, it allows you to apply your creativity and deliver a unique experience during each class.
Increase engagement
Add as many digital props as you need to your ManyCam and create ESL teaching games. Games with digital objects can help you explain concepts so that your students learn the most.
Get (and retain) the audience's attention
During online lessons, some students might have a hard time focusing on you the entire time. Visual stimuli are vital to getting students focused. Use objects and effects to keep things interesting throughout your class.
Deliver a unique experience
Go all out on your creativity. ManyCam has different types of effects that you can use throughout your class. For instance, you can apply backgrounds, masks, borders, and objects to your live class. Best of all, you can create your own.
Personalize your classes – Create your own effects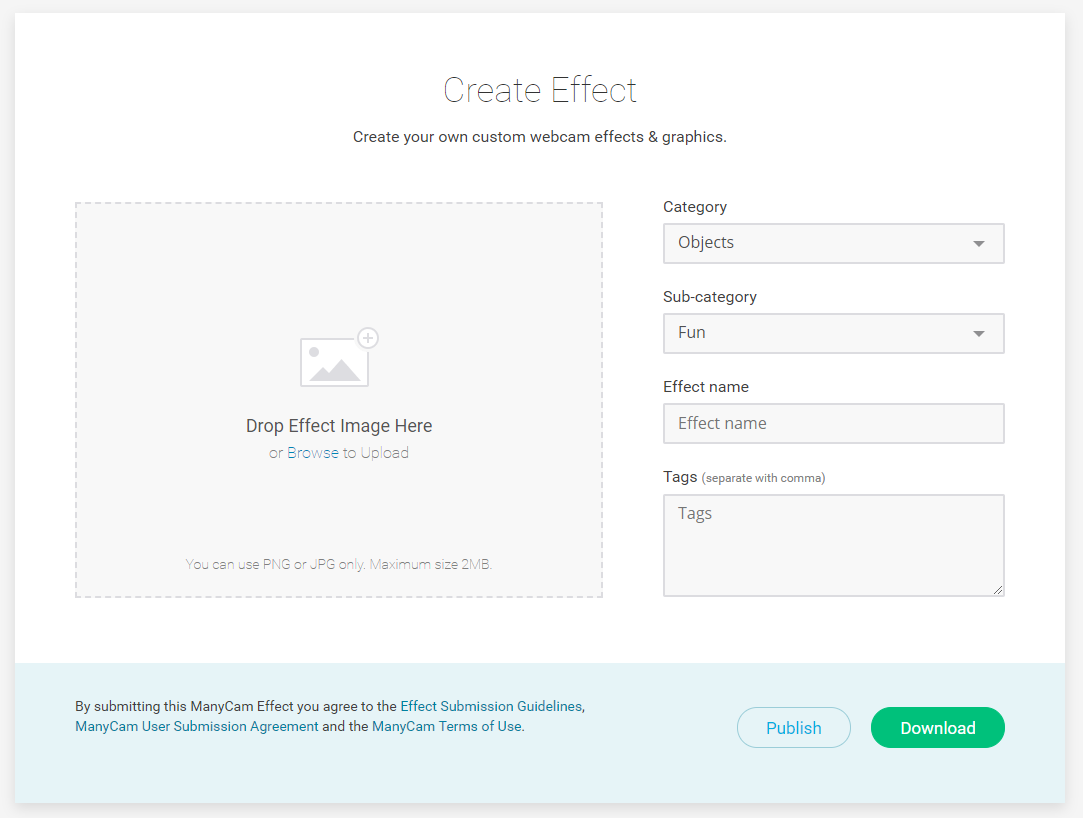 Many teachers love creating their personal effects so that they can deliver a fully personalized lesson to a specific student or group. More importantly, can do it too! Learn how you can create yours here:
Create your own effects on ManyCam
Effects Gallery
Other teachers prefer to save time and find effects in our gallery. ManyCam's Effects Gallery is a fantastic resource with over 10,500 effects. You can find a little bit of everything there. Many of the objects were created by other teachers and users, which means, they understand your needs.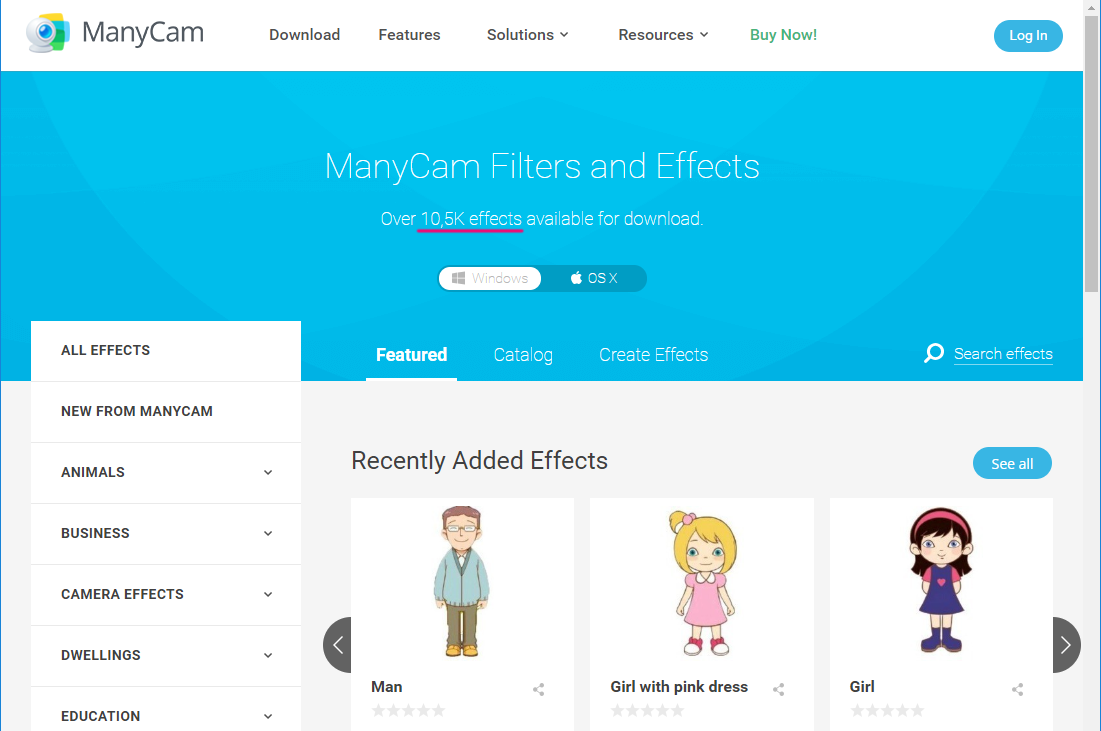 Search for effects
Within the Effects Gallery, if you have a clear idea of what you need in mind, you can use the search tool on the right-hand side. Just type in what you need and choose the best one for you.
New: Categories
If you're looking for ideas and inspiration, we've recently added dozens of categories to help you navigate through the effects.  
In the ESL Teaching Games category, you'll find digital props that can be used as a game with your younger students. For example, the ice cream cone and scoops.
ESL Teaching Games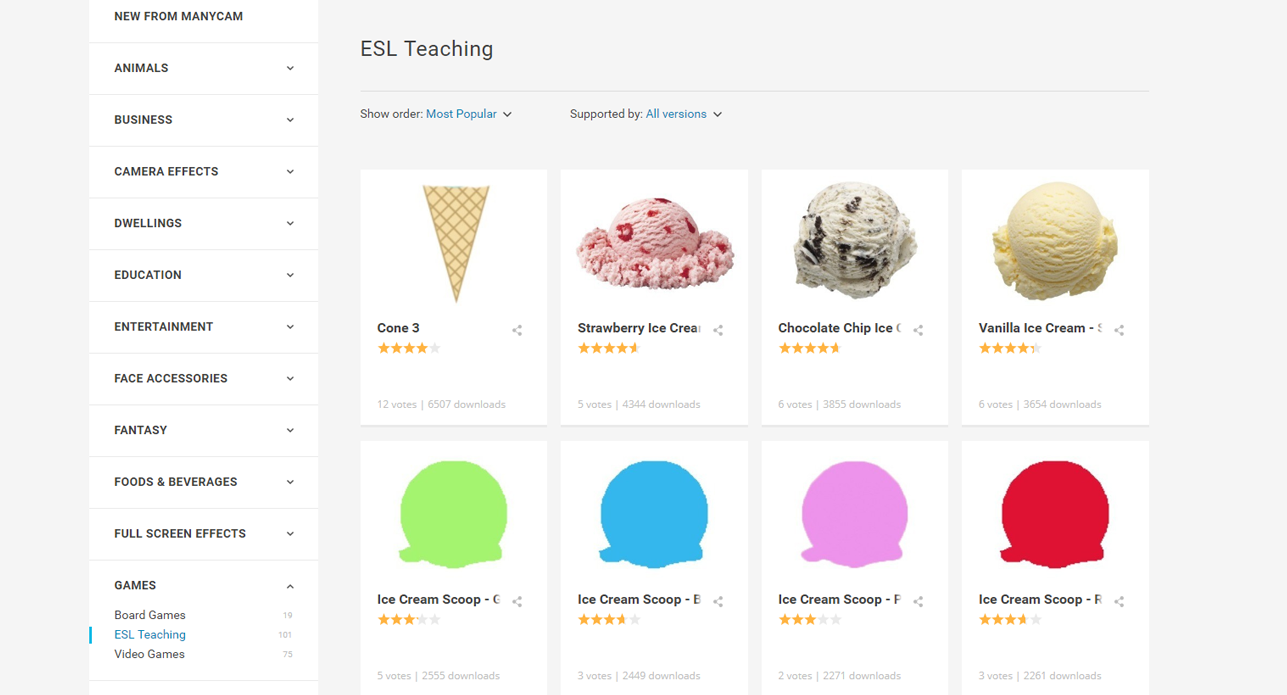 Another instrumental category for teachers, is the Classes category, within Education. You can find hundreds of effects that will help you create an engaging online environment.
Classes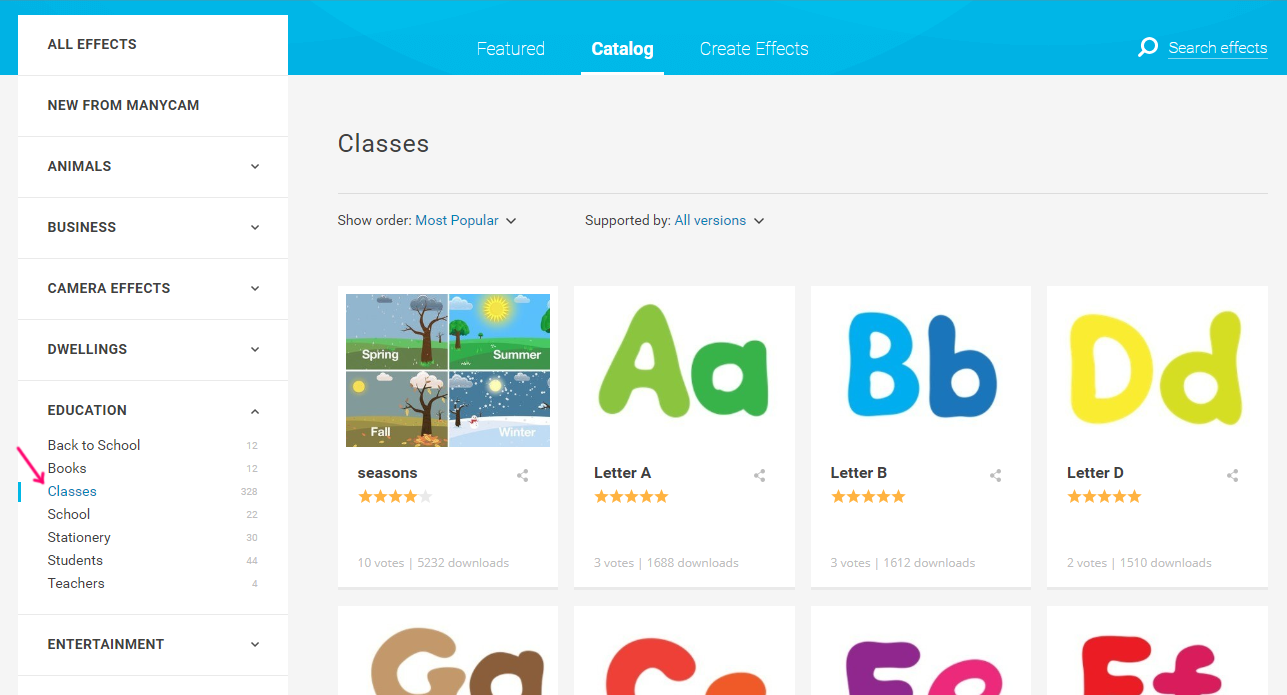 Choose the effects you need to enhance your online classes
To get any of the objects or effects, all you need to do is:
Download the effect
Open the file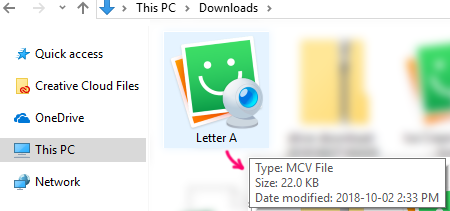 The downloaded file format will be .mcv which will open directly on ManyCam and automatically added.
Once you download your effects, you can organize them within ManyCam.
A step-by-step guide to the Effects Panel
1. Create folder
The first step to organizing your effects is to create the folders you'll need. You can also rename an existing folder, to make sure your Effects Panel works for you.
2. Click on the Folder+ icon, write the title of your folder and click Create.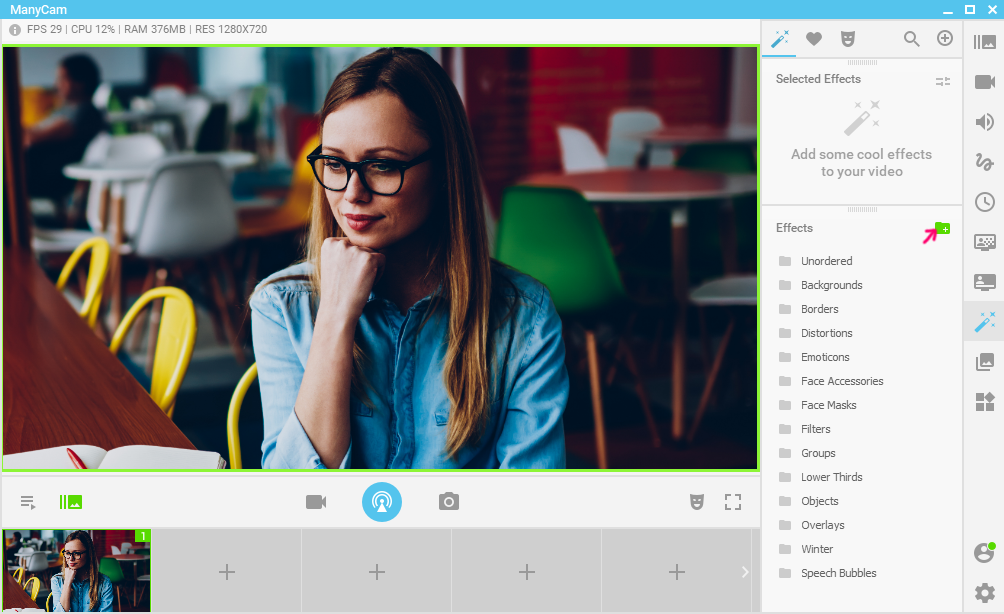 As an example, we've created the Test folder here.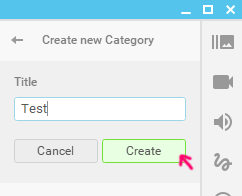 3. Add effects to the folder
To move your effects into the folder you've created, you need to go inside the folder, first.
Once you're in the folder, click on the Plus icon. You'll get a drop-down menu, and you'll need to find the previous folder to where your effects were added. In this case, ours was added to the Objects folder.
4. Now you can select all the effects you want to move to your new folder and then, click move.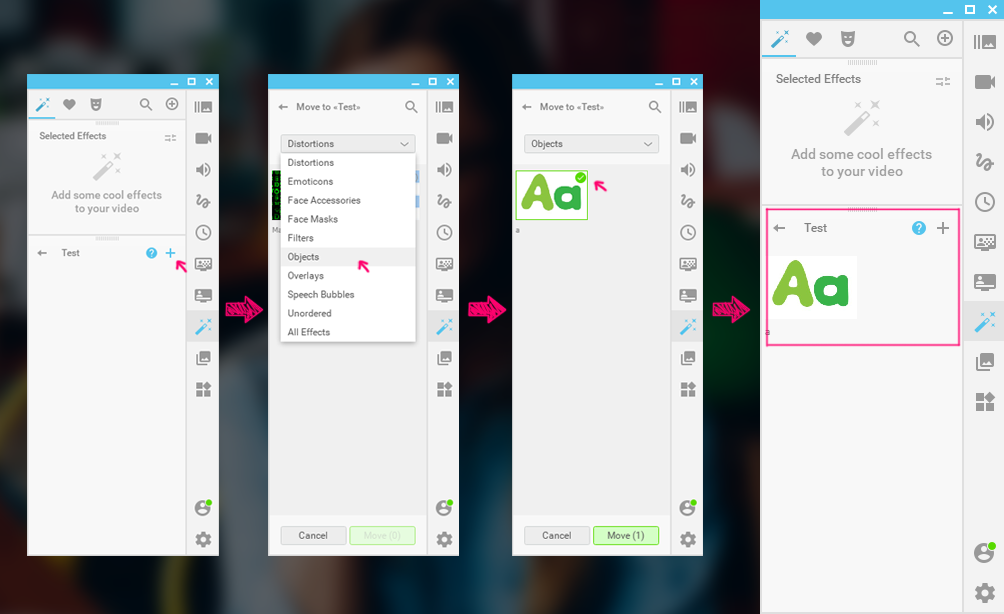 Easy, right?
Organizing your effects can help you increase your productivity because you'll be able to work faster, instead of going through all your objects to find THE one. With the Effects panel organization, you'll also be able to apply the effects quicker when you're live. You can create folders for specific classes in advance and get everything ready within ManyCam.
Before your next class, make sure you check our Effects Gallery's new categories and get some cool digital props. With the Effects Panel, organize your files and have them at your fingertips before the class. Your students will love it, and your life will be much easier.
Share this guide with your fellow teachers, it might come in handy before their next class!
Want more on Online Teaching? Check out these posts:
English is such an essential language around the world that online ESL teaching is more popular than ever. Since we have many online teachers in our community, we noticed that every teacher has the same goal – help students learn the most...  (Continue reading)
Online teachers need to work with all the technical aspects of e-learning while still delivering great content to their students. It's hard work! But, also rewarding. It's a great moment when your student learns a new word or a new skill, isn't it? […] (Continue reading)