English is such an essential language around the world that online ESL teaching is more popular than ever. Since we have many online teachers in our community, we noticed that every teacher has the same goal – help students learn the most. So, if you are an online ESL teacher or want to be one, this blog post is for you.
We'll show you how  ManyCam can help you encourage interaction, adapt to different learning styles, keep your students engaged and deliver unique experiences on your online classes.
4 Ways to Improve your Online ESL Teaching with ManyCam
1. Encourage Interaction
Interaction is essential to online ESL teaching. It drives focus and helps students retain what they've learned. To learn English as a second language, students need to interact with the teacher, speak out loud without being afraid of making mistakes.
As an online ESL teacher, you need to build trust with your students and encourage interaction in every class. Whether it's K-12 education or adults, playing games can help them students loosen up and interact with you more freely.
Teaching Games
Just like teacher Jason from Digino, creating your own games is a great way to personalize your class and to make sure it's tailored to your students. If your class is for adults, you can create memory games or other business vocabulary driven games. On the other hand, if you're teaching kids, you can create games based on their favorite things to ensure they'll interact with you.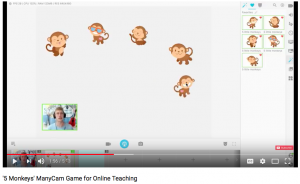 On ManyCam, you can create and add your effects, which gives you a lot of freedom when coming up with games. You can also find thousands of effects in our gallery, which are great to teach vocabulary. 
To learn how you can create your objects and effects, check out this blog post.
Rewards
Another efficient way to encourage interaction in online ESL teaching, especially with kids, is to offer rewards. Despite what many people think, you don't need actual props to reward students. They can be as simple as objects and effects on ManyCam.
Though one of the most classic rewards is a simple star, you can find thousands of objects on our effects page that can be used as part of your online ESL reward system. A recent addition to our Effects Gallery are the Summer effects. Once you find what you like, you can download them on our website and click to open that.
Kids get really excited about digital props, and another advantage is the wild variety you have access to, for free.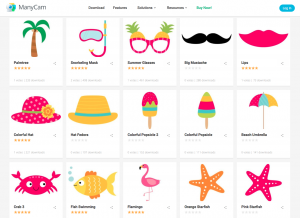 2. Appeal to different learning styles
Students have different learning styles, which means they absorb information differently. When preparing your online class, you need to take that into account, so that each student can learn the most.
With ManyCam, you can prepare your class with pre-recorded videos, images, sounds and texts to help your students learn English more efficiently. On top of that, you can also add as many effects as you want and organize them into separate folders to make your job easier.
Once you've added videos and images from different video sources, transitioning between them is quick and easy. In other words, your online classes will be dynamic, and you'll be more productive.
These features are excellent to teach, reinforce or revise new vocabulary.  
3. Keep students engaged
Students' engagement is vital for your online ESL teaching success, and it's a real challenge. Creating interesting online lessons with different elements can go a long way. When it's a one-on-one class, you can focus on your students' interests to get them more engaged.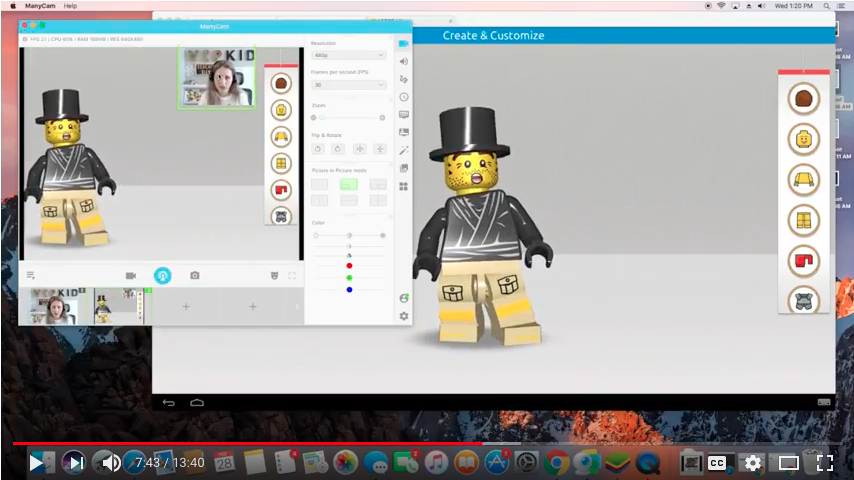 Just like Teacher Elly does it in this video, you can come up with creative activities with the screencast feature. Sharing your screen, apps or custom areas of your desktop can help you drive focus and engagement.
You can draw on your screen to highlight important parts of the lessons which call the attention of the students. With the drawing tool, you can use different colors and sizes, as well as, erase things or paint entire sections.
One of the most important things to keep your students engaged is for them to see you at all times. It also helps you create a connection with them. So, you can use the Picture-in-Picture feature, to keep your webcam view on your video call constantly. When it comes to engagement, it's vital for the student to see you're still there while you're showing a video or an image on your screen.
4. Deliver unique experiences in each class
To take your online ESL teaching to a whole new level, you need to deliver exceptional experiences. Each class is an opportunity to wow your students and help them learn the most. The more interested they are, the more they will learn from you.
To do so, you can use a popular feature on ManyCam, the Chroma Key or Green Screen, as many people call it. It allows you to replace your real background with custom backgrounds, for example, pictures or illustrations. If you do it combined with the Picture-in-Picture feature, your background can be your computer screen, pre-recorded videos or any video source.
For this feature to perform at its best, we recommend sitting in front of a clear background, preferably a well-stretched green screen. Good lighting also plays a significant role in chroma keying, so make sure you're in a well-lit place. Ideally, you should have a light source lighting your face and your foreground.
To further improve your online ESL teaching and your students' experience, you can also add borders, overlays, lower thirds and more.
Here is how:
Key Takeaway
Online ESL teaching is rewarding, but it can be challenging as well. ManyCam can help you increase your productivity and deliver exciting ESL classes, where your students can learn the most.
Learn more about ManyCam for Education and see how it can help you improve your online ESL teaching while making your job a lot easier.
For more online teaching tips:
Online teachers need to work with all the technical aspects of e-learning while still delivering great content to their students. It's hard work! But...  (Continue reading)
Interaction plays a massive role when it comes to online teaching. Increasing the online teacher-student interaction can help students learn faster and more efficiently. To do that, online teachers need to…  (Continue reading)