Have you wondered why multiple channel broadcasts have gotten so popular lately?
It's more common than ever to hear live stream presenters say they are live on Facebook and Youtube, or other platforms. So, is there an advantage to multiple channel broadcasts? If there is, how can you do it too and go live on various platforms at once?
Want to enhance your broadcasts? Download ManyCam for free today!
What's a multiple channel broadcast?

Before we talk about the benefits of live streaming on multiple platforms, let's discuss what that looks like. Multiple channel broadcast means going live on more than one place simultaneously. An example would be to go live on Facebook and YouTube at once. Or to live stream on Twitch and Vimeo or any other platform that you can find an audience.
Why do multiple channel broadcasts?

One of the main reasons for broadcasting on multiple channels at once is to boost your online reach. Marketers and content creators have noticed that most live video viewers tend to watch the streams on their phones. For example, YouTube reports that more than 70% of its total watch time comes from mobile devices (Hubspot). When on mobile, users tend to choose their preferred platforms to go on. So, if you are live on multiple channels, your chances of getting viewers increase, since users might already be browsing the platform.

Another significant advantage of doing multiple channel broadcasts is that you can enjoy the best features of each platform. Instead of deciding whether you should go live on Facebook or YouTube, you can be on both. The benefits to live streaming on Facebook are endless, and YouTube Live also has lots of great features, as do other platforms such as Twitch, YouNow, Livestream and so on.

When you do a multiple channel broadcast, you can reach a much bigger audience while harnessing the best attributes of each platform, whether it's paid or free.
How to do multiple channel broadcasts

One of the easiest ways to go live on multiple channels is to use ManyCam, which is a live video streaming software and video switcher.

On ManyCam, you can choose to broadcast to Facebook, YouTube, Twitch on any custom RTMP server. When you consider streaming to multiple channels at once, it's important to test your setup first. Multiple broadcasts require more power from your hardware and can become glitchy if your equipment isn't up to par.
That being said, you can do a dry run and see how it performs. For instance, Facebook allows you to live stream in private, and most platforms have a similar setting. After your test stream, you can watch the replay and analyze how it went.

When you have everything set up, and you are ready to do your multiple channel broadcast, you can simply flip the switches on ManyCam and, in a few seconds, you'll be live.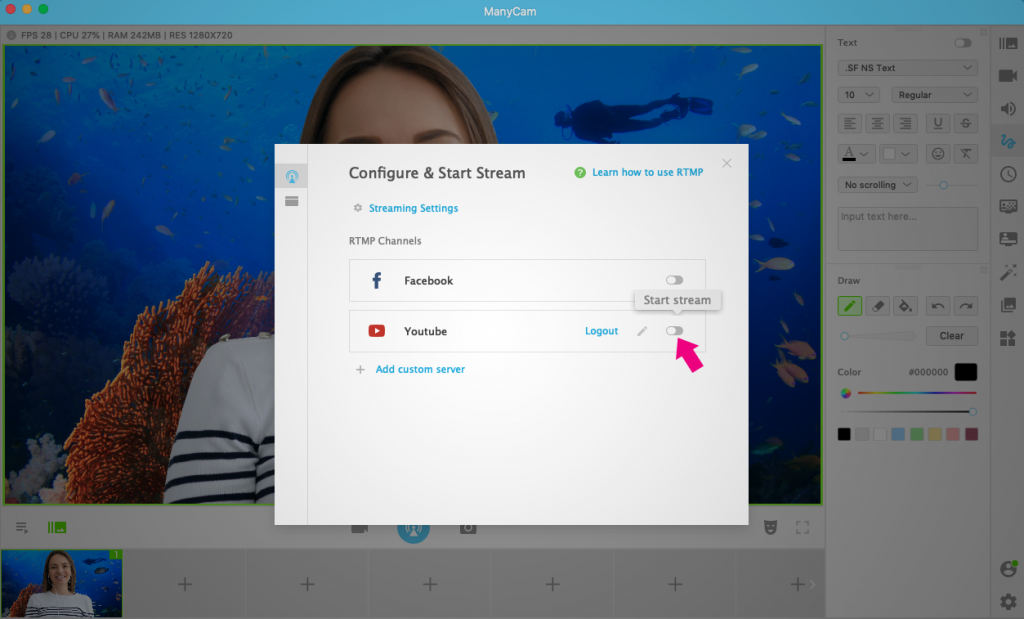 Obs.: To be able to do multiple channel broadcasts on ManyCam, you'll need a Studio, Premium, or Enterprise subscription. Get ManyCam today!
Key Takeaway

If your live streaming setup can handle it, multiple channel broadcasts are a clever way to increase your online reach and exposure while taking advantage of each live stream platform. When you are live on more than one channel at the same time, it's much more convenient for your audience to find you and watch your stream.

What are your go-to platforms?
Download ManyCam for free today!
Want to learn more about live streaming?
Do you want to expand your online reach and exposure? These benefits of Facebook live will show you why Facebook is one of your best options to go live. (Continue reading)
Live streaming videos are an amazing tool to grow your online presence and expand your audience, but its technicalities can be daunting. Many things can go wrong during a live video, such as quality issues, lagging, equipment malfunction, sound difficulties, and the list goes on… (Continue reading)