Do you want to expand your online reach and exposure with live video? These benefits of live streaming on YouTube live will show you why you should be going live right now on YouTube.
Live video is undeniably one of the most effective ways to deliver content and grow your online community. Through live streaming experiences, content creators get to present their businesses and personal brands directly to the audience, as well as interact with them live, while establishing a deeper connection. How can you decide whether to start live streaming on YouTube live or look for other platforms?

With so many live streaming platforms out there, it's a tough decision. That's why, in this blog post, we'll go through YouTube's stats, the details of YouTube live, and the benefits of live streaming on YouTube live. Similar to any other platform, YouTube has its disadvantages, which we'll discuss at the end of the post.
Need more tools for your YouTube live streams? Check out ManyCam for free!
What's YouTube Live?

Until a few years ago, YouTube was a video platform focused on videos on demand. Users could upload their videos and share them on their channels. With the growth of live streaming popularity, YouTube created YouTube live, which is their live streaming tool.

With YouTube live, users can reach their viewers in real time while streaming branded content, Q&As, video games, classes, and so on.

YouTube, the second most visited website in the world, is also one of the most popular video platforms online with over 1.9 billion active logged-in users per month. Every day, users watch over one billion hours of video on the website.

What's also interesting about YouTube is the growth content creators have seen over the years. Since 2017, the number of channels with more than one million subscribers increased over 75%. In turn, the number of YouTubers earning money has also increased significantly.
Who is YouTube Live for?

Content creators for businesses and personal brands can take massive advantage of this platform. Many users go on YouTube to search for videos related to their interests, so the platform works as a search engine. Plus, YouTube is owned by Google, and many times, videos will show up on Google searches, right at the top.

Most industries can benefit from live streaming on YouTube live and find their tribe among the 1.9 billion users. On the one hand, YouTube can be compared to Twitch, since it also appeals to gamers. In fact, one of the most popular YouTube channels (PewDiePie with +96 million subscribers) started in the gaming industry. But, on the other hand, YouTube has a much more broad audience than Twitch and appeals to a wide range of users.
What are the benefits of live streaming on YouTube Live? Why go live?

YouTube live monetization

One of YouTube live's most significant advantages over Facebook is the ease to monetize your live stream. Though Facebook live is adding new features to improve their monetization system for creators, it's not as easy as on YouTube, yet.

When you're live streaming on YouTube live, viewers can support you via Super Chat while promoting their profile. It's a win-win for the streamer and the super chat payer.

Apart from Super Chat, streamers can also enable ads, such as:

Pre-roll ads before the live video
Mid-roll ads during streams
Display and overlay ads running over the video
Plus, some channels also get access to channel memberships, which allows users to pay a subscription fee to your channel.

Cost-effectiveness

Similar to most social media platforms, content creators can join, publish videos, and go live on YouTube for free. Since it's live, you don't need to worry about expending time doing multiple takes or in post-production. In other words, you can create content while saving time and money.

Depending on the tools you want to use, you might find some restrictions within your channel that require a specific number of followers to be unlocked. For example, to live stream directly from your mobile, you need at least 1,000 subscribers. But, for the most part, the features accessible to everyone will be enough to go live successfully.

Building your brand

Almost 70% of YouTube users watched videos to help them make purchase decisions (Hubspot). Whether you have a personal brand or a business, every content creator can benefit from branded content and exposure. Users want to find your brand online, and YouTube can help you get discovered.

Your videos can show up as suggested videos on related content, and you can expand your audience.

Increase your online reach

Live streaming on YouTube live can also help you increase your online reach much further than videos on demand. Platforms like Facebook and YouTube tend to favor live videos over pre-recorded ones, which means, your streams have a higher chance of ranking well on searches.

When live videos show up on Google or YouTube searches, you start growing your brand and getting more views.

Mobile live streaming

Another great advantage of live streaming on YouTube live is that, despite common belief, you don't need a lot of equipment. Even if you only have your mobile phone, you can still go live. If you don't have the minimum amount of subscribers, you can go live on YouTube with the ManyCam app.

With your mobile phone, you can still produce high-quality live streams, as long as you have some mobile live streaming equipment to enhance your stream and a good internet connection.

Create weekly live shows

Creating a periodical live show on YouTube is a fantastic strategy to grow your audience when live streaming on YouTube live. The platform makes it easy to schedule future streams, and your viewers can add the upcoming events to their calendars with reminders. Weekly live shows can help you increase your viewership and, most importantly, allow you to build a relationship with your audience.

Video collaboration with other YouTubers

An overlooked benefit to live streaming on YouTube live is the ability to produce video collaborations with other content creators. There are many YouTubers and creators ready to create partnerships with your brand, aiming for mutual growth. Though partnerships might differ, here is a video collaboration guide to help you get started.
Downsides of YouTube Live

Just like every social media channel and live streaming platform has its advantages, they also have their challenges.

Sharing live videos
Though YouTube has been trying to build its "Community" tab, where users can interact and post updates, similar to Facebook in some ways, the feature didn't really take off. During a live stream, if users want to share the content, they need to share it on other platforms, which will open a new window and pull them out of the live stream.

That's far from ideal because the audience will get distracted. When you're live streaming, it's crucial to keep viewers engaged for as long as possible.

Latency
Another issue with live streaming on YouTube live and most platforms is the latency. Streamers must prioritize either video quality or real-time engagement. In other words, higher quality will require more resources, which leads to delay and buffering, whereas lower video quality allows for faster loading and real-time interaction with your audience.

Tools for live video
Like most social media platforms with streaming features, YouTube live doesn't offer tools for enhancing your live video. Though the YouTube Creator Studio has video editing functions, they are only available for uploading videos on demand.

For any live video to succeed, engagement is vital, and live video tools can help. For instance, during a live stream, you could:

Use picture-in-picture windows
Share your screen or specific apps
Add pre-recorded video files, images, and YouTube videos
Stream with multiple cameras
Put an audio playlist in the background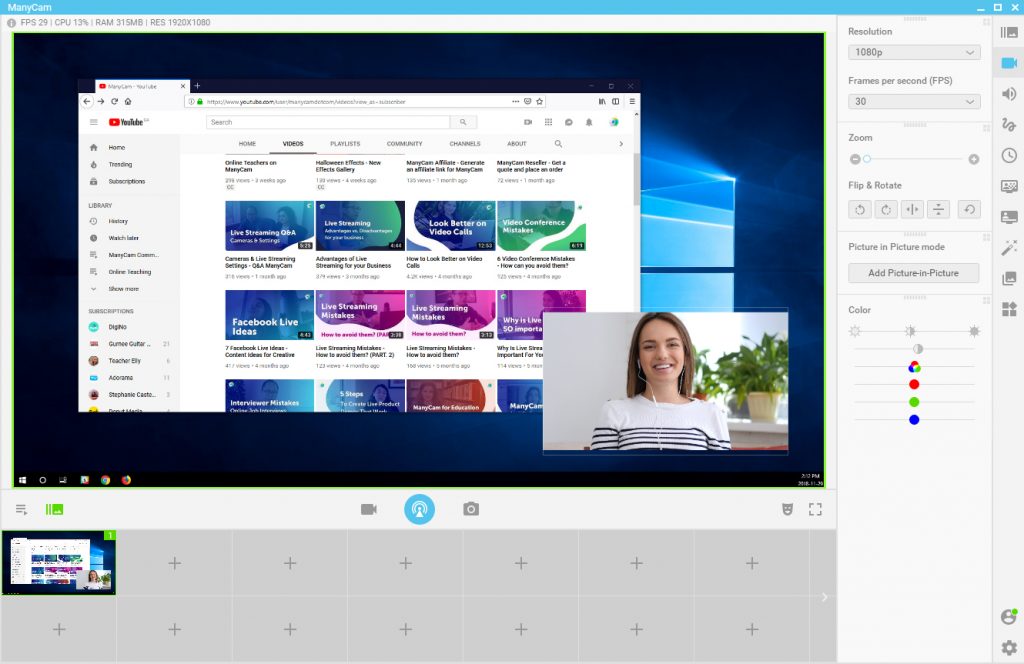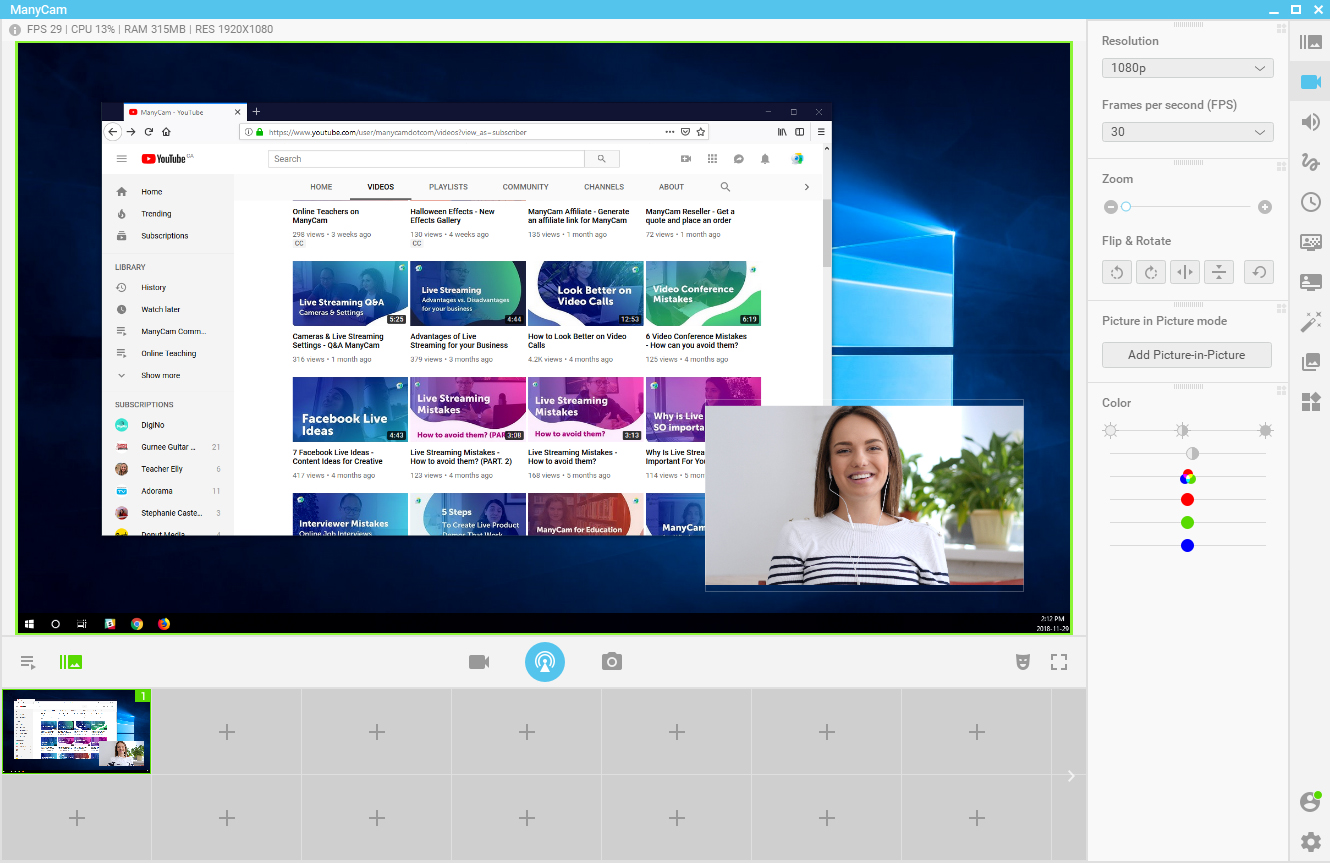 Your live video would be much more interesting to watch, wouldn't it?

You can enhance your live videos with ManyCam and connect it directly to YouTube live. It's super simple, and the results can be amazing.

Key Takeaway

Though live streaming can be a bit scary at first, combining YouTube with ManyCam can give you much more control over your stream and make your life a lot easier. Despite its downsides, live streaming on YouTube live is a fantastic way to grow your business or personal brand while creating engaging content online.

Ready to give YouTube live a try? Here is a video on how you can go live on YouTube with ManyCam.
Want to learn more about live streaming?
Do you want to expand your online reach and exposure? These benefits of Facebook live will show you why Facebook is one of your best options to go live. (Continue reading)
Live streaming videos are an amazing tool to grow your online presence and expand your audience, but its technicalities can be daunting. Many things can go wrong during a live video, such as quality issues, lagging, equipment malfunction, sound difficulties, and the list goes on… (Continue reading)