During broadcasts, there are some kind of information that needs to be accessible at all times. The name of the presenter and guests, the name of the company, location amongst other things. The best way to drive focus to relevant information, without sounding repetitive, is to use titles on your live stream.
On this article, we cover what titles are and why they are useful to your live streams. Most importantly, you will learn how to add them on your live streams with ease.
What are titles?
A title is a graphic overlay with text applied on live video to display information that is  relevant to the scene. When you are watching an interview and you see an overlay pop up with the name of the person or the location, that's a title.
The name refers to the area that it usually is placed on the screen. The lower part of the screen is a title-safe area and it won't be on the presenter's face. Some titles are animated and can disappear during the broadcast.
Why are graphic overlays useful for live streams?
Using title is a great way to keep your audience informed without having to repeat the same information. It's especially useful to present your brand and your name on live streams.
Live streams with titles look more professional and gives the presenter credibility. Even though it's just a text overlay, it can be your great ally on live video because it keeps your audience informed, which keeps them engaged.
How to add titles to your Live Stream with ManyCam?
Adding titles to your live streams and video calls is easy with ManyCam 6. On the right-side toolbar, you can find the "Titles" tab.
Unlike previous versions of ManyCam, the titles aren't just extra effects. They are a complete feature with its own animations and switches. This is important because it makes them look more professional and easier to activate/deactivate.
There 5 different graphic overlays for you to choose from and more on the way. Since this is a new feature, users can't add their own titles yet.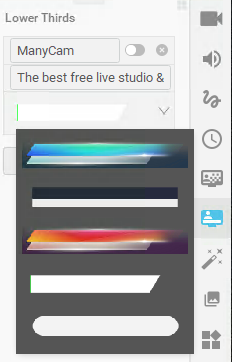 Once you click on the "Titles" tab, you will be able to customize it to your live stream.
    Enter the title and subtitle you want to display.
    Choose the graphic you want for your stream
    Activate/Deactivate it with the switcher on top
To edit your title, just click on the section you want and make the changes. The changes won't appear straight away, you'll need to deactivate and then reactivate it.
Here, you can create as many titles as you want for your live video. During your broadcast, you can activate them as you go. It's great way to be prepared for live streams with more than one speaker. Preparing titles can also improve your video conferences.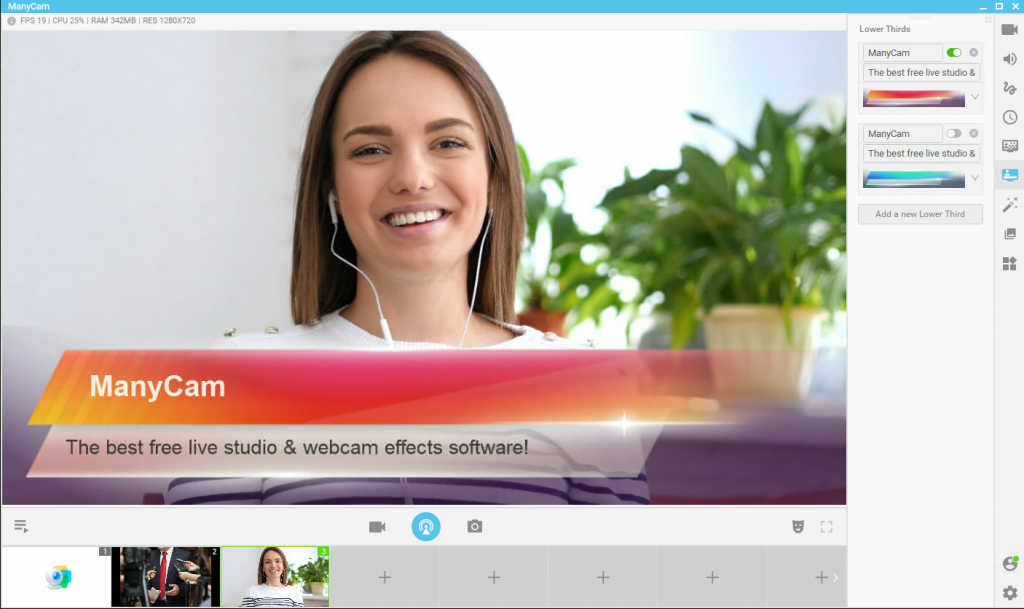 Don't Overuse titles
Using too many titles during your live stream will defeat their purpose and can harm its quality. The goal of a text overlay on your video is to offer your audience important information. As the writer Patrick Lencioni says, "if everything is important, then nothing is."
Pick relevant information to put on your  titles such as your name, your brand's name or location, titles etc. Once you have the right information, get ready to display them on your stream.  
To give your viewers a great experience on your live stream, you should turn these overlays off and on, instead of keeping them on screen at all times.
Titles on live streams can drive your audience's focus and keep them engaged. With the amount of distractions people are facing today, anything that can help keep viewers with us, is welcome. Before your next live stream, create relevant titles and get your audience's attention.

Here are other blog posts that you might like:
Having a soundtrack on your live stream can help you keep your audience engaged and focused. But, still, audio is constantly underestimated on live streams. Here you'll find out how to create a live video playlist to deliver a lively stream using ManyCam. (Continue reading)
Creating Facebook lives with ManyCam is better than ever. Now you can broadcast to personal pages, business pages, groups and events. You can also change the privacy settings and change the title. (Continue reading)