Having a soundtrack on your live stream can help you keep your audience engaged and focused. But, still, audio is constantly underestimated on live streams. Here you'll find out how to create a live video playlist to deliver a lively stream using ManyCam.
When it comes to live streams and videos in general, people tend to forget about the importance of audio. It becomes an afterthought, so it gets done without proper care, and might actually hurt the live stream.
A playlist, or audio in general, can make or break your video without anyone realizing it. Viewers might get put off by your live stream, without knowing why exactly. And it can very well be the sound.
Create lively live streams
To create a lively and engaging live stream, you need to use everything you have at your disposal. Having a proper soundtrack can have a huge impact on your live videos.
When you add quality sounds to any video, it helps keep people engaged and focused. Take a moment and think about all the movies out there. What would they be without their soundtracks?
On live streams, you can add a soundtrack on the background, on a low volume to cover up any other noise and to keep people engaged.
You can also add a song at the beginning or the end of your live video, to get people excited about your event. For example, an upbeat song to get people energized.
If you're streaming an event, which usually takes longer, you can create playlists for the breaks. This way, the online participants can keep engaged with the event.
These are just a few of the many ways a soundtrack can be applied to your live streams. Now let's have a look on how we can actually create one.
How to create a playlist for your live stream on ManyCam
When you start ManyCam, you can see on the right-side menu a tab for audio settings. Once you click on that tab, you can have access to all the audio controls.
You can personalize your ManyCam by moving the widgets up and down. If you prioritize the widgets according to your needs, it will be easier for you to manage your live stream session.
Keep in mind that audio files of any kind are protected by copyright. So, make sure you can use the files you choose to your live stream. Another option is to purchase royalty free audio files online.
Find the Audio Playlist widget and let's get started on your live video playlist.
Live Video – Audio Playlist
Adding your soundtrack
To create your playlist, once you click on the first button from left to right ("Add Songs), you will have 3 options:
Add files

Add folders

Add URL (containing audio files)
The easiest way to start creating your live video playlist, is to save all the songs you want in one folder on your computer. Then, you simply go to ManyCam's Audio Playlist widget and add the entire folder on the "Add Songs" button.
If the songs are in different folders, you can still add them, one at a time. In addition, if you have the URL for your audio files, you can place them directly on ManyCam.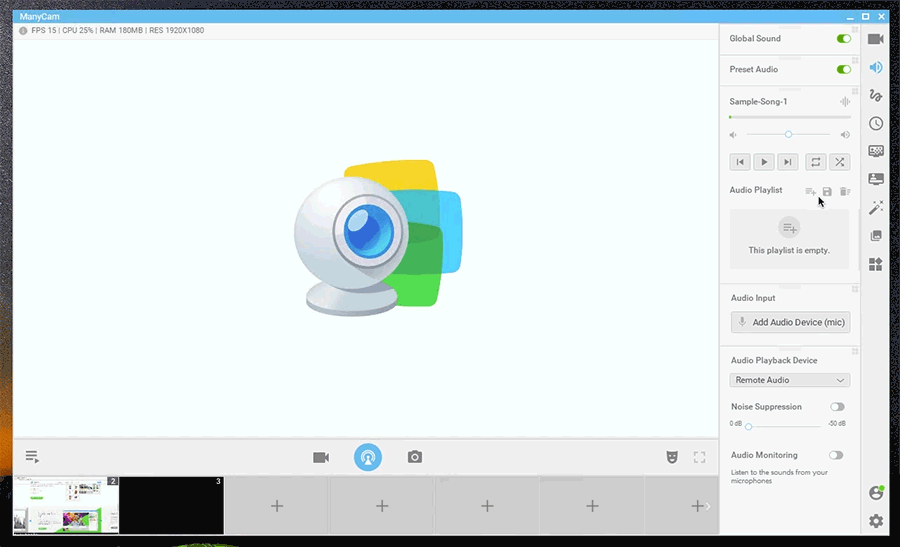 Arrange the order
Once you are happy with your choices, you can still tweak your playlist to make it even better. For example, if you want to start the live stream with a particular song, you can easily rearrange the order of you list.
To do so, just click on the file you want to reposition, drag it to the place you want and drop it.
Remove unwanted files
In case you added something by mistake or changed your mind, you have 2 ways of removing it.
If you mouse over one of the files, you can click on the "x" on the right and remove it. Or, you have the option to select the file you wish to delete and click on the little trash can on the top right.
Save your playlist
To make the most out of your efforts, you can save your live video playlist and load it whenever you need. This way, you don't need to worry about creating a new one for every live stream you do.
The playlist controls
Controlling your playlist is pretty straightforward. You have the typical audio player buttons: play, pause, skip and shuffle.
Most importantly, you can control the volume of your playlist, so it doesn't interfere with your live video.
You can also choose to repeat one song in a loop. If you just want some background instrumental music, for example, you can play it on a loop in a low volume.
Before your next live stream, create a live video playlist and give it a try. It's always good to test a few different songs to see what works best. Find the right beat and create dynamic live streams.
Here are other blog posts that you might like:
Different social media and live streaming platforms attract different audiences. Even though, most people browse more than one platform throughout their day, they usually have a preferred place to watch live streaming contents. So if you want to maximize your reach, live stream to multiple platforms at the same time. (Continue reading)
Creating Facebook lives with ManyCam is better than ever. Now you can broadcast to personal pages, business pages, groups and events. You can also change the privacy settings and change the title. (Continue reading)