Live streaming videos can be captivating when you have the right tools. This live streaming software guide can help you live stream like a pro.

With so many gadgets and apps available, it's almost impossible to know which ones can actually benefit your live streams. Sometimes technology might get in the way of your productivity. On the other hand, not using the tools available gets in the way of your message. Striking a balance is key.

In this blog post, we go through the tools and features that can help you deliver your message effectively when live streaming while increasing your productivity. ManyCam is one of the most popular live streaming software applications out there, and you can download it for free here. Some of the features mentioned below are available for paid subscribers only.
Importance of Live Streaming software
With live streaming software, your live videos have the potential to be much more engaging. Engagement is a fundamental aspect of live streaming and online content in general.

Your content needs to be compelling and captivating enough to keep your audience's attention. Despite common belief, just having interesting topics are often not sufficient to keep viewers hooked. That's where visual elements from live streaming software come in handy.

More than that, live streaming requires streamers to focus on a thousand different details at the same time, while live. No wonder productivity is a priority. Having the tools you need with the click of a button or through hotkeys on your keyboard can drastically change your results.

A vital advantage of using ManyCam is getting access to all the functions mentioned below in one place instead of having to download multiple applications. In other words, your work is simplified while you live stream like a pro.
Deliver captivating content with ease
With live streaming software, you get essential features to deliver captivating content, such as multiple video sources, screen sharing, and picture in picture.

Add multiple video sources

Instead of talking to your webcam for an hour and boring your viewers, you can use different resources to get your message across. To name a few, with ManyCam, you can add:
Pre-recorded videos
Images and audio files
Websites
Slidedeck presentations (i.e. PowerPoint)
Specific windows or apps
Your screen
IP Cameras
Mobile phone cameras
Imagine how much more creative and engaging your live streaming videos can be once you are able to use so many resources.

Share your screen

Screencasting is a huge asset when live streaming. It's particularly useful when you want to show your audience visual evidence of what you are saying or teach them how to do something. Its application can work for most streamers in different ways, and it's a great change of pace during your stream.

Picture in Picture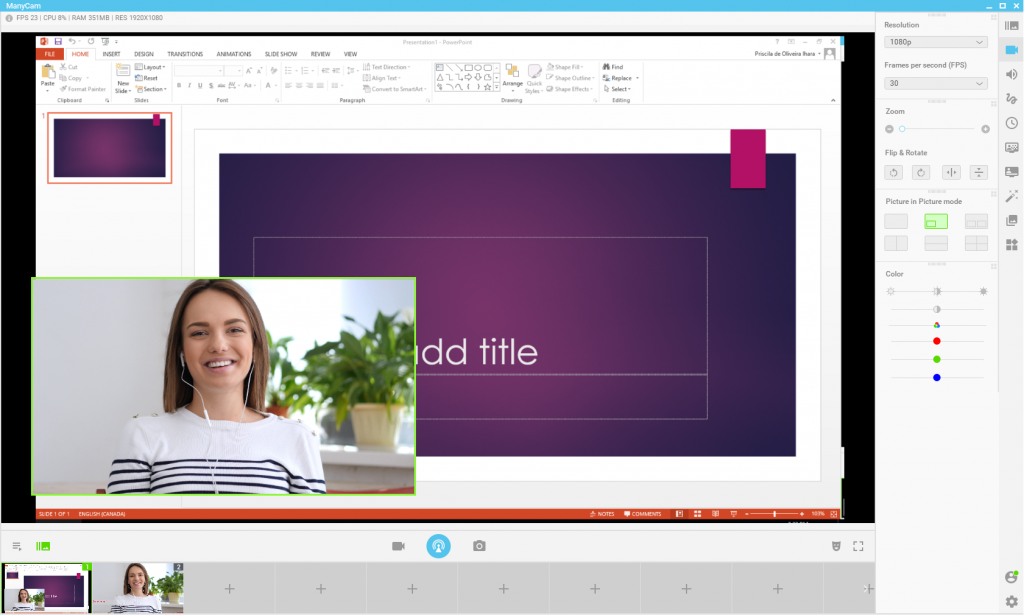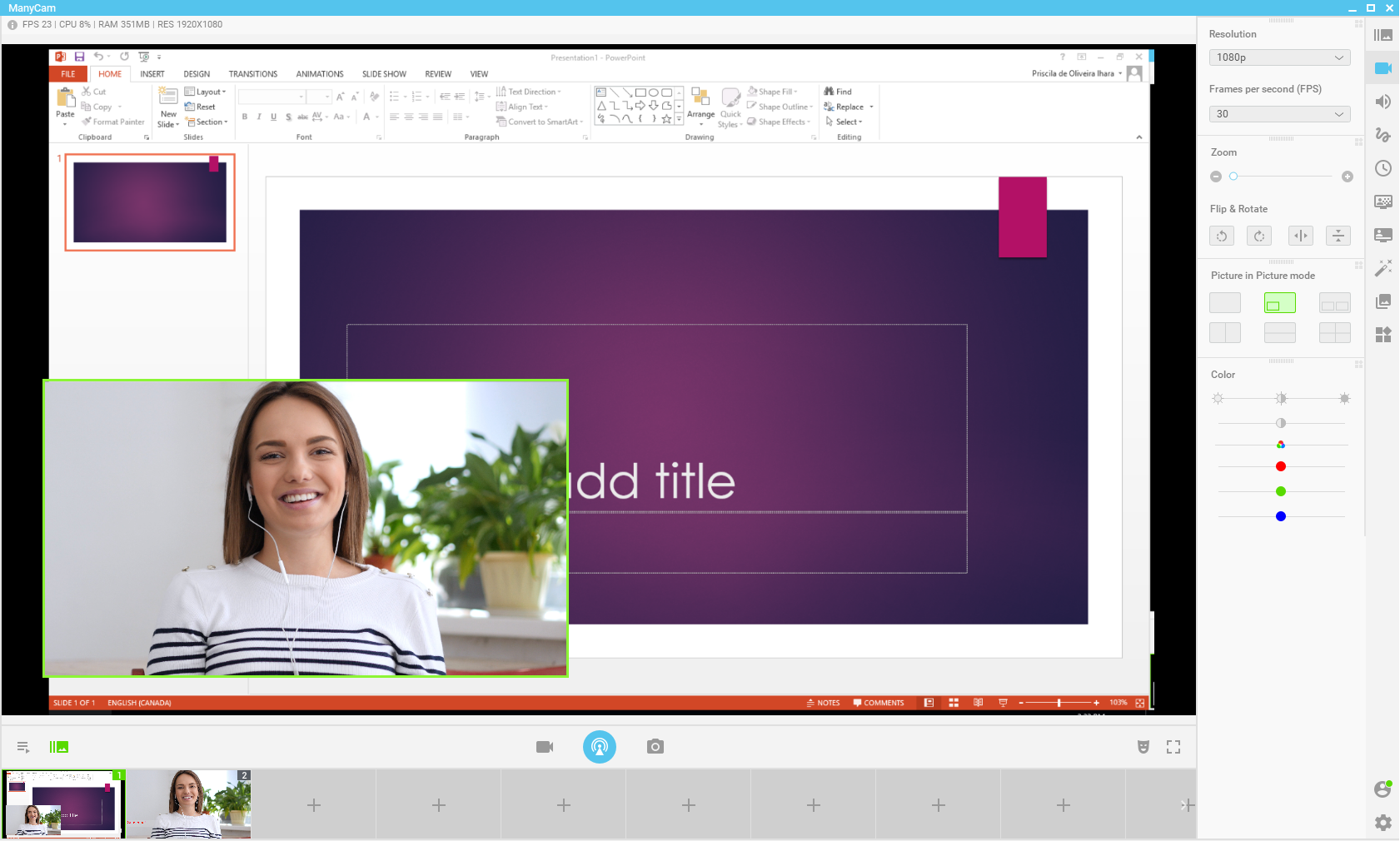 Using picture in picture windows is a vital asset to live streaming. When you have a window layered on top of your main screen that shows your webcam while you talk, your live stream becomes much more engaging. Viewers tend to be more focused when they can still see who's talking.

There are also many other creative uses for the picture in picture windows and multiple layers. Many gamers and online teachers, apply the Chroma Key feature to remove their background and place themselves in front of whatever exciting video source they have.

Chroma Key tool

Also known as the green screen effect, this tool allows users to remove their current backdrop and replace it with images, videos, or any source they want.

Chroma key can help you stand out as a content creator. The online content world can be extremely competitive, and using different backgrounds might give you the edge.

To use the Chroma Key feature, users need to have a ManyCam Studio, Premium, or Enterprise subscription.
Get creative with your live videos
Have you watched live streaming videos lately? Many of them look exactly the same, don't they? Though some of the content might differ, the audience can't even tell who's who. If you want to tap into live streaming's full potential, being creative is a must.

On top of the features mentioned above, using graphic overlays, effects and masks can set you apart. Whether you use the effects as part of your content or just to have some fun and entertain your viewers, the important thing is to keep your audience engaged.
Increase your productivity
Apart from helping you deliver better content, live streaming software is an asset in terms of productivity increase. If you are a one-person show, streaming means paying attention to many different things while talking to your audience, live. It's quite a challenge.

Even if you have a co-host or a technician, live streaming software tools can help you make sure everything goes according to plan. As we all know, anything can happen during live performances.

Your streaming life will be much easier when you:
Adjust all the streaming settings in one place
Setup and add sources in advance
Run tests before broadcasting
Record your stream for analysis and repurposing
Use shortcuts and hotkeys to get things done
Broadcast to multiple channels at the same time
Another advantage of a live streaming software application like ManyCam is the ability to go live on more than one platform at a time. If one of your goals with live streaming is to grow your audience, you should consider expanding your reach with multiple channel broadcasting.

Since users have their preferred platforms to consume content, you have a better chance at increasing your viewership when your content is all around.

This feature requires a ManyCam Studio subscription and powerful hardware.
Live streaming software essentials
Before your next live stream, make sure you have technology on your side. To find the perfect live streaming software for you, here are some of the crucial elements you should look for:
Multiple video sources (recorded videos, images, apps)
Screen sharing and recording
Picture in picture windows
Chroma key feature
Multiple channel broadcast
Image and audio controls
Lower thirds, graphics, and effects
ManyCam has all those features and many more. Give it a try today!
Want to learn more about live streaming?
Do you want to expand your online reach and exposure? These benefits of Facebook live will show you why Facebook is one of your best options to go live. (Continue reading)
Live streaming videos are an amazing tool to grow your online presence and expand your audience, but its technicalities can be daunting. Many things can go wrong during a live video, such as quality issues, lagging, equipment malfunction, sound difficulties, and the list goes on… (Continue reading)