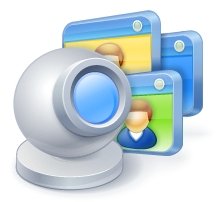 ManyCam 2.6.55 for Windows is now available for download!
This new ManyCam version fixes a problem some users were having with Skype, MSN, Yahoo! Messenger, Google Video Chat, and several other applications where the ManyCam source would not appear.  Now ManyCam may have two sources available in some applications.  If you have a choice of two ManyCam sources try using the default and if it doesn't work for you then you can try to use the secondary source.  If neither ManyCam source will work for you please post to our Blog or email us what operating system you are using, what ManyCam version you are using, and what application you are using that won't work with ManyCam along with its version.  To see what version of ManyCam you are using right click the icon in the bottom right notification area and choose "about".
This new version also has many small improvements and bug fixes.