To take advantage of the current live streaming trend you need to make your live streams stand out.
In between this pandemic, quarantine, and remote work, live streams are more popular than ever. Facebook, YouTube, and Instagram, among other platforms, saw a massive increase in live streaming usage during the last couple of months. Live videos have a lot to offer if you want to grow your audience and brand, but now it is harder than ever for your live streams to stand out.
In this blog post, we've gathered the most valuable tips to help you get more viewers and make your live streams stand out from the crowd. Taking into consideration both technical aspects of live streaming and content-related action, this post has something for everyone, from live streaming beginners to professionals.
Want to live stream like a pro? Get ManyCam today!
The increase in live streams
It feels like overnight everyone is going live, doesn't it? With more time on their hands, businesses and individuals decided to take a closer look at live streaming, hoping to remain connected to their audience during this social distancing time. Instagram even had some bugs a few days ago due to high demand.
There's no question that live videos are the perfect tool to maintain your connection with your audience because real-time interaction allows creators and viewers to build and solidify relationships. But, the trick now is how your live streams can stand out and reach your audience? Or, better yet, expand your audience?
This is the time to take your live streams to the next level, grow your audience, and connect with them like never before.
Make your live streams stand out
Deliver valuable content
As cliche as it may sound, the quality of your content matters now more than ever. With the number of live streams happening around the world on YouTube, Facebook, Instagram, to mention a few, the best way for live streams to stand out is to deliver top-notch content.
Most pieces of content aim to, in some way, entertain or educate viewers, and regardless of your specific goals, there needs to be something unique about your content. For example, business and individuals' live streams stand out when their content:
Brings more in-depth information
Shows relatable scenarios and stories
Present an unusual point of view
Use multiple resources
Another way to stand out when live streaming is to think outside the box and use multiple resources. While most streamers rely on a simple "talking to the camera" setup, you can take your live streams to the next level when you mix it up with a multi-camera angle, pre-recorded videos, images, and screen sharing.
Some ideas of resources to make your live streams stand out are:
Multi-camera angles
GIFs and digital props
Slide deck presentations
Pre-recorded videos
Video & audio playlists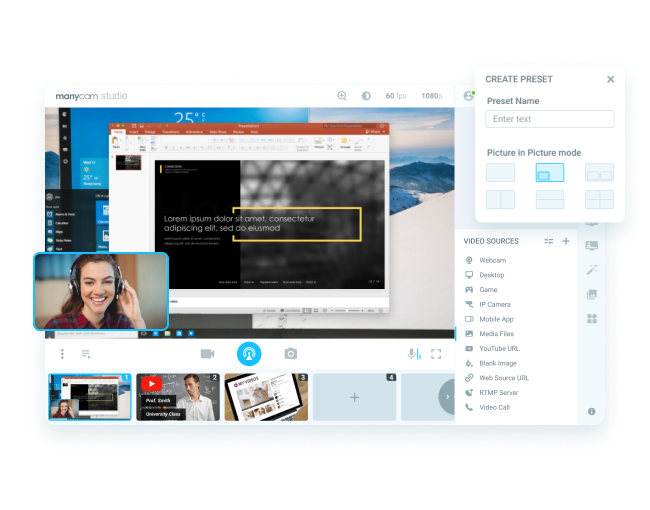 Extra resources help you communicate effectively and get your message across. Also, the different camera angles and materials allow you to create much more engaging live streams that not only help you stand out but also help you keep viewers around during your stream.
Check out our Live Streaming Guide to Audience Engagement for more on engaging streams.
Be authentic
A common mistake people make when they start live streaming or creating content in general, is looking up to the most popular ones and trying to be exactly like them. That strategy might even work for a brief moment, but it's not sustainable for long term content creation, nor is it truly beneficial to your business or personal brand.
The best way to build an audience is with authenticity. Businesses and individuals alike need to let their personalities shine through during live streams to establish a real connection with the audience. By far, the most significant advantage of live streaming is the real-time interaction with the audience, which leads to trust if you are authentic.
Being authentic might sound cheesy, but it can be your secret weapon to stand out when live streaming because people are different, and sometimes, our uniqueness is our biggest strength.
Know your audience
Most popular live streams that stand out from the crowd have one thing in common – they know their audience well. They know what their viewers want and how to deliver it. Though this is a fairly simple concept, it's not easy to achieve. Getting to a place of truly knowing your audience might take some time and testing.
To get to know your audience, consider:
Data: Take into account the information available on your audience, such as demographics, psychographics, and so on.
Ask yourself: Who is your ideal audience? Where do they live? What do they do? What do they like? What problems can you help them solve?
Listen to them: Visit community forums, read comments, and learn everything you can about your potential audience. What do they talk about? Where?
The depth of this kind of research varies a lot, but it's crucial to take action at some point. Some content creators end up wasting too much time in this stage without ever testing their hypothesis. The ideal course of action here is:
Gather some information on your audience
Brainstorm live streaming ideas
Select the ones that stand out for you and go live
After your live stream, you can analyze the response and get a better sense of what your audience is all about.
Pro-tip: Don't give up on ideas too quickly. Sometimes, it takes a while to get people on board, so if something doesn't work on the first time around, give it a little more time.
Stand out by live streaming on multiple platforms
Most people have their preferred social media platforms; some will stick with Facebook no matter what, while others would much rather watch live streams on YouTube or Instagram. Regardless of your personal preferences, if you want to get more viewers on live streams, you need to be on all platforms at the same time.
Multicasting on Facebook, YouTube, and other platforms increases your chances of reaching viewers. Then, if your content delivers enough value, your new viewers might stick around.
When considering multi-platform streaming, keep in mind it's a demanding process on your computer and internet speed. So, do some test runs before your live session to make sure it works for you.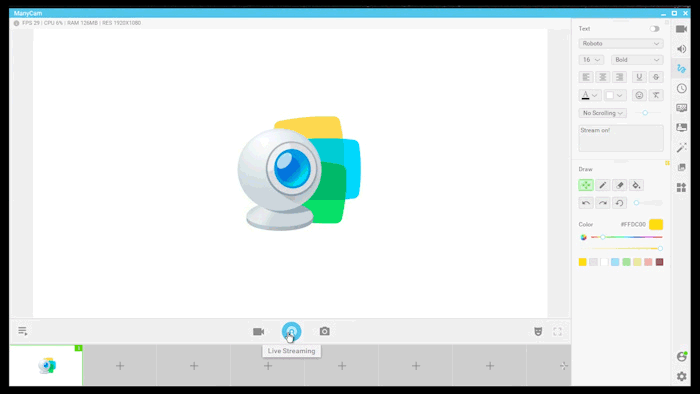 Pro-tip: With a ManyCam Studio subscription or higher, users can live stream to Facebook and YouTube simultaneously or any of their preferred streaming platforms with the flip of a switch.
Schedule your live streams in advance
In general, live streaming platforms allow users to schedule live sessions in advance, which is crucial for your live streams to get more viewers. Scheduling allows you to promote your live streams effectively, which we'll talk about next, but it also has other advantages.
When you schedule live streams, your audience can show their interest, join the stream before it begins and get notifications before the live begins. The platforms will notify your audience once you're live, which is vital when you're trying to increase your viewership.
Promote your live streams
As mentioned above, scheduling your live streams makes it much easier for you to promote your live streams because you have a shareable link and a clear call-to-action for your audience to activate notifications to your live stream.
There are many ways to go about promoting your live stream so that you get more viewers and stand out, here are a few suggestions to get started:
Leverage your contact list or email list: invite everyone you know to watch your first few live streams to get some initial traction.
Use your social media banners and posts to promote your live streams: create exciting artwork that reflects your live content.
Reach out to partners: ask your partners to promote your live streams, and you can recommend their products or services in return.
Giveaways: create special contests and giveaways that drive your followers to share your live stream info.
Live stream consistently to stand out
Consistency can potentially make or break your streaming success. Live streaming spontaneously, now and then, might have its benefits. But, if your goal is to grow your audience and stand out, you'll need a better strategy. Periodic shows are one of the best ways to stand out and create a solid audience base.
Whether you go live every day, every other day or weekly will depend on your content production resources. The key takeaway here is to create a schedule that suits your business or personal brand without keeping it too far apart. The consistency gives people a chance to discover your live stream over time and allows you to grow organically.
Once you've tested a few different times of day and formats for your live stream, you should settle on one and stick with it for a while. Similar to people tuning in to a certain channel every day to watch a show, you want to deliver that consistency to your audience.
Make your live streams stand out – Final Thoughts
Despite the huge increase in live streaming videos over the past couple of months due to quarantine and remote work, you can still create content that stands out. Keep your live sessions consistent and deliver the high-quality content that your audience needs, so that your live streams stand out no matter what.
We hope these tips are helpful and that you get to apply them to your next live stream sessions. Don't forget to let us know how it goes in the comment section below!


Here are other blog posts that you might like:
Creating live streams is time-consuming. When you invest your time, you want to make the most out of it. That means reaching as many people within your target audience as you can… (Continue reading)
Live streams are now, mainstream. Live video has grown faster than most mediums because it establishes a real-time connection and facilitates a conversation between the streamer and the audience. Nowadays, most social media platforms and video platforms allow you to stream live video. But, between the 2 major platforms, YouTube and Facebook… (Continue reading)