When you work from home effectively, increasing productivity means finding work-life balance and living your best life.
In between health crisis, environmental responsibilities, and budget cuts, working from home seems to be the all-in-one solution for companies and employees. The statistics speak for themselves; the benefits of working from home are huge for all parties involved if you work from home effectively. Whether you are a full-time remote worker, an occasional telecommuter, or simply contemplating the idea of working from home, the key is productivity.
Add live video tools to your video conferences with ManyCam today!
Tips for working from home effectively
In this blog post, we'll take a deep dive into each of these tips so that you can improve your telecommuting life and work from home effectively. They are easily applicable to most remote working jobs regardless of your industry.
Jump straight to the tips to work from home effectively!
Before the deep dive, it's important to understand why working from home is such a relevant topic in the business world and what are the benefits for companies as well as remote workers. So, even if you aren't a telecommuter yet, it could happen soon.
The growth of remote work
While world leaders search for solutions against health and environmental crises, companies look for ways to cut costs and employees yearn for work-life balance. It turns out, part of the solution to all of this is one and the same, working from home, also known as telecommuting.
According to Global Workplace Analytics, work-at-home grew by 173% between 2005 and 2018, which is 11 times faster than the rest of the workforce, without including the self-employed population.
Not surprisingly, Fortune 1000 companies around the world began to change their infrastructure since employees are mobile, and studies show that desks are empty 50% of the time.
Only two years ago, 40% of global companies were already identified as hybrids, which means they have in-office employees but also support telecommuters (Owl Labs). Among those numbers, 16% of global companies were fully remote, and 44% didn't allow remote work. It's safe to say that the latest news around contagious diseases and climate crises have pushed companies to take a closer look at remote work.
Currently, the industries with the most telecommuters are:
Healthcare (15%)
Technology/Internet (10%)
Financial services (9%)
Education (8%)
Manufacturing (7%)
Regardless of your industry, the global shift to working from home instead of in-office is clear. Technological advancements are made every day, and they make it possible for most fields to adhere to some form of remote work.
What are the benefits of working from home?
The advantages of working from home are huge for businesses and telecommuters. It's a win-win situation, even if the employee has to come into the office now and then.
Remote workers' benefits for companies
Cultivate a healthy environment
Working remotely is the optimal alternative when there is a concern regarding contagious outbreaks. As the CDC (Centers for Disease Control & Prevention) recommends, employees should stay home when feeling sick to prevent spreading viruses. With a remote work policy, companies can get ahead of such issues.
Increase employee retention
Stanford University conducted a two-year study on remote work and found that people who work from home are less likely to quit. It also showed an overall 50% attrition decrease among home-based workers.
Boost productivity
The same study also showed an impressive increase in productivity from the home-based employees, since employees were seldom late or left early and had fewer distractions.
"We found a massive, massive improvement in performance — a 13% improvement in performance from people working at home,"

– Nicholas Bloom, the professor of Economics who conducted the study.
Other benefits to having home-based employees are:
Saving on average $11,000 per half-time remote worker per year
Increasing workforce diversity when hiring worldwide
Prolonging careers of talented employees with mobility issues or restrictions
Telecommuting benefits for employees
Apart from health benefits, working from home has fantastic advantages for employees who get such an opportunity, such as:
Saving money – On average, remote workers can save up to $7,000 per year, taking into account commuting, food, clothes, and childcare.
Reducing stress – Remote workers are 24% more likely to report feeling happier and more productive.
Improving work-life balance – The flexibility and control give telecommuters more time to enjoy life.
More opportunities – Not bound by geographic location, remote workers can find more opportunities for quality employment, once they get past the work-from-home scams.
One last overall advantage of working from home that's worth mentioning is the impact on the environment. Even by cutting the need to commute in half, the greenhouse gas reduction could represent a huge "win" for the environment.
The company Xerox has over 8,000 full-time remote employees. Here is what Diane O'Connor, Xerox's VP, had to say in 2015 about telecommuting:
"Annually, Xerox teleworkers drive 92 million fewer miles, saving 4.6 million gallons of gas, reducing carbon dioxide emissions by nearly 41,000 metric tons and saving over $10 million."
Tips: Work from home effectively
Check-in with co-workers
One downside of working from home is that it can get lonely. Not only that but also as the number of remote workers grows within a company, communication can suffer. Therefore, maintaining communication with your co-workers is crucial for your mental health and the business' productivity.
During the day, make sure you check-in with your co-workers and with your boss. Many companies use Slack, which is one of the many instant messaging platforms available for businesses and projects.
Use apps to your advantage
Slack isn't the only app that should be part of your work-from-home productivity toolbox. There are a plethora of apps that can help you increase productivity when you work from home.
The most important thing to keep in mind when working from home and relying on such apps is to make sure they are genuinely making you and your team more productive. Sometimes, we don't realize it, but we might be spending too much time managing these applications instead of the work itself.
Step up your video conferences
A thorough guide to working from home like this one wouldn't be complete without talking about video conferences. Many telecommuters make the mistake of not preparing themselves for video calls.
As a remote worker, it's important to keep in mind that your main form of contact with the company will be through video conferences, which means it's your time to shine. Not only should you appear as professional as possible, but also show your co-workers and leaders that you came prepared.
Video conferencing apps
The video conferencing app your company uses might vary. Some prefer Skype or Webex, while others go with Zoom or GoToMeeting. Regardless of the app, you need to have your video conferencing equipment ready. One way of making sure you step up your video conferences is to have a checklist in hand.
For high-quality video conferences, your additional resources will matter more than the video conferencing platform itself. With a live video app like ManyCam, you can drastically expand your video conference toolbox on any platform.
With ManyCam, users can:
Add multiple video sources (images, videos and more)
Easily switch between each source while live
Control video settings to put out the best possible quality
Use effects and digital objects if necessary
Share your screen or specific apps
Some extra resources to help you step up your video conferences are:
Present your work with the right tools
Video conferences are your opportunity to present your work. With the right live video tools, you can give your work its proper stage and make sure you get your message across.
Here are a few suggestions to present your work from home like a pro:
Replace your background with Chroma Key
Your background matters during video calls. When presenting your work from home, it might be difficult to find the right spot and make it look professional. That's when the green screen effect comes in handy. The Chroma key feature on ManyCam allows you to use images or any video source as your background while on video calls and conferences.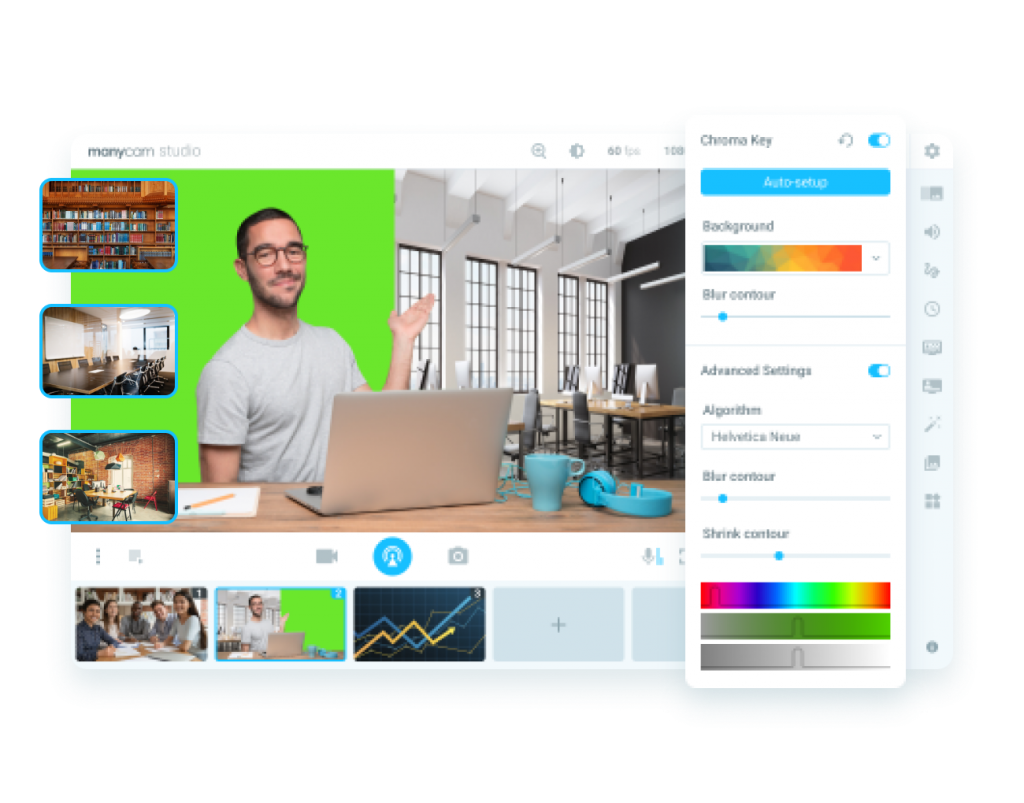 Use picture-in-picture windows
During video calls, people get easily distracted, so boosting engagement is vital. Regardless of what you have to present, keep your webcam view on the corner. This way, attendees can still connect with you.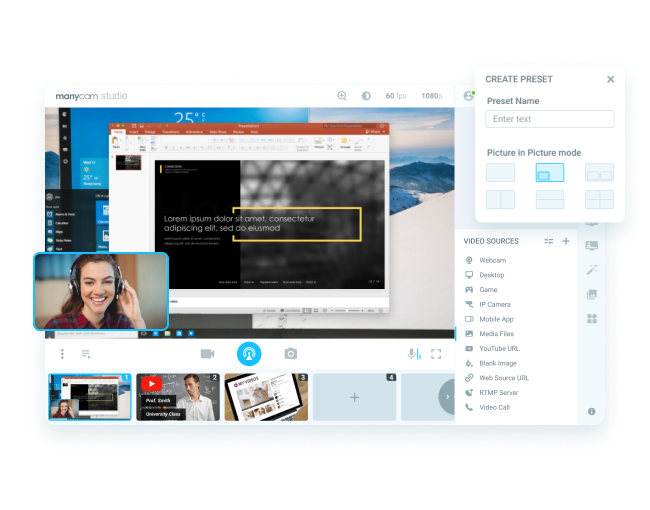 Add different resources to your video conference
Engagement can be created in several ways. One of them is to switch between video sources to enrich your presentation. For example, you can add images, videos, PowerPoint presentations, and websites to your video calls to reinforce specific points in the discussion.
Share your screen
One crucial live video tool for presentations, onboarding training, and client support is screen sharing. It can save you a lot of time and increase productivity when you work remotely to capture your desktop and explain as you demonstrate tasks.
Live video tools for your remote work
These are just a few of the many ways you can level-up your video conferences and work from home effectively. With ManyCam, you get to apply the features mentioned above to your web conferences and you can also:
Use Chroma Key to replace your background
Record your video conference for reference or repurposing
Control video & audio settings to increase the quality
Draw and write on the screen to highlight important information
Find the setup that suits you best
One of the traps that can decrease your productivity when you work from home is choosing to work from your bed or the couch or any overtly comfortable seat. The ideal scenario is to have a dedicated home office where you can work uninterruptedly. It also allows you to "leave" work once you're done.
If that is out of your budget, don't worry. Look for a place that allows you to connect your equipment and setup comfortably (but not too much). Some remote workers choose to set up on the corner of the dinner table, and others go for the kitchen counter.
Now, if your current living situation doesn't allow you to find some peace and quiet, coffee shops have been the telecommuters' go-to place for years. The background chatter serves as white noise to help you focus.
Make sure that you always have your devices charged and ready to go, and that you have an outlet near you to charge if needed. Plus, keep in mind that you might need specific equipment for video conferences, so it's always a good idea to have them nearby.
Get ready for work
One of the most simple, and yet effective, ways to work from home effectively is getting ready to go to work as if you had to go to the office. If you work from home, staying in your PJs can be tempting, but getting dressed for work helps you create a clear separation between work and personal life.
When you work remotely, your personal life tends to blend in with your job. In other words, if you work from home, you're always at work. That can be dangerous and counterproductive, especially if one of your goals is to improve your work-life balance.
The first step to clearly divide your day between work and personal life is to follow your morning routine, as you would to go to the office, and then go to your designated work area. This also means, once you're done for the day, you move away from your work.
Create and follow a schedule
To increase your productivity as a telecommuter, you need to be your own boss in a way. Imagine if, instead of figuring out your priorities as you go and working on whatever pops up next in your inbox, you had a game plan to maximize your productivity?
That's when a thorough schedule comes in. Here's our suggestion:
Before you finish your work for the day, take a few minutes to outline a plan for tomorrow. Think of this as an improved to-do list.
Group similar tasks and highlight the most important ones
Throughout the day, our productivity tends to ebb and flow, which is normal. You can use that to your advantage and organize your tasks accordingly. For instance, some people perform better in the morning and prefer to tackle their most demanding work in that period. Then, they reserve the afternoon for administrative tasks, meetings, and calls.
Extra tip: Set clear working hours, breaks, and boundaries.
Final Thoughts
Remote work is here to stay. Even if you don't have the opportunity to work remotely yet, more companies are joining this trend for economic and safety reasons, so you need to be ready for the new market.
With these tips, you can increase your productivity when you work from home and present your work effectively. Working from home can be your chance to thrive when you step up your video conferences and boost your productivity.
What are your thoughts on telecommuting? Let us know in the comment section below!