Church live streaming services are more important than ever as more and more regions face the spread of COVID-19.
As a church member or a community leader, you might have thought about live streaming your services in the past but never got around to it, or it never crossed your mind as something valuable to your followers. But, everything changed in the last few months, and church live streaming is vital to help your community through such challenging times.
In this blog post, we gathered all the live streaming basics you need to know to start live streaming your services as soon as possible, as well as some pro-tips that will help you produce high-quality streams on a low-budget.
Want to enhance your live streams? Download ManyCam for free today!
Topics – Church live streaming guide
Live streaming platforms for your church service
Live streaming equipment for church live streaming
How to enhance your church live streaming with ManyCam
Church live streaming basics
Live streaming your service doesn't have to be complicated. Sticking to the basics of live streaming is more than enough to reach your community with your worship services, especially during this pandemic.
How does live streaming work?
Live streaming platforms allow users to send a video feed in real-time to internet users. They can be public or private and can feature a mix of live and recorded content. Unlike videos on demand, live streams don't require any post-production because they are shared in real-time with a live audience.
Once the live stream is over, some platforms like Facebook and YouTube allow the creators to keep it available as a recorded video.
Since live streaming has some technical challenges, church leaders must understand the basics so they can put out their best possible live services – even if it's on a low-budget.
Video Resolution
When we consider video, there is no question that quality plays an important role. The most used video resolution is the 1080p, also known as full HD. This resolution works well for most videos because of its high definition that doesn't drain all your resources.
It's crucial to keep in mind that in live streaming, sometimes, the best live streaming settings are not the best settings for your setup. Higher video quality means you'll need more internet and hardware capacity. It also means your video might have lagging issues. Low-quality videos, on the other hand, require fewer resources and "go out" faster.
Encoding bitrates
Another important aspect of church live streaming and live videos, in general, is understanding bitrates. Bitrate is the amount of information that is encoded in a time unit. In live streaming, the video bitrate is measured in Mbps (megabits per second) and the audio in Kbps (kilobits per second).
What's important to understand here is this – the more information you are trying to send, the more internet bandwidth it requires. So, high-quality video requires more internet upload speed.
Internet upload speed
A common question regarding live streaming is, "how much internet do I need to live stream?" Based on the previous topic, you probably guessed the answer – it depends. You can test your internet speed on Speedtest.
A general recommendation is having:
6 Mbps for 720p
13 Mbps for 1080p
But keep in mind, there are a lot of moving parts to this equation, and you might need more resources to achieve a high-quality stream.
The best way to find your optimal setup is running multiple tests on private live streaming sessions and analyzing your results.
Live streaming platforms for your church service
Many people get hung up on choosing the right live streaming platform because there are too many options. Your church or service might have its specific needs, goals, and audiences, and that's what you should keep top of mind when considering your live streaming platform.
Live services on Facebook
Facebook lives are more popular than ever, and Facebook can be a fantastic option for your live service. Many churches already have Facebook pages, which makes it easier to set up live streams, and your audience is already there.
Another advantage to Facebook is that it's free to live stream, and you can expand your church's audience by reaching new people.
For more on Facebook lives, check out these resources:
Live services on YouTube
Similar to Facebook, YouTube is a widely used streaming platform, and you can use it for free. Also, YouTube allows you to embed a link to your live stream on your own website instead of publicly streaming to the platform.
If you live stream publicly on YouTube, your church has a chance of showing up on Google searches and expanding its audience.
For more on YouTube lives, check out these resources:
Paid streaming services
Some live streaming platforms offer more features for paid subscriptions, such as Boxcast, Dacast, and StreamSpot. Or, if you are looking for dedicated church streaming features, you can find paid platforms out there such as:
Churchstreaming.tv
SundayStreams
Streamingchurch.tv
Regardless of the platform you live stream your service, the key here is to adjust your settings accordingly and reach your audience.
If you decide to go with the free options, namely Facebook and YouTube, check out the best live streaming settings here.
Multicasting your church service
If your internet speed and equipment allow, you can also live stream to multiple platforms at once to expand your reach even further and allow your audience to watch on the platform they prefer.
Note: A ManyCam Studio subscription or above is required to go live on two or more platforms.
Live streaming equipment for church live streaming
With the current COVID-19 situation around the world, many churches can't offer their in-person services anymore, so being able to stream your services online is essential. With that in mind, the goal here is to keep things simple and low-budget to help your church start streaming right away.
Live streaming equipment ranges greatly, from a couple of hundred to thousands of dollars.
While still considering quality, it's possible to find good streaming gear at affordable prices that will allow you to stream your services effectively. Here is what you'll need, apart from the internet connection mentioned previously:
Camera: HD webcams can produce great results with proper lighting, and prices range from $50 to $300.
Microphone: Among many types of microphones, a lapel mic or desktop mic should do the trick, and some of them cost as little as $20.
Computer: The more powerful your computer is, the better your live stream will be.
Lighting: Video lighting kits can come in handy when creating live videos – starting prices are around $40. Don't forget natural light. It can be your greatest ally.
With whichever live streaming setup you have, the key to successful live streams is to have a checklist nearby and test your equipment regularly.
How to enhance your church live streaming with ManyCam
With the right live video tools, your church live streaming can deliver the worship services that your audience needs. Even with the basic live stream setup mentioned above, you can help your church put out fantastic live services with features like:
Picture-in-picture
Different video sources
Virtual backgrounds
Video playlists
Effects, objects and lower thirds
Picture-in-picture layers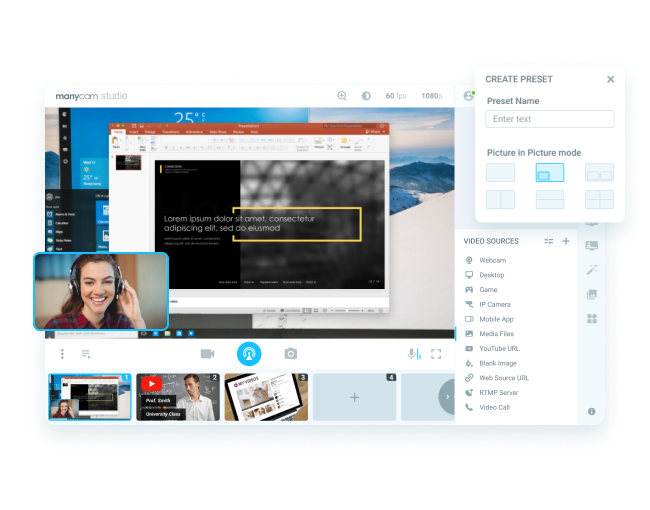 With ManyCam, you can add multiple picture-in-picture layers and resize them on your screen. For instance, if you want your audience to read along with you, but you still want them to see your webcam view, this setup is perfect.
You can choose the preset that's best for your church streaming service or change it up as the live stream progresses.
Add multiple video sources

Varying your video sources is the best way to keep your audience engaged throughout your service. Depending on your church's in-person services, it might have different segments from reading and singing to talking to your followers. While the online format isn't exactly the same, with ManyCam, you can add images, slide decks, pre-recorded videos, music videos, and so on to provide them with a better experience.
Virtual backgrounds
A common setback for many people who want to start live streaming their church services is finding the right setup. If the church doesn't have the right lighting or if they can't find a good spot to go live, many end up not doing it at all.
With ManyCam, you can replace your background with images and video sources without a green screen. For example, you can add your own images that represent your church and set it as your background before you go live. Another option is to blur your background so that your audience focuses on you and your words.
The virtual backgrounds feature also has Chroma Key advanced settings for users with a green screen background, which gives your broadcast an even more professional look.
Note: To activate this feature, you'll need a Studio subscription or higher.
Create video playlists
Many churches like to share different content during their services. An easy way to do that on ManyCam is to create a video playlist and add your video sources to it. You can play, pause, and loop videos as you like.
Church live streaming – Final Thoughts
A lot has changed in the last few months, and, from what it seems, it will take a while before everything is back to normal. One of the best ways for churches to continue their work and stay connected with their community is through live streaming.
We hope this church live streaming guide helps you get started so that you can reach your audience at times like these when they need it more than ever. Make sure you schedule your church services and spread the word on social media before you go live.
Here are other blog posts that you might like:
Creating live streams is time-consuming. When you invest your time, you want to make the most out of it. That means reaching as many people within your target audience as you can… (Continue reading)
Live streams are now, mainstream. Live video has grown faster than most mediums, because it establishes a real-time connection and facilitates a conversation between the streamer and the audience. Nowadays, most social media platforms and video platforms allow you to stream live video. But, between the 2 major platforms, YouTube and Facebook… (Continue reading)