With so many tools and platforms out there, sometimes it's hard to decide which one is best for you. The lists are endless, there are free ones, less expensive ones, and the more  expensive ones. Truth is, you need to find what works best for you and your business. To know what works, you will need to try them out. Whether you are doing video calls, video conferences, live interviews, or any live video related activity, Google Hangouts is a great place to start. Due to the many questions we've received about it, we decided to put together some useful tips to use Google Hangouts.
In this article, we will give you an overall introduction to Google Hangouts, what it is and what you can do with it. Because it's a free platform, it can be very useful to everyone that wants to use live video but can't invest much. Here you will also find 7 practical tips to use Google Hangouts.
What is "Hangouts"?
Hangouts is a communication service, provided by Google. It can be used for messaging, voice and video calls. With Hangouts, you can message a friend, coworker, clients or start group conversations with up to 100 people. You can also make free video calls to one person or a group call with up to 10 participants.
Since it is web-based, Hangouts works on any browser but you can also download the app or chrome extension. You can sync your devices and download the app to your Android or iOS device.
What can you do with Google Hangouts?
Hangouts is a great service to use if you want to have many chat groups or make video calls and conferences. If you are a small business, you can use this space to connect coworkers or schedule appointment with customers and have professional video calls. Google also has another service called Meet, that is designed to schedule video conferences. But for now, let's stick with these tips to use Google Hangouts because you can do a lot with them. 
Unlike Skype, which requires you to download and install the app, Hangouts can be used on your browser. If you want to call someone who is not on your Hangouts list of contact yet, you can send them an invitation. They will need to have a Google account though.
Video Conferences
In today's business world, video conferences are essential for productivity. In other words, video conferences allow companies to work smarter instead of harder because they help people from anywhere in the world be aligned to one objective. That's one of the main reasons Hangouts is so valuable. It's a free service, for you as a solo entrepreneur, influencer or for your company to keep in touch.
Tips to Use Google Hangouts
TIP #1 – Use Google Hangouts to connect with your Business
Connect with customers and employees: video calls are a great way to engage with people and interact with your customers. Meetings can also be more effective with video conferences, with mediation and focus.
Live Onboarding: if you hire someone new, a live video session is a great way to introduce yourself and talk a little about the company. The new employee will feel appreciated.
Online Job interviews: the whole hiring process can be tiring. But video calls can help you preselect applicants to then come to an in-person meeting, which will save you a lot of time.
TIP #2 – Add contacts beforehand
You don't need to schedule a meeting and wait till then to connect with the person. On Hangouts, you can click to start a new conversion and write that person's email in the search box. If he or she isn't on your contacts list, you can send them an invitation.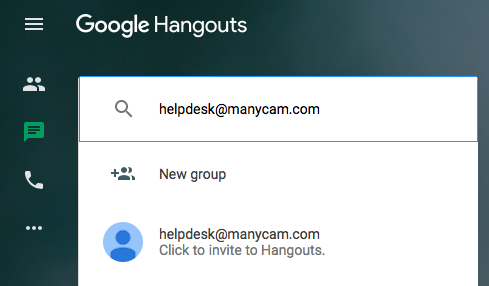 So, make sure you invite everyone to the video call or conference. beforehand. Having your contact there will make it a lot easier to start the call.
TIP #3 – Start the video call by yourself
You can start a video call without contacting anyone else. But why would you want to do that? Well, let's say you want to prepare everything for the live video, which is always a good idea. You can click the video call button and start it. You can see how you look on camera, how you can add your screen and everything else.
Once you're ready and it's time for your appointment, you can invite people by entering their name or email. You can also get the link for the call and send to anyone you would like.
TIP #4 – Flipping images
Google Hangouts and some other video calling services, can sometimes flip the image of your webcam. A workaround for that is having a software, like ManyCam, where you can flip the image.
TIP #5 – Keep it organized, use the chat
Many times, video conferences, just like any other meeting, can lose focus and end up being useless. On Hangouts, once you start the video conference, you can lay some ground rules to ensure productivity. For example, if you are going to present something, advise others to use the chat to leave their questions and you can reply in the end. Using the chat will lead to a more organized meeting and with fewer interruptions.
TIP #6 – Record your Video Call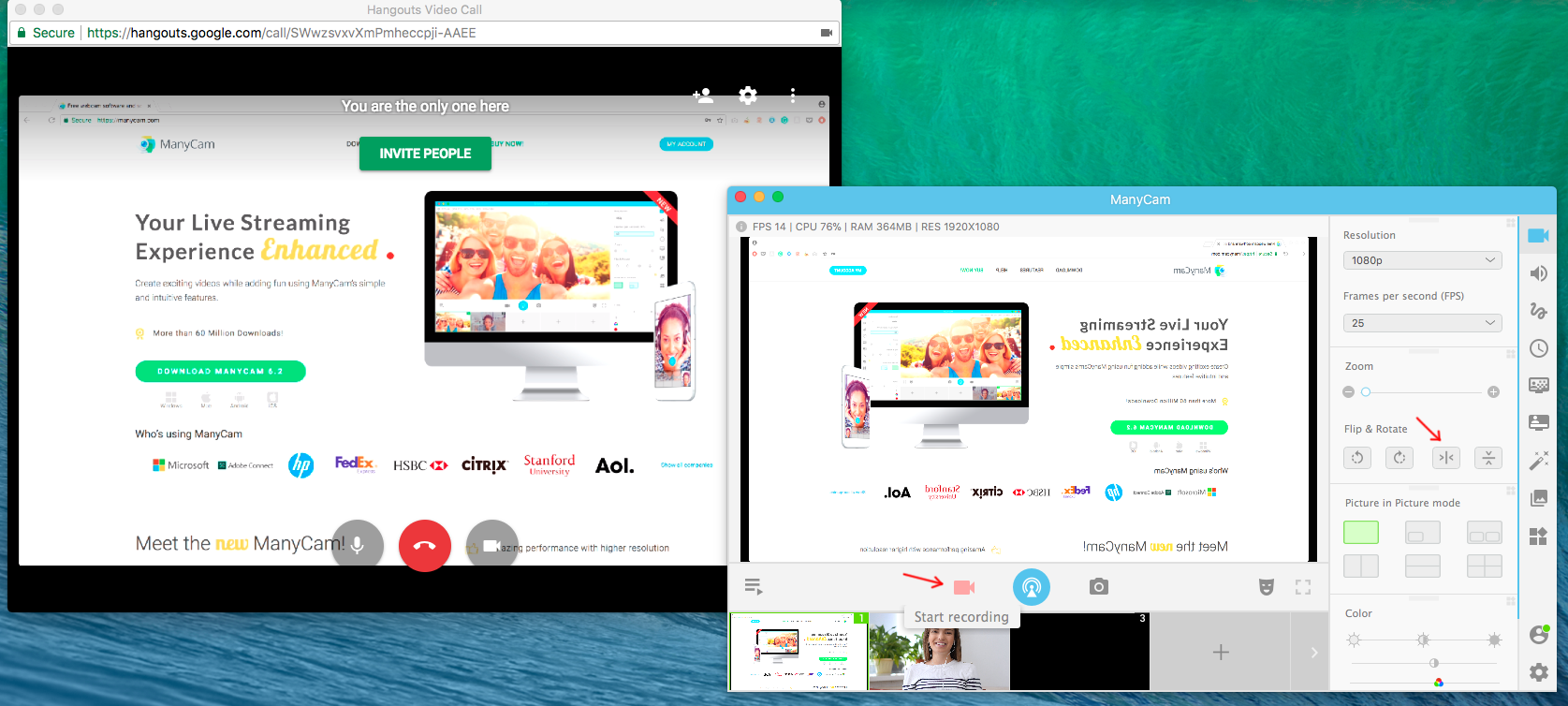 When you use ManyCam as your webcam source on Hangouts, you can use it to record the video call. It's a great way to keep track of your meetings and you might be able to use parts of the video for something else. ManyCam will save them on your computer.
TIP #7 – Do much more with ManyCam
Another tip to use Google Hangouts, it to pair it with ManyCam, so you will have professional-looking video calls and conferences. You will be able to use the Picture in Picture feature, add multiple video sources to your call, and adjust video/audio settings to look your best. ManyCam is easy to use and there is also a free version, for you to give it a try.

In Summary
Hangouts is a great tool and it can help you and your business improve communication. You can use its chat, voice and video calling functions. It's also useful for video conferences and having the chat available can make things easier. Make sure you follow these tips to use Google Hangouts and try it with ManyCam. You will be able to create professional-looking video calls and conferences.
Do you use Google Hangouts? What are your tips to use Google Hangouts?
After applying these tips to use Google Hangouts, here are other posts you might like:
Video Conferences have proven to be an important and versatile tool for business. It can be used for online business meetings, job interviews, product demos, meetings with clients, educational seminars, webinars and so on. But with its advantages, come also some unforgivable video conferencing mistakes…  (Continue reading)
Video calling undoubtedly is becoming more and more important in our lives. It allows us to break the barriers of distance and bring us closer to anywhere in the world. It's a great tool to connect friends, family and businesses. People are relying on video calls…  (Continue reading)