ManyCam 6
We are proud to announce that ManyCam 6 is now available for Windows and Mac! Now, more than ever, you'll be able to produce professional quality live streams and creative video chats. This software allows you to go live on many different platforms at the same time, record or share your screen for live demonstrations and add lots of new effects to your video productions. Now you can go even further with version 6.0's amazing performance, customizable layout and new 3D face masks and effects.
Performance Boost
Each feature of ManyCam has been improved upon and carefully developed to perform at its best. The software works faster now, using fewer resources from your system. Also, the image has higher resolution, so you'll get sharper and clearer results. The performance boost and the image enhancement can help you create live videos with the quality of a professional production, which will make a big difference on the outcome of your live stream, video chats, and recordings.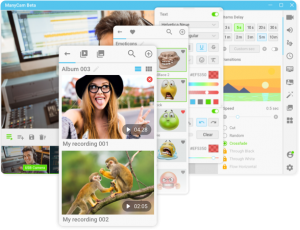 Productivity
ManyCam can be used in many ways, from live streams to one-on-one video chats, and everything in between. Regardless of what you use it for, one thing we're sure of, your time is important and productivity is key. Therefore, to help you save time and work faster, we added a customizable interface to ManyCam that allows you to place your most used tools together in the favorites toolbox. What's more, inside the main tools, you'll find smaller panels with all the related features, which makes everything a lot easier, doesn't it?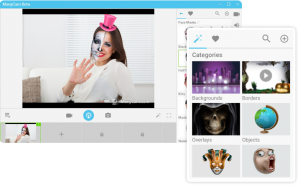 3D Face Masks & Effects
Every year, more and more people from all over the world join our awesome community of ManyCam-ers. Since the launch of the first ManyCam, we've had over 60 million downloads! How cool is that? And as a request of our community, for this version, we created a library of amazing 3D Face Masks, that wrap around your face through facial recognition technology and the best part is, you can use them while video chatting or streaming, live! Have an idea for a new mask? Leave a comment and let us know, we love your suggestions! Along with the masks, we added brand new effects and filters, to make your live streams really stand out.

What can you do with ManyCam 6:
–  Live stream to multiple platforms simultaneously
–  Share your screen live or record demonstrations
–  Professional quality live video production
–  Video chat on multiple applications at once
–  Create professional presentations and video conferences
–  Customize the interface to increase your productivity
–  Have fun and get creative with your video chats and live streams
–  Apply 3D Face Masks, effects and filters to add some flair to your videos
ManyCam 6 is simply the fastest and easiest to use a version of this webcam software and video switcher yet. Our goal is to help you create high-quality live streams and video chats with ease on many platforms at once. Join the 60 million ManyCam-ers today to make the most out of your video calls and live streaming events. Just click on the button bellow: