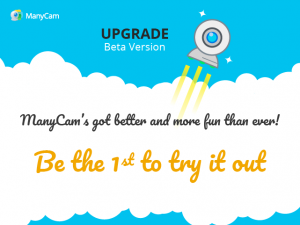 The wait is over
A couple of weeks ago, we've told you about some of the new features of the beta version of the new ManyCam. We've received many positive comments, and many of you are looking forward to its release and knowing more. And so here is more.
Widgets
We know you all love different tools within each feature. So in this new beta version, not only do we have new design and increased performance in this new version, you will also be able to favorite widgets and keep them in the favorites "tool" so that you can have all of your most used widgets in one tool and keep what you need most at the top!
3D Face Masks & New Effects
In addition, as per your strong demand, we've also added a new 3D face mask library for your live streams and broadcasts. Your videos can now become them more interactive and lively. And if you've any suggestions about any mask that you want to see, just let us know!
The fun doesn't stop there. Here's another exciting news…this beta version is now RELEASED! Be the 1st to try this new beta, which can be downloaded it here.
Don't tell your friends, ManyCam'em!
The ManyCam team