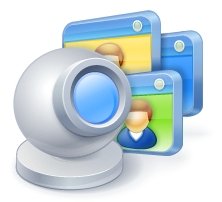 Have you ever been video chatting in Google + Hangouts while someone is also trying to video chat with you simultaneously on Facebook video chat or Skype?  With ManyCam you can video chat with many webcam applications simultaneously with no problems.
ManyCam may add awesome effects to your webcam along with many other features, but one of its first features allowed the use of a webcam with many applications simultaneously.  In fact ManyCam is called ManyCam because it allows you to use your cam with many applications at once.
If you have ManyCam installed on your computer you can video chat with Skype, while on Facebook Video Chat, while on Google Plus, while on Chatroulette, while on MSN Messenger and more!  To make this work be sure ManyCam is set up as your video source on the application you are using by visiting our applications instruction page.
Once ManyCam is setup as your video source all you have to do is accept the video chat from your friend and ManyCam will take over and allow simultaneous video chatting in many applications.
Don't have ManyCam yet?  Download ManyCam for free then set ManyCam as your application source.