A live broadcast can have a great impact on your audience and can help you reach an even broader audience. That is if they are actually paying attention to you. Step up your game when it comes to live video with this easy multi-camera live streaming setup.
This article will show you why it's important to create multi-camera streams and exactly how to do it. With the help of ManyCam and some equipment, you won't need a big budget to make your live videos look expensive and professional.
Want to watch a video instead? Here is a step-by-step guide on how to make your own Multi-Camera Live Streaming Setup:
Why go for a multi-camera live streaming setup?
The number of live broadcasts happening online every day is huge. People and business go live on Facebook, YouTube, Twitch, Instagram, Twitter, just to name a few platforms. A multi-camera live streaming setup can make you stand out from the crowd.
Dynamic videos
While videos on demand allow unfocused viewers to pause and rewind, live video requires their full attention the entire time. Switching points of view during a live video helps you deliver a dynamic video and keeps your viewers engaged.
Creating interest
Imagine one camera shooting the speaker in a close-up shot and another showing more of the environment on a different angle. They will help you tell a story and create interest. The closer shot works to emphasize something important, while the broader places the presenter in a scenario. If it's an office, it shows the brand's personality. Or if it's outdoors, viewers can see the city and get to know the presenter a bit better.
Production value
Having a multi-camera live streaming setup brings a ton of production value to your live videos. They will get a look way more professional without breaking the bank because a multi-camera setup can be done on a low-budget.  
Equipment and Placement – Easy Multi-camera Live Streaming Video
Equipment for live streaming and video production, in general, can vary a lot. There are thousands of cameras and accessories on the market that vary a lot in quality and price. Let's go through the minimum equipment needed for an easy multi-camera setup and you can build upon that.
Main Camera
Firstly, to create your multi-camera live streaming setup, you need at least 2 cameras. Your main camera should be the one with the best output quality. It can be a webcam, an IP camera, professional live streaming cameras, mobile phone cameras or even a DSLR. Although, we don't recommend using a DSLR unless the manufacturer says it's built for live video, because it might get damaged.
For any camera, you decide to use, make sure the battery is charged or that the cable is long enough for your setup. Let's say, you use an HD webcam. You'll need to connect it to a computer and the cable needs to reach a certain distance.
Main Camera's Placement
Its placement should be in front of the broadcast's presenters so that they can talk straight to the camera. It's important for presenters to look at the camera because in videos it translates to looking into the eyes of the viewers.
In other words, looking straight at the lens creates a connection between the presenter and the viewer.
Second Camera
Many current mobile phones are capable of shooting good quality videos (1080p). You can use them to save money when creating a multi-camera live streaming setup. Instead of purchasing expensive cameras, try using devices you have available. Even your main camera can be a mobile device. Here is a list of mobile live streaming gear for low-budgets. 
Placing the second camera
As for the placement of the second camera, you have many options. Since the second camera's goal is to add interest to your live video, its placement depends on what you want to show. For example, many people choose to frame it diagonally to add dynamic transitions.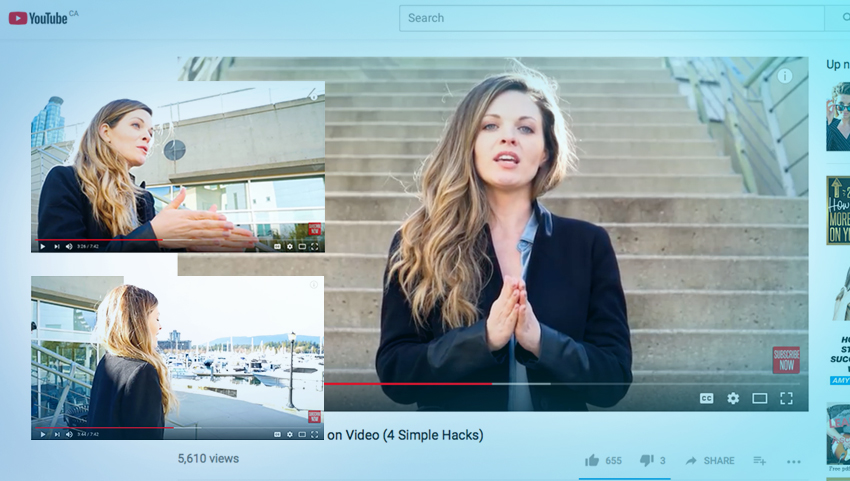 Source: Sunny Lenarduzzi (YouTube)
You can also place the second camera as a wider shot, where viewers can see more of your environment. It helps viewers to get to know you better. But, if you want to create a more dramatic transition, you can do a close-up shot with the second camera, either on your face or hands. It can help bring out emotions.
These are just a few of the many possibilities when it comes to positioning the second camera. You can, or better yet, should, get creative and explore the possibilities. Try a few different camera angles and see what works best for your audience.
Tripods
Regardless of how many cameras you plan to use, you need stability. Held-hand footage just won't cut it. You can find tripods online for as little as $15. There are also tripod adapters for mobile phones, which can come in really handy.
Once you're happy with your cameras' frames, you can mark the positions of the tripods with a tape on your set. It will be easier to set up your multi-camera live stream for next time.
Encoder & Video Switcher
Depending on the cameras you use, you might need an encoder which acts as a bridge between the footage and the online broadcast itself. Some cameras might have specific encoders but overall, an encoding software can come a long way.
Along with the encoder, to create a professional multi-camera live streaming setup, you'll need a video switcher. As the name suggests, this will help you switch between the cameras, or any other video sources you might add, like your computer screen, PowerPoint presentation, pre-recorded videos and so on.
Here is where ManyCam comes in and makes your life a lot easier. Even with the free version, you can add 2 cameras and create an easy multi-camera live streaming. ManyCam receives your camera footage and sends it to the platform you want to broadcast to. On ManyCam, you can also cut or transition between your video sources.
Easy Multi-camera Live Streaming Setup – In short
Once you have your cameras in place, and any other equipment you might need, you can connect the cameras to ManyCam. If you're using mobile phones, you can download the ManyCam App (learn more) and connect the camera remotely. IP Cameras are also connected wirelessly. Regular cameras and webcams will need to be connected via cable to the desktop where you'll be running the show.
On ManyCam, you'll add your cameras as video sources. You can also prepare ahead anything else you might want to show on your live broadcast. Add all the video sources you'll need. Don't forget to also configure the audio of your live stream.
When everything is set, you can do a dry run to make sure everything is working well. Practice switching cameras and choose the appropriate times to do it to maximize engagement. Then, all that's left is to go live and enjoy your easy multi-camera live streaming setup.
Key Takeaway
Going live with a multi-camera setup is easier than it sounds and it has many advantages. It makes your live video interesting and dynamic. Also, it adds a ton of production value to your live videos and makes them look way more professional.
The equipment needed to set up a multi-camera live streaming video is affordable and you can even use things you already have, like mobile phones. With ManyCam, you can easily switch between your multiple cameras and get your audience engaged.
Download ManyCam and get started with your multi-camera live streaming setup!
Here are other blog posts that you might like:
Live streams are the best way to grow your audience and get them engaged. But, let's face it, always creating new content can be exhausting. Since consistency is key to your online success, as an individual or a brand, you need to keep creating content…  (Continue reading)
Throughout most social media platforms, you can click a button and start sharing a live broadcast. On top of that, there are also a number of other platforms created specifically for live streaming. But why is live video such a big deal? Live video streaming is one of the most…  (Continue reading)