Some of our Windows XP users may receive the following warning message when installing ManyCam 4: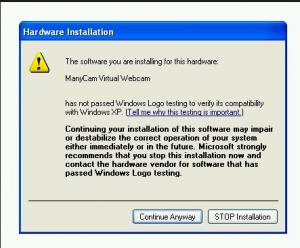 This warning message basically advises users that the software they are installing has not passed the Windows Logo Testing to verify its compatibility with Windows XP, but does not mean that ManyCam is a harmful software to download. You can still install ManyCam by clicking on Continue Anyway.
This warning message may still pop-up every now and then, which can be annoying. Here are some instructions on how to disable it:
Right click on My Computer then select Properties to open System Properties.
In "System Properties" dialog box, select the Hardware tab.
Click on Driver Signing button.
In the "Driver Signing Options" dialog box, under "What actions you want Windows to take?" section, three levels of actions on digital signature verification is provided, with default as Warn – Prompt me each time to choose an action. Default will generate the Hardware Installation or Software Installation dialog box as shown earlier whenever an unsigned driver is detected. To suppress and skip the warning dialog and install unsigned driver automatically, select the radio button for Ignore – Install the software anyway and don't ask for my approval.
In "Administrator option" section, tick the check box for Make this action the system default
Click on "OK" twice to exit.
We hope this helps!