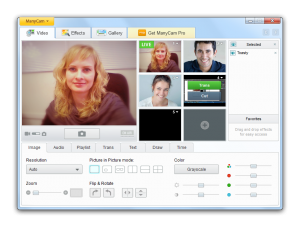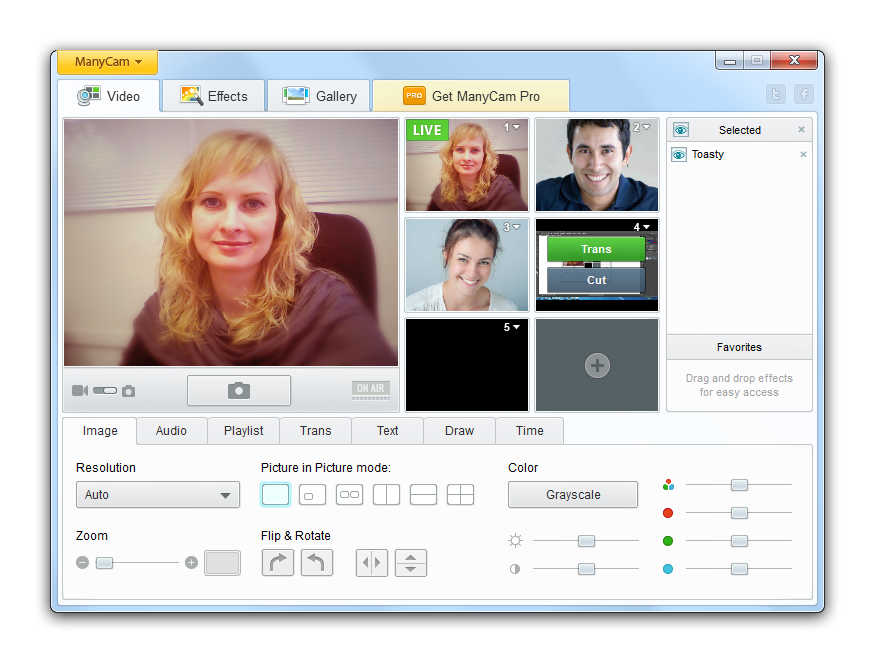 We are very excited to announce that ManyCam 4for Windows is now available for download. This major release is a huge improvement from our 3.X software and includes several awesome new features and functionalities as well as a fresh new look! Some of the major updates include a new user-interface, a new Gallery tab to easily store pictures and videos, drag and drop functionality, the ability to share your photos and videos to social media sites directly from the software, as well as a new search feature to easily find effects. We've also improved our audio and video core functionality, and made taking snapshots and recording videos easier for our users. Our website even has a fresh new look as well!
ManyCam 4 Pro is also available, and can be purchased on our website. Please note that version 4.0 is not compatible with previous versions of ManyCam Pro, so you will need a new license code for ManyCam 4 Pro. If you are already a ManyCam Pro user, you are eligible to purchase the update at 50% off, click here for more details. Users who recently purchased ManyCam Pro after November 1st are eligible to get a free license, in this case you can contact us for details.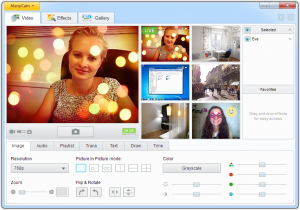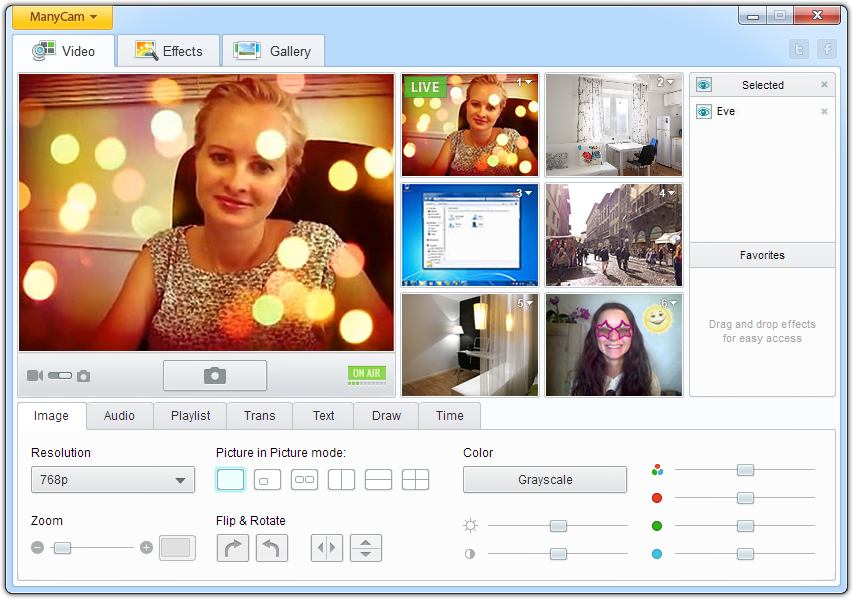 Here's what's new with ManyCam 4.0:
New User-Interface:  ManyCam has a completely redesigned look and feel! Our UI is more intuitive and everything is now organized under three main tabs: Video, Effects and Gallery, along with convenient placements of different tools in the lower tabs.  The ManyCam window is now also resizable.
New Gallery Feature – Now you can easily store and access your snapshots and recordings in the new Gallery tab!
Effects Tab & Organization – Effects are now better organized into folders under the Effects tab. Users can still access the effects page on our website from the software in order to download more.
New Emoticon Effect Category – We've included a new category of effects that we call Emoticons! Emoticons are cool smilies that appear over your video window to show your current mood.  Now you can add cool emoticons to your videos and pictures with ManyCam.
New Favorites Area – You can now drag and drop your frequently used effects for easy access in the new Favorites section of the ManyCam window.
Search Feature – We've added a Search Box to ManyCam so you can easily find effects, pictures or videos that you created.
New "Settings" Window – We've updated our Settings window so that you can customize various ManyCam settings. With the new settings you can change the default naming and storage of your media files, change the resolution of your videos and images, change your audio playback device, and set up internet proxy settings.
New "On-Air" Feature – This allows you to track what applications or websites are currently using ManyCam.
System Sound Default Microphone – This feature allows you to capture sound directly from your PC. This feature is only for Windows Vista+ users.
Recording in MP4 – ManyCam 4 can now record in MP4 format! (Only available for Windows 7 and 8.0 OS users.)
We've worked really hard on this update to make sure ManyCam continues to be the most useful audio and video tool. As always, we appreciate any feedback you may have.  If you have any problems, don't hesitate to contact us with your questions or comments.
Try ManyCam 4 today and let us know what you think! We hope you enjoy it.
Sincerely,
The ManyCam Team

Here are other blog posts that you might like:
On ManyCam 6, broadcasting to Facebook is better than ever, much more customizable.  (Learn more)
Have a closer look at how you can create amazing live streams with ManyCam 6 (Continue reading)