Fun live streams are hard to come by. Do your viewers drop off after a couple of minutes? Or seconds? This blog post is for you!
Live streams are one of the best ways to grow your audience and get them engaged. However, producing new content becomes exhausting after some time. Consistency is necessary for online success. As a brand or an individual, you have to keep creating content. Here are some ideas to create fun live streams.
Want to have more video tools when you go live? Download ManyCam for free today!
How to create fun live streams
Shake things up on your streams
Diversifying your content can be a great way of engaging your viewers and followers. Instead of always producing one type of live video or content in general, consider these fun live streaming ideas below!
1. Live Q&As
Since live videos are interactive, they are an effective way to reply to your viewers' questions and create positive interactions. You can make it a regular thing and host live Q&A sessions every week. Not only can you answer their questions, but you can also ask them things and learn more about your audience.
For instance, if you speak about health and fitness, people might ask you about weight loss, eating habits, exercises, and other related information. This allows you to forge a strong bond with your followers to reach out whenever they need guidance.
2. Tips and How-Tos
Demonstrate your expertise in front of your audience by sharing quick tool tips or how to do something. This can be very handy for your viewers as people love to learn new stuff through live streams.
If you are working in an industry like programming, you can show viewers how to create a web application in a modern framework like React JS. It is an excellent strategy to show your expertise, allowing you to get more clients.
3. Travel Content
If you are a travel blogger or even if you have to travel for some work, showing it in a live stream can be a good way to generate interest. This can be something as simple as walking to a coffee shop or going to a historical place. Viewers love to watch the lifestyle of someone they follow to tune into how other countries and cultures are like.
Even if it's not possible to travel at this very moment, you can still walk viewers through past experiences and give them destination ideas for the future.
4. Painting
Adults like painting as much as kids do, but unlike the latter, they don't get time to do it. Offline videos are one way, but doubts creep in during the video, and a misstep is all it takes to ruin the experience.
Live streaming tackles this miscommunication bridge by allowing the viewers to get in touch with the experts. Doing live classes is a good idea, and you can even charge for it.
If painting is not your thing, think about other hobbies that could be interesting for viewers to tag along. What are your hobbies? Some people might want to watch you playing video games, cooking, dancing and so on.
5. Makeup and Hair Tutorials
Live makeup and hair tutorials may seem redundant, but their demand continues to increase over time. Many people don't have enough knowledge on how to do it. This is an interesting gateway for makeup artists and live streamers looking to establish a freelance career.
6. Live Events
If you are attending an industry meetup or a live conference, you can offer a glimpse of it to your audience. Perhaps you can do a live recap after the venue. On a similar note, you can grab a speaker and do an impromptu interview.
There is a wide range of uses for live video at events, and it is a terrific way to bring in viewers to experience your event.
7. Reviews
The audience is always curious about others' opinions on things. Doing live reviews allows you to share your opinion on a product or service while connecting with your viewers. The best YouTube channels include game and movie reviews. Book reviews are not the most popular ones, but there's still an audience for them. If it gets a good response, you can do it on a regular basis and turn it into a trend.
8. Live House Tour
Often, viewers make requests for house tours from their favorite content creators. Since they spend a great amount of time watching you, it is no surprise that they like to see where you live. Take out your phone and show your home, workspace, or even your favorite place in town.
9. Quiz Game
People love to take quizzes. You can ask questions to generate interest among your viewers. However, make sure that the answers are not tough to answer and add some humor. Entertaining quizzes work better.
Live streaming collabs
Another way to deliver fun live streams to your audience is to consider collaborations with other content creators. Find creators with similar viewerships and interests so that you can create a live stream together that genuinely brings value.
This is a fantastic strategy if you want to reach more people online. In a live video collab, you get to tap into the other person's audience and vice versa. It's like they are introducing you to their audience and giving you their stamp of approval.
Fun live streams with extra resources
Sometimes, all you need to create fun live streams are a few extra resources. Most live streams are composed of one person talking to the camera, which doesn't really scream engagement.
Imagine setting up 2 camera angles, one in front of you and one with your mobile camera at a 45-degree angle. Then, instead of having just the camera views, you split the screen or add a few layers on top with different video sources, such as a pre-recorded video, your screen, PowerPoint slides, PDFs.
Now that would be a much more fun live stream to watch because the presenter, you, would switch from one to the next seamlessly.
That's where ManyCam comes in.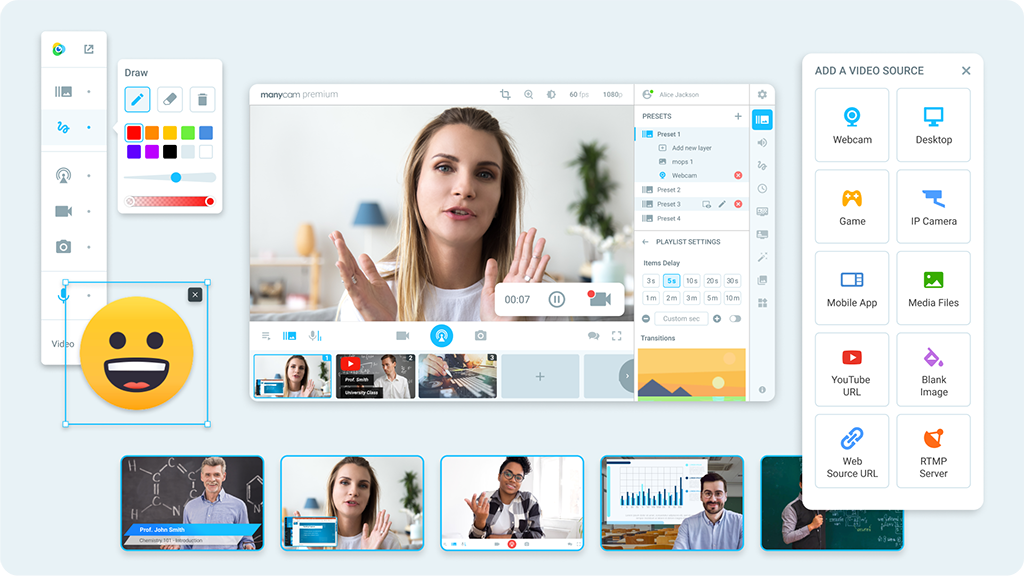 ManyCam is a live streaming software packed with features designed to help you deliver engaging and fun live streams.
It allows users to add multiple video sources, switch between them with ease, compose picture-in-picture layers, and much more. You can also replace your background with virtual images and videos, as well as completely remove your background.
Download ManyCam for free today!
Note: Some of the features described are only available for paid subscribers.
Final Thoughts
Live streams connect you with your audience in real-time. Next time when you struggle with making fun content for your live streams, follow the ideas mentioned above and develop a closer bond with your audience.