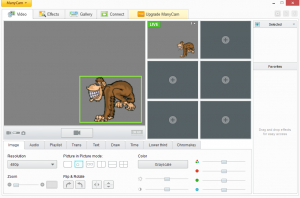 Many of our users ask us if they can create animated GIF effects and logos when using our Custom Effect Creation tool on our website. Unfortunately effects can only be created from PNG/JPG images, however we do have an easy way for you to add an animated GIF to your live broadcast by using the picture-in-picture mode.
Here's how you do it:
In the Image tab, select the second Picture-in-Picture mode.
Add your animated GIF as your video source by selecting Media Files.
You can then move the animated GIF or logo anywhere you want on the screen.
It's as easy as that!
Make sure to check out our How-To videos to learn how to use other cool ManyCam features.