Are you ready to deliver professional Facebook live streaming videos, so that you stand out from the crowd and expand your online audience?
As the saying goes, "Content is king." But when you are trying to grow your business or personal brand, you and I both know that things are not as simple as that. With so much content out there, it's quite a challenge to attract your target audience's attention, isn't it? Since one of the most effective ways to grow online is through live streaming, we created this must-read guide for professional Facebook live streaming to help you achieve your results.
This guide will help you define your priorities concerning your Facebook lives and, most importantly, give you the "secret formula" to stand out by delivering professional Facebook live streaming videos.
Before we get into this must-read guide to help you deliver professional Facebook live streaming, let's take a closer look at why Facebook live is relevant in 2020.
If you want more tools for your live streams on Facebook, download ManyCam for free today!
What's Facebook Live?
Facebook live is Facebook's live streaming feature. It allows users to broadcast live on their Facebook profiles, business pages, groups, and so on. While live, viewers can post comments and reactions, interacting with the presenter.
This feature, rolled out in 2016 and improved since then, makes Facebook one of the most relevant live streaming platforms out there today, along with Twitch, YouTube, and Instagram.
Why creating professional Facebook Live streaming matters?
Professional Facebook live streams can have a significant impact on your online growth. Everyone wants to expand their online reach, whether to grow businesses or personal brands, and adding live streams to your video strategy is a game-changer.
Since Facebook is one of the most popular social media platforms out there, it's the perfect tool to help you expand your online reach and exposure. When you take the time to deliver professional Facebook lives, it helps you cut through the noise of your audience's timeline and stand out in the best possible way.
What makes a Facebook live look professional?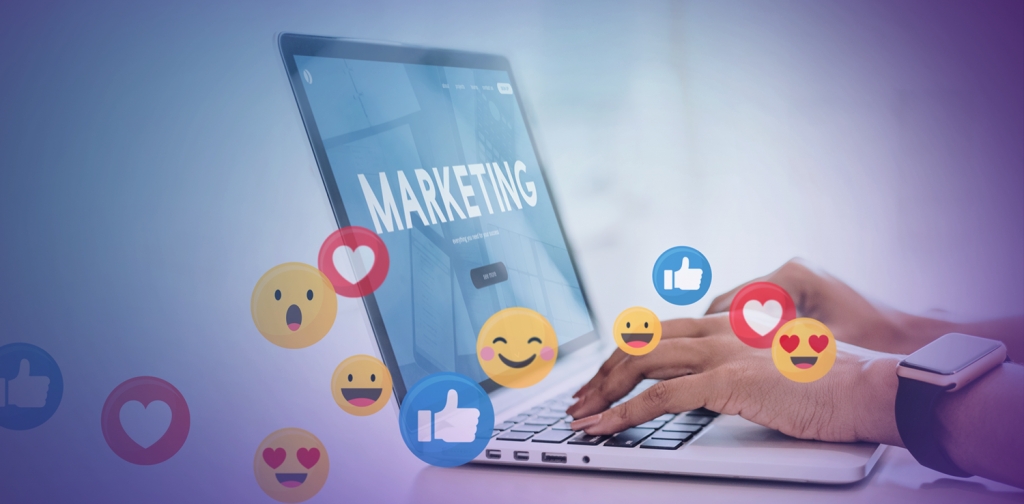 Without a doubt, this question could have many different answers. Viewers will have varied opinions on what makes a Facebook live professional. But the two unquestionable elements to Facebook lives, and live streams in general, are content and equipment.
A professional Facebook live stream needs to have valuable content and high-quality video. Arguably, content trumps production value, but that depends a lot on your audience. If your viewers are very tech-savvy, they might not be forgiving when your video quality is low. On the other hand, audiences more in tune with the content itself might be more tolerant to a certain extent.
In this guide, we've covered topics that are vital for professional Facebook live streams:
Valuable content delivered with the right structure for maximum impact
High-quality video through a reliable setup
Additional resources to increase engagement and interaction
The must-read guide for professional Facebook Live streaming
Valuable Content
One of the most critical aspects of professional Facebook live streaming is delivering value to your audience. Your content should educate or entertain your audience. Or both. In other words, your content needs to add something to your viewers' lives. Otherwise, they won't stick around for too long.
Live streams tend to be longer than videos on demand, and they should. Live streaming for at least 30 minutes, gives your audience time to join. It's also an opportunity to dive deep into your content and deliver the most value.
Outline & Structure
You don't need to write an entire script, but a structured outline is essential. It can be something as simple as:
Hook: What is your audience going to get out of your live stream? Get them interested right from the start.
Introduction: Give them a brief introduction about you, your business, and your topic. Take this time to greet some of the viewers by name and get to know them a bit better.
Content: Dive into your content, use extra resources to get your message across, and make sure viewers are keeping up with you.
Summary and Q&A: Before you end your broadcast, it's ideal to give the audience a quick recap of what you covered, especially if it was a long broadcast. Also, this is the perfect opportunity to increase interaction and take some questions.
Call to action: End your broadcast with a clear call-to-action. What do you want them to do next? It can be something related to you, such as sign up to your text platform or the content itself.

Facebook Live equipment
Just as important as outlining your content and delivering value is the quality with which you provide it. Though you don't need to put on a Hollywood production, your image needs to be crisp, and your audience needs to understand you clearly.
Your computer: One of the most important pieces of equipment on professional Facebook live streams is the computer. It must be powerful enough to live stream while using other resources.
Webcam: HD webcams have come a long way, and you can find great quality nowadays.
Microphone: External microphones, such as USB mics, are a fantastic solution for live streams, particularly the ones that come on a tripod or boom arm.
Internet connection: Live streaming requires a lot of upload speed, so make sure you have the bandwidth (Speedtest) available.
Live streaming software: Applications, such as ManyCam help you gather all your resources in one place and easily switch between them to deliver professional Facebook live streams.
Lighting: Proper lighting will give your live stream a professional look. If your budget doesn't allow you to acquire any lighting equipment, a window on a cloudy and bright day will do the trick.

Check out this blog post for more on: Live streaming equipment and setup.
Tests & Setup
If you have brand-new equipment or you've been using the same things for years, always test your setup before each live stream. Technical issues are common during live streams, but you have a chance to mitigate such matters if you test your equipment.
More than that, testing allows you to rehearse your live stream and get better at it. If you record your rehearsal or stream it on private, you can analyze your content and pinpoint what should be improved to maximize the value.
Another recommendation considering your Facebook live streaming setup is to have backup equipment ready to go. This way, if the worst-case scenario of things not working comes true, you'll be prepared to turn it around.
Multi-camera angles and resources
Professional Facebook live streaming requires resources, which doesn't necessarily mean huge investments. With a multi-camera setup, you can switch between camera angles now and then, during the broadcast to break the pattern and keep viewers engaged.
Different camera angles also come in handy when your content requires a "show & tell," such as arts & crafts, cooking, physical products, unboxings, and so on.
Resources include any kind of communication you can incorporate to your Facebook live to get your message across and deliver the most value to your audience. For instance, you might need slide deck presentations, pre-recorded videos, images, screen sharing abilities, and other tools that bring in more value.
Video switcher & other professional Facebook live tools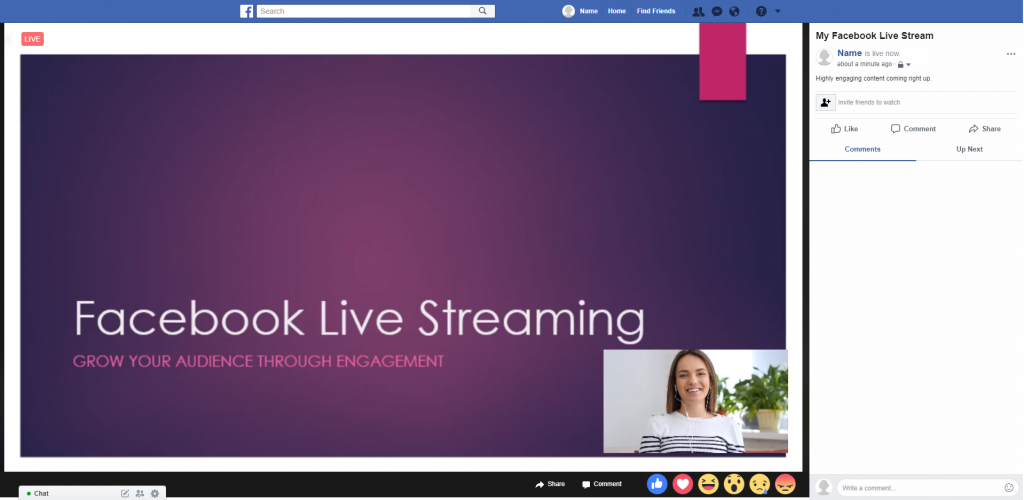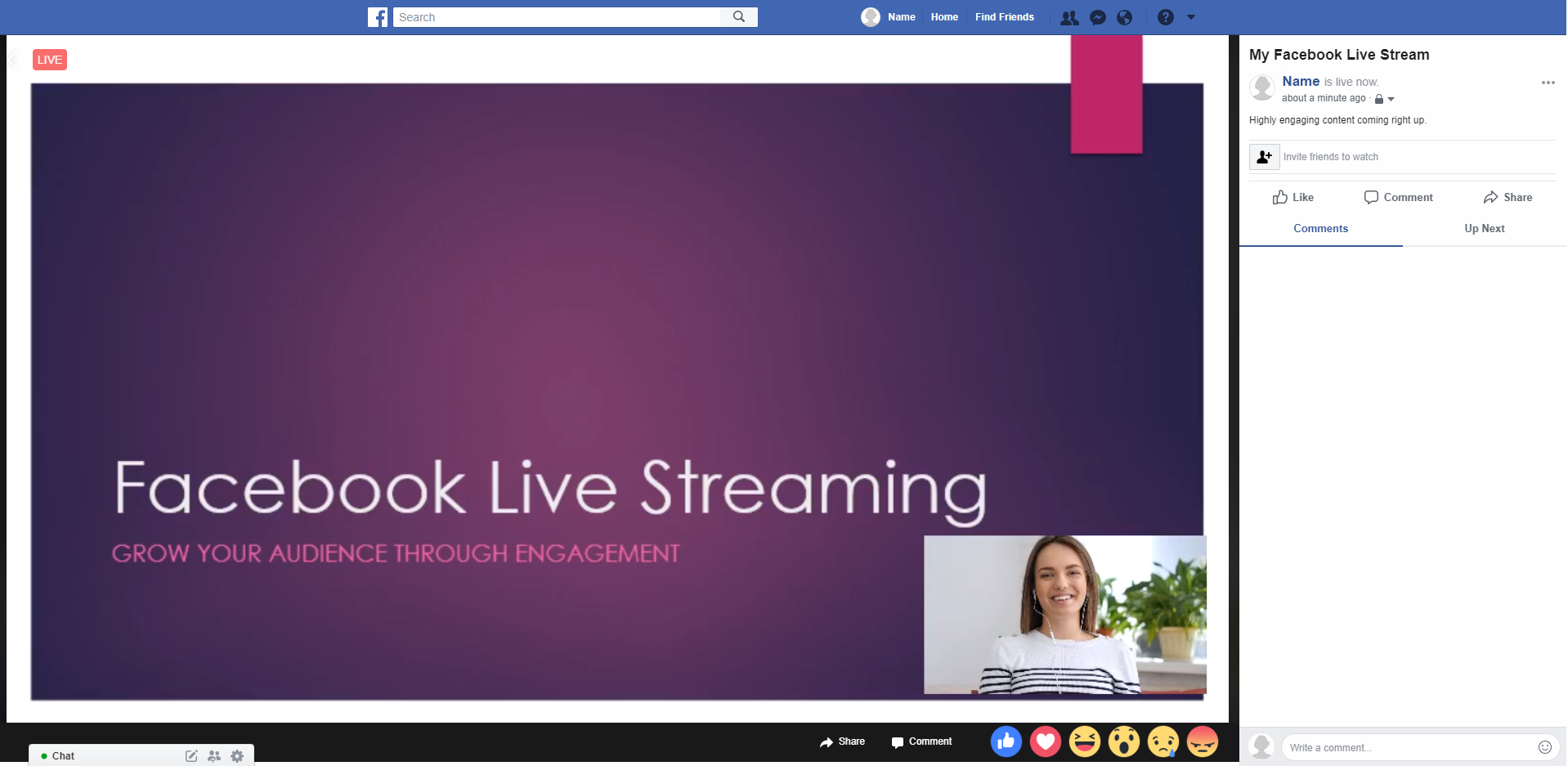 If you want to create professional live streams, you'll need the right tools. ManyCam is a live streaming software application designed to help you enhance your live streams. With ManyCam, you can add multiple camera angles and switch between them with the click of a button. You can also add various video sources, from images and videos to your screen, slide decks, and much more.
Other features that will help you be a pro Facebook live streamer are:
Multiple picture-in-picture windows
Chroma key feature to change your background
Animated lower thirds and tons of digital props
What's best about using ManyCam to create a multi-cam setup is that you don't need a second webcam because you can use your mobile device as a camera. The ManyCam mobile app connects your device to the desktop application and becomes one of your video sources.
If your goal is to live stream like a pro, you need to keep your audience engaged, and switching between different camera angles and video sources does exactly that. Without such pattern breaks, viewers tend to get bored and lose focus or, worse, leave your broadcast.
Key Takeaway
Apart from these main aspects, professional Facebook live streaming encompasses a lot of details. Since our ultimate goal is to help you grow your business or personal brand online with live video, we'll add a part two to this guide that will cover:
Answer questions while live
Promoting your professional Facebook Live streams
Record your Facebook live to repurpose the content
What to do if things go wrong on your Facebook live?

Until then, make sure you apply the steps we covered here to your Facebook live streams. When you focus on valuable content and high-quality streaming, the results will show, and you'll be on your way to professional Facebook live streaming.

Here are other blog posts about Facebook live streaming that you might like: