Boost business productivity and improve processes with effective online training videos following these easy steps.
Effective online training videos can help businesses increase productivity and improve overall performance. Imagine an onboarding process with corporate instructional videos that teaches new employees all they need to know about the company, its policies, and procedures. Or what if you could create online training videos that help employees learn how to use specific tools faster? 
In this blog post, we go through the business applications of corporate training videos, as well as their relevance. Most importantly, this article will help you create online training videos with ease.
Why are online training videos relevant to businesses?
Instructional videos have been around for years, not only in businesses but everywhere. Over the years, they have evolved into much more cost-effective online presentations, video tutorials, and screencast recordings. Now, they are more relevant than ever. 
Effective online training videos allow businesses to save time while helping employees and clients learn procedures or techniques to ensure the best possible results. These videos can make your onboarding process much easier for new employees, which is vital for any successful business. 
What can online training videos be used for?
Corporate instructional videos have a wide range of applications, from simple step-by-step tutorials for new employees to client retention through learning experiences. 
Onboarding process
As mentioned before, the most common application to online training videos is on employee onboarding processes. When an employee first starts in a company, they will have to learn several procedures, regardless of their position.
Usually, a senior employee will show them the ropes. Though that one-on-one time is fantastic, chances are the knowledge retention won't be very high. Here is where online training videos will come in handy.
Company procedures
Other times, companies have to change procedures that have been in place for years. If you take the time to create effective online training videos, the transition can be smoother, and you can minimize mistakes. 
Communication with clients
Another useful application of online training videos is for your new clients. Regardless if you sell products or services, having instructional videos to the next steps can be the difference between having a returning buyer or a cancellation. 
Online training videos can even play a role in your potential client's decision whether to go with your brand or not. Your training videos can showcase your product with a step-by-step on how to use it while addressing your potential customers' common objections.
How to create effective online training videos
An effective training video means high knowledge retention and engagement, which is why they work best when they address one specific activity or topic instead of a broad spectrum. Also, people have different learning styles, and your training videos need to appeal to all. 
In summary, knowledge retention, engagement, and learning styles should be at the forefront of your mind when creating corporate training videos. 
Step 1 – Topic
Before creating your online training video, it's crucial to identify the specific topic you want to approach. If your topic leads to one too many steps, consider dividing into subtopics and creating a small video series. Your online training videos will be the most effective when they have a singular focus.
Step 2 – Type of content
Once you have the specific topic of your training video in mind, it will be easier to decide which type of content can deliver it more efficiently. Some subjects can benefit from having a host talking to the viewers, while others can be done with screencasting alone. Identifying what works best for your theme allows you to save time and money.
Here are some types of content usually associated with online training videos:
Screencast tutorial: the video shows a step-by-step (click-by-click) or how to perform an action or activity on a computer screen.
Presenter video: a host sits in front of the camera and approaches the topic, either following a script or using her own words. 
Webinar presentation: a host presents the topic with additional visual resources, such as a slide deck presentation. 
Any type of content can be translated into effective online training videos. They can also be mixed and matched to deliver more compelling content. For instance, you could create a screencast tutorial with a picture-in-picture window that shows the presenter speaking.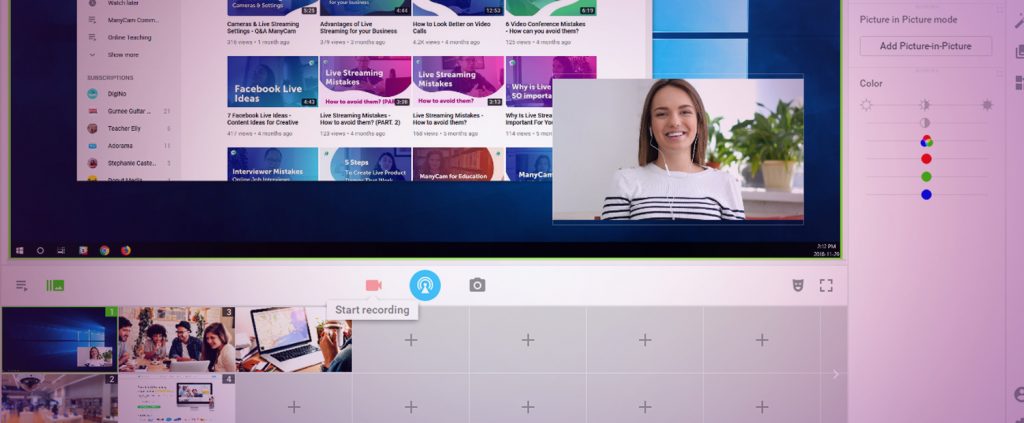 Or, to increase engagement, businesses can produce presenter videos with multiple video sources, from screencasting and slide deck presentations to pre-recorded videos and images. 
Step 3 – Script & Storyboard
Once you've identified the ideal type of content for your topic and budget, next comes the script and storyboard. This sounds complex, but it isn't. The instructions on the video are the same that your business already delivers. All that's required to have an initial script is to write it down and make sure the actions are clear. You can then refine it and make it more concise. 
A storyboard tells you how each action will be shown on screen. It's a great way to define all the resources your training video requires. For instance, you might need sample images, videos, and practical examples to help your viewers learn effectively.
Step 4 – Resources
An essential part of any effective training video is resources. With a variety of resources, you'll appeal to all learning styles, and the overall knowledge retention will increase. Besides, switching between different sources can create a much more engaging video.
Some resources to consider are:
Slide decks
Images & Pre-recorded videos
Software applications
Worksheets
Additional tools
Any additional tool that can help you increase engagement on training videos is worth a shot. As we know, people's attention span is lower than ever, and that can hurt the overall knowledge retention during your online training videos. 
One way to amp up the engagement is by adding extra visual elements and text to your instructional videos. These can come in many forms, such as:
Lower thirds that keep the main topic top of mind
Text boxes can reinforce information
Drawing tools drive viewers focus
Effects bring in some fun to the video 

Step 5 – Recording effective online training videos
With your topic, plan, and resources at hand, it's time to bring everything together, AKA recording your instructional video. One of the best ways to maximize your resources and time, while producing quality videos is to treat them as a live stream.
You can shoot the entire video switching between video sources as you go through the step-by-step of your instructions. It will be more time-efficient than shooting things separately and having to edit the video yourself. 
With ManyCam, you can easily record your online training videos, whether you want to share your screen and do a voice-over, switch between multiple resources or do a presenter's video. 
Step 6 – Distribution
Then, it's time to distribute your training videos. The distribution will vary from company to company, but you should make it as easy as possible for your viewers to access them. They should also have access to additional resources such as worksheets and slide decks to improve their learning experience. 
Ideally, your viewers should be able to watch the training videos on any device, such as smartphones and tablets. Minimizing the friction of having to switch devices can help you increase collaboration.
Key Takeaway
If your goal is to create effective online training videos that can boost productivity and increase knowledge retention, the steps above can help.
Here is a quick recap:

Decide on your topic and be specific
Outline the script and a storyboard
Create multiple resources to reach different learning styles
Try out additional tools and engagement strategies
Record it effectively with ManyCam

After putting your online training videos to the test, make sure you analyze the results so that you can optimize them each time.
Check out more professional live video tips:
Industries from healthcare, marketing, and education to financing and entertainment have experienced first-hand the countless benefits of video conferencing. At first, video conferences were… (Continue reading)
Business presentations play a massive role in success. Whether you are a business owner, consultant or freelancer, knowing how to deliver compelling live online presentations is an absolute must. We've put together 11 tips to help you create rich presentations that get you the results you need. (Continue reading)