The launch of ManyCam 7.0, the best version yet, came with many other changes and updates to the entire brand. What's new on ManyCam 7.0 goes far beyond the application itself.
ManyCam has been around for over ten years, helping users enhance video chats. From its humble beginnings, ManyCam has grown into a powerful live streaming software, video switcher, and virtual webcam packed with tools that help you create engaging live streams and video calls.
In this blog post, we'll answer the question "what's new on ManyCam 7.0?" taking you through all the changes, from the new logo and website to the software application and more. 
Download ManyCam for free to enhance your live streams and video conferences like never before!
ManyCam 7.0 – What's New?
For those who missed our previous blog post about version 7.0, here is what's new on ManyCam 7.0.
User-interface
The first difference users will notice is the UI. ManyCam 7.0 has a much more intuitive and practical UI that allows you to increase your productivity with essential tools just one click away. Right on the main screen, you'll be able to access all video settings, such as FPS, resolution, color adjustment tools, and the zoom.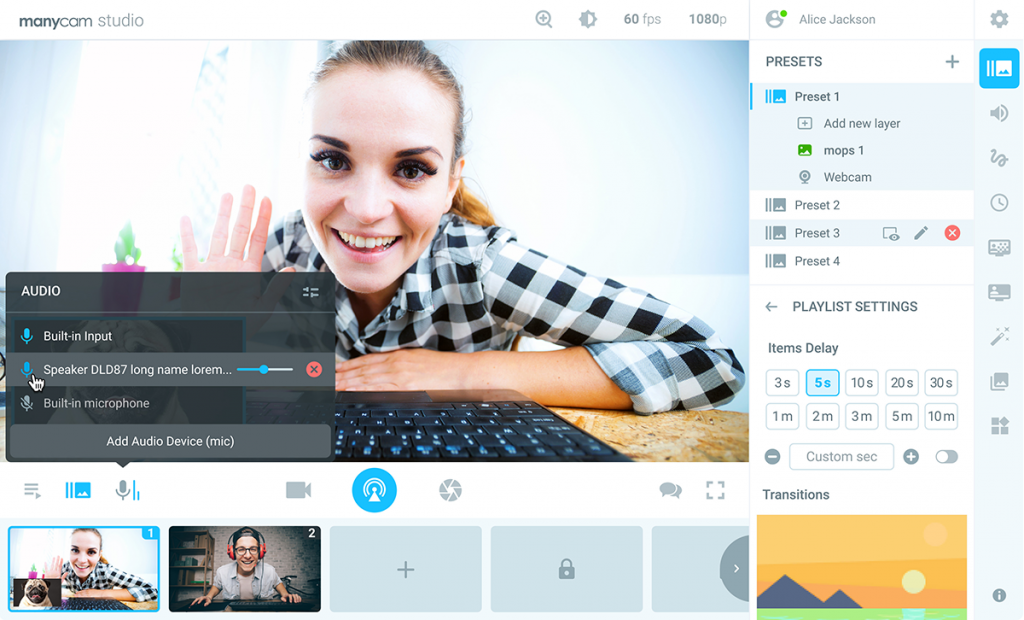 Plus, you can add, remove, or mute microphones without switching to the audio tab. The controls are right there near the broadcasting button.
Performance
ManyCam has gotten a huge performance boost! Every tool works better while taking fewer resources from your PC, which leads to higher-quality live videos.
Download the free version here!
Chroma Key
Speaking of performance, the Chroma Key feature has been completely revamped to be smoother and work faster. The tool is hardware-accelerated, which means it doesn't harness the power of your CPU. 
Animated GIF effects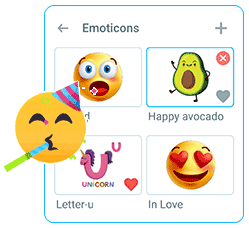 What's exciting about the new version of ManyCam is the effects upgrade. ManyCam now supports animated GIFs, which is something our community has asked us in the past. On top of adding animated GIFs as effects, users can also resize them within ManyCam, by clicking on the edges and dragging them. 
Increased Productivity
Adding effects to ManyCam is easier than ever with the new drag and drop function. Not only effects but also layers, presets, and files can be added via "drag & drop" which makes your work much easier. During video calls or live streams, whenever you need to add anything new, simply drag and drop inside the main screen of ManyCam, and it will be live.
ManyCam's New Logo
Here are ManyCam's previous logos:

At ManyCam, our goal is to consistently improve and provide the best possible live video experience to our users. In a way, that's what our new logo represents. The new shapes imply movement because we are always moving forward toward excellence.
The overlapping colors surrounding the camera lens in the middle show our users that, when live streaming with all of ManyCam's features, the possibilities are endless. Which is also why the word "many" is highlighted.
The new webpages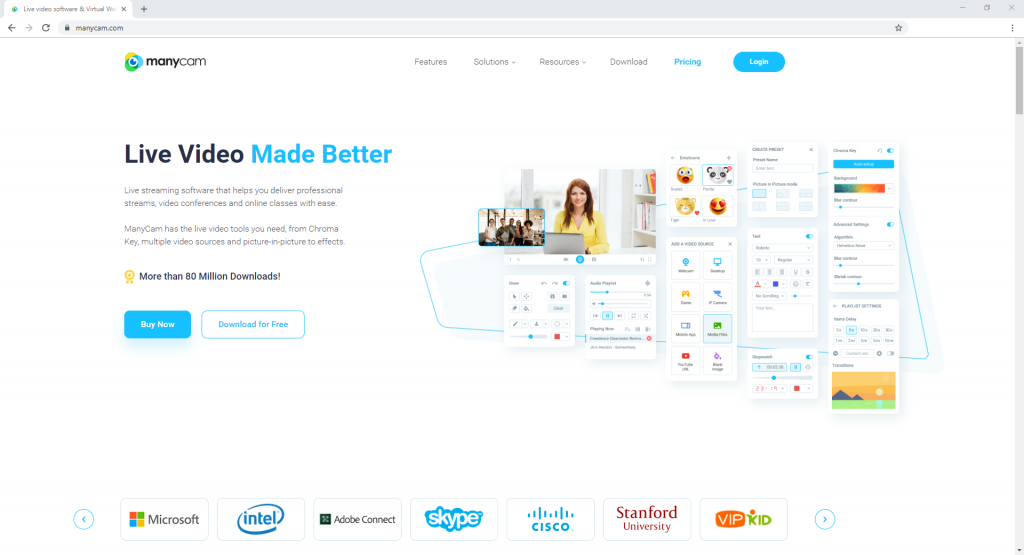 Another significant improvement with ManyCam 7.0 is the website update. Our team has worked hard to create a better experience for our website visitors. The modern and simplified look of the webpages aims to provide all the information relevant to ManyCam in bite-sized sections, especially the homepage.
Easy to Download
With the hopes of making your life easier, the download page has also been updated. All users can use this page to download ManyCam 7.0 or previous versions. Once downloaded, you can log into your account and activate your subscription to unlock the tools. If you don't have a subscription, you can still use it for free with limited features to enhance your live streams and video calls.
Pricing page
We've also updated the pricing page so that users can clearly see the difference between subscriptions and choose the one that suits them best. ManyCam's subscription plans are designed to tend to everyone's needs and budgets. 
Whether you only need a few features of ManyCam or you want to have your own live video studio, you can find the right option for you. If you are looking at ManyCam as your potential business solution, check out the business plans, and find the one that matches your company's size and budget. 
All the subscription plans come with a 30-day money-back guarantee.
ManyCam's growing community
Our focus is to provide the best possible live video solution to our users. Since our community of ManyCam users keeps growing, we created a place for all the ManyCam-ers to hang out, the ManyCam Forum.
It was launched recently, and it's the perfect place for users to share their ManyCam tips with each other, as well as ask the team for help or send in suggestions. If you haven't signed up yet, do it today and join this fantastic community.
Effects' Gallery
ManyCam's effects gallery has now more than 15k effects for users to download for free from borders and backgrounds to objects, animated GIFs, and masks. Whether you are an online teacher or streamer, the gallery has the digital props you need to increase engagement and boost your creativity.
What's next?
The ManyCam team couldn't be more excited about these changes and what's to come next, such as ManyCam version 7 for Mac, more changes to the website, and much more!
To keep up to date with ManyCam, follow us on social:
We can't wait for you to take ManyCam 7.0 for a spin! Share your thoughts in the comment section below.👇