With so many options out there, it's hard to know the best live video production gear to get, so here is an article to make your life easier!
When it comes to live streaming, the quality of your equipment matters. Video quality is often cited by most viewers to be one of the most important factors in watching a live stream. In a report by Akamai, online videos with a start-up time exceeding two seconds had significantly higher abandonment rates, with each extra second leading to another 6% loss in viewership.
Whether you are new to live video streaming or have already been in for a while, making a switch to a more professional and reliable live video production gear can go a long way. It will help you gain more engagement in your streams and eliminate any unwanted frustration.
Fortunately, it doesn't have to cost a fortune to have such equipment for your needs. In this article, we'll be mentioning some of the best live video production gear currently on the market that won't break the bank.
Want to have more live video tools? Download ManyCam for free today!
The best live video production gear in 2020
Webcam: Logitech C920S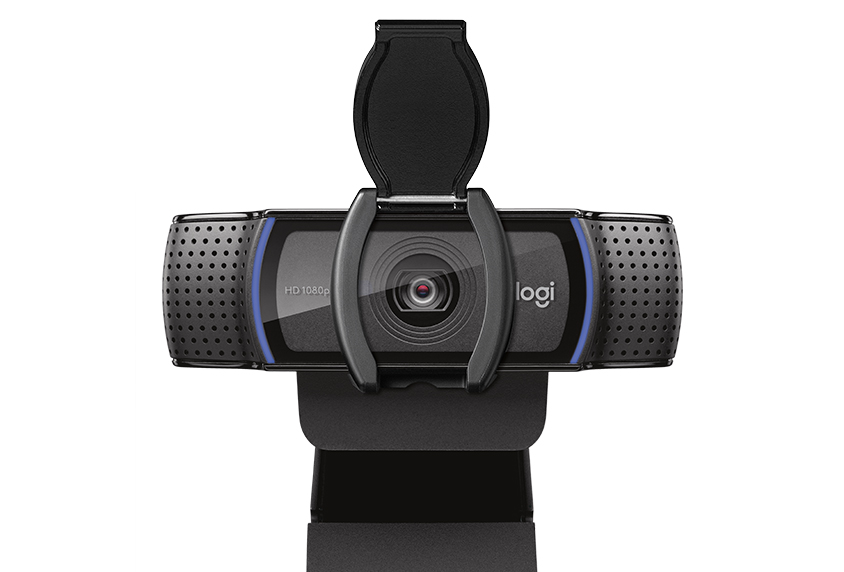 Packed with plenty of great features, boasting excellent picture quality, and reliable connectivity, all offered at a reasonable price, the Logitech C920S makes our pick as one of the best, all-rounded cameras for your live streams.
The camera supports HD recording and a phenomenal 78-degree field of view. Plus, thanks to its powerful processor, it's finely tuned for improved speed and low-light performance. Focus tracking is exceptional thanks to its 20-step autofocus feature. Not to mention, the image clarity is among the crispiest we've seen for the price range.
As a plus, the camera also features two integrated microphones with automatic noise cancellation, so there may not be a need to buy a dedicated mic with this camera. However, we believe that an external microphone can be helpful.
Highlights
Great value for the money
Incredible video quality
Supports HD recording
Great all-round camera features
Comes with two integrated microphones
Audio Equipment: Audio-Technica AT2020 USB
Cardioid condenser microphones have long been the standard when it comes to professional audio recordings. At a highly affordable price tag, Audio-Technica's studio microphone offers one of the most reliable, consistent, and superior audio recordings.
Its ability to isolate the desired sound source is exceptional; it manages to reduce the influence of any background noise by a considerable margin. Sound results are almost crystal-like. The mic is a highly durable built, and even if you drop it a couple of dozen times, it should still work perfectly fine.
Highlights
Great value for money
Highly affordable
Superb quality audio recording
Very durable
Video switcher & Live video software: ManyCam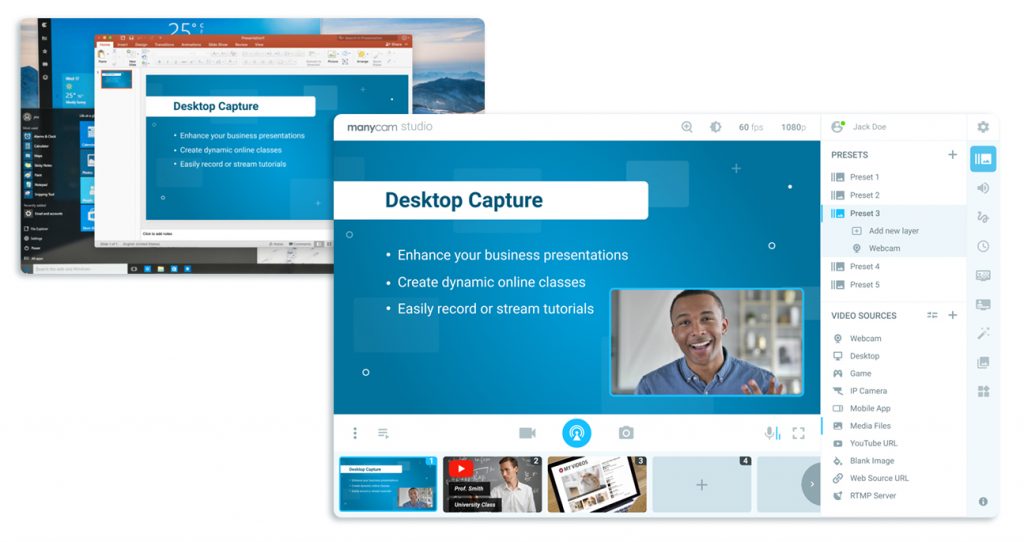 Have you ever wondered how people are able to instantly switch camera angles on live streams? They do it through a video switcher. It can be a hardware device or a software app like ManyCam that connects to multiple cameras placed at different angles and allows live video to be seamlessly shifted between them with a simple press of a button.
The advantage of using a software application over hardware is that you get more tools for your streams than just a media switcher, which normally will only connect different cameras. For example, ManyCam allows users to create picture-in-picture layers with multiple video sources, such as webcams, PowerPoint slides, media files, and so on.
Depending on the subscription tier, users can connect up to 24 video sources. Switching between sources is instant, and you can even select the transition you want.
Highlights
Add up to 24 video sources
Use picture-in-picture to create dynamic streams
Plenty of live video correction and features
Tripod: Magnus VT-4000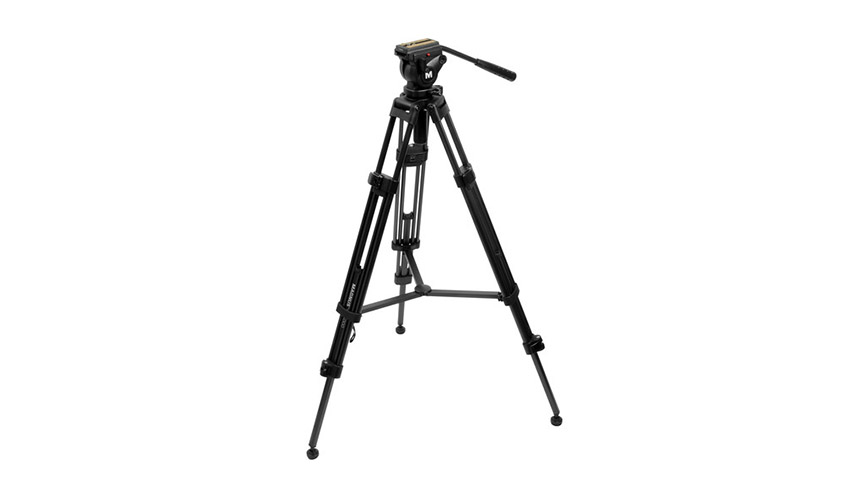 Stable, sturdy, and with support for weights up to 8.8 lbs. The Magnus VT-4000 boasts many of the features you'll find on more expensive models. Its two-way fluid head and fixed counter-balance spring set allow for smoother operations. The system's height can be adjusted from a base of 27.6′ to a max of 59′. With a slide range of +20 / -25mm, it allows for easier balancing in uneven configurations. Tilt angle adjustment is +90° to -60°.
Highlights
Great value for money
Affordable
Premium quality built
Bonus tip: Correct lighting is crucial for high-quality live streams, but the best equipment will vary dramatically depending on your space and setup. To learn more about lighting, check out this article.
Final Thoughts
Live streaming is a booming industry, and it's expected to account for 82% of all internet traffic in 2021. Whether you are a blogger, content creator, or an established business, the importance of live streams for digital success cannot be ignored. The investment you make in your live stream equipment can potentially go a long way in terms of overall returns.
What does your streaming setup look like?
Enhance your live streams with ManyCam today!