Apply these tips for online business presentations to wow your audience like never before!
Business presentations play an enormous role in success. Whether you are a consultant, freelancer, or a business owner, knowing how to create compelling online business presentations is an absolute must!
This article brings together five practical and highly-effective tips for creating online business presentations that will help you achieve the desired results. But before we begin, it is essential to acknowledge that preparing a PowerPoint presentation is not an easy task, especially when you rely heavily on technology and broadcast it live.
So, the question arises, what can we do about it?
To this, we offer two possible solutions:
Adequate preparation, testing, and arranging backup equipment can certainly provide better odds at succeeding in your online business presentations.
Always keep your expectations in check. Realizing that things won't always go as planned is a liberating feeling and can help you generate contingency plans accordingly.
Once these concerns are dealt with, you can then easily focus on creating an effective PowerPoint presentation to wow your audience and leave a lasting impression!
Want to enhance your virtual meetings? Download ManyCam for free today!
5 Tips for Online Business Presentation
You know it, and we know it: most PowerPoint presentations are boring. Why? Because the moment we sit down to make a PowerPoint presentation, we tend to forget everything we know about persuasion and engagement.
Thus, we bring you five tips to create an effective PowerPoint presentation for your next live business meeting!
Tip #1 Use text sparingly
The most common mistake people make when creating PowerPoint presentations is that they create it for themselves rather than their audience. The fear of forgetting the content can often lead presenters to clutter their slides with monotonous and wordy paragraphs.
When in actuality, the slides are not notecards to keep your presentation on track. They are not for you; they are for your audience.
A PowerPoint slide aims to capture the viewers' attention and clarify the presenter's points. To achieve this, you must develop a slideshow that is mostly visual and not textual.
Tip #2 Be liberal with graphs and images
To make your slides compelling and visually appealing, use appropriate images and graphs to illustrate key points. It will add another layer of meaning to your message. Plus, do not be petrified if they fill up your screen—with no text at all.
Important note: Visual cues must always support your presentation rather than distract or interfere with your slides' readability. Thus, learn to keep a balance between both.
Tip #3 Use videos for engagement and pacing
Videos are an extremely useful tool for bolstering audience engagement. They can help capture your audience's attention at the start of your presentation and reengage them after a tedious or slow section. Videos can also be utilized to transition from one segment of your presentation to a radically different segment, as they create a natural break.
Tip #4 Design slides that reflect a personality
Whether it is your personal brand or your company's brand, always strive to have a distinct, recognizable style. When someone views your presentation, they should instantly know that it is yours! Let colors, style, and structure scream you.
A brand should always be distinctive, and so should be your presentations. Thus, design your slides in a way that reflects your personality. If your brand is understated, go simple; if it is bold, go bold in your design. The point is to always stay true to your personality!
Tip #5 Create a quality layout
As far as tips for online presentations go, it is crucial to mention the overall layout. To produce recognizable presentations, you must develop a high-quality structure that can turn into your signature style. A good quality layout includes everything we have discussed so far, from being visually appealing to having a distinct personality. You would want the layout of each slide to be cohesive overall and represent you and your brand.
Additionally, it is vital to produce a PowerPoint layout that appeals to your target audience. Make sure to stick to the design and avoid jumping from one style to another.
Bonus Tip: Use additional live video tools on your online presentations
With a live video software application like ManyCam, you can add your PowerPoint slides as a video source and combine them with your webcam view, right on your screen. This means participants will stay engaged with you throughout the presentation.
ManyCam also allows users to move layers around and set up their multiple video sources in the most compelling way for their presentations.
Here is one way to set up your layers within ManyCam: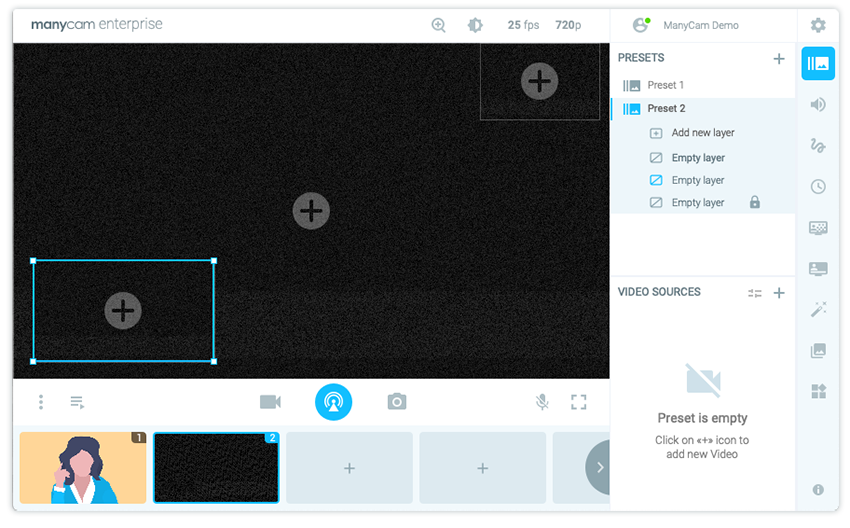 Then your business presentation can look something like this: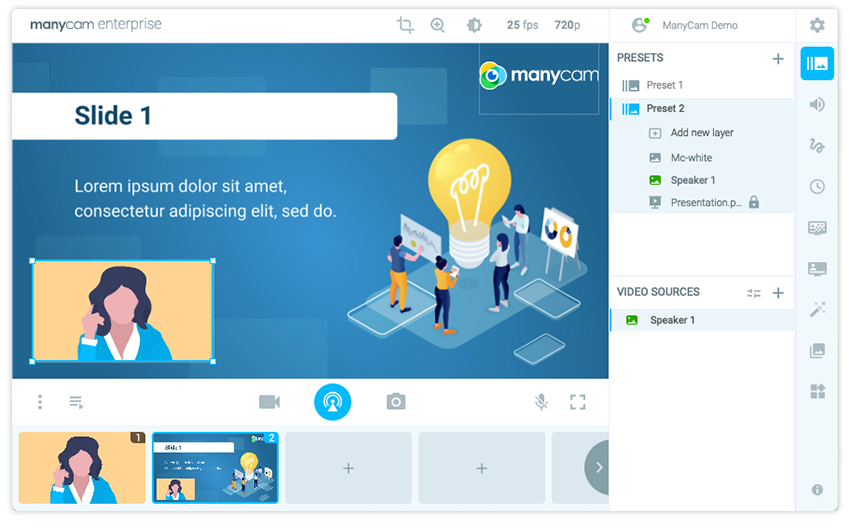 Final Thoughts
Creating an effective PowerPoint presentation can be time-consuming, but it'll definitely show if you put in the extra effort. Your audience will be in awe with your skills and might even get you a better outcome than you first envisioned.
Click here to download ManyCam and follow our five useful tips for creating online business presentations. You will be sure to impress everybody at your next virtual meeting!