Lately we have received a lot of questions from our users on how to automatically switch between video sources with ManyCam.
For users with multiple webcams or IP cameras you can easily set them to automatically switch back and forth with a given period of time.  Automatic webcam switching is part of ManyCam's playlist feature. Look below to see how to try the automatic webcam switching feature out.
Click the image below to enlarge it.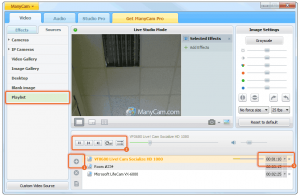 1) Select the Playlist video source and include web cameras, IP cameras or other ManyCam video sources.
2) Use the ManyCam navigation buttons to manage your playlist.
3) You can specify the playback time for each playlist item. The playback time is set to 30 seconds by default. Click on that value to change it.
Now with ManyCam your webcams and video sources can automatically switch back and forth without you having to click them!