A closer look at the live video tools you need to make your online teaching better.
From presentation skills to technical tools, there are numerous ways to make online teaching better. Anyone that wants to grow as an online teacher needs to continually find ways to improve. Beginners and experienced teachers alike need to keep up with the online education industry.
The best advice always comes from online teachers themselves. We've based this post on what we have learned from the online teachers using ManyCam around the world. You can find their own videos and tutorials in our ManyCam Education help center.
Want to add more live video tools to your online classes? Download ManyCam for free today!
Advantages of using Live video software tools
Online teachers that want to create better classes and help their students learn the most can benefit significantly from ManyCam and its live video tools. The main advantages being:
Productivity increase
Better student engagement
Content quality improvement
Optimal learning environment
When you take your time to optimize your online classes and lecturers, you get to save time while your students learn more, which, hopefully, brings in excellent reviews and more students.
Prepare your online classes
Usually, online teachers have resources for each class, such as slide decks, demos, pre-recorded videos, and so on. It can be a hassle to minimize one thing to maximize the next when you are giving a live class – if you can even share your screen or use them at all.
With a live video software app, you can add all the extra resources you want as video sources and switch between each preset with the click of a button. For instance, before you connect ManyCam to your teaching platform or live streaming channel, you can prepare your online class and all the resources before your class starts.
Increase Engagement & Interaction
Another fantastic advantage of using a live video software app like ManyCam is having the tools to increase student engagement and interaction levels. Teachers know how fleeting the students' focus can be, particularly online, where they can be engaged in other activities while in class. And, we also know how beneficial to learning interaction can be.
With ManyCam, you can add multiple visual elements to your class and switch between different resources, to keep the environment engaging. For instance, online K-12 teachers, as well as online tutors, love to add digital props, animated GIFs, and effects to their classes that resonate with younger audiences.
Other elements that you can add with ManyCam are graphic overlays with text – AKA lower thirds, clocks, timers, shapes, and stamps. Plus, users can write text and draw on the screen, which can come in handy when your goal is to drive your students' focus.
Other links to interaction & engagement tips:
Improve video quality
Like any other live video endeavor, online teaching requires quality control. Though online teachers are not expected to deliver their videos on a Hollywood production level, it's still necessary to amp up the quality as much as possible. High-quality videos show professionalism and help you build trust with students.
Your video quality depends partially on your live video equipment, which can be improved with minor tweaks and low-budget updates. For instance, if you have an HD webcam, an external microphone, good lighting, and a high upload internet speed, you'll be well on your way.
With ManyCam as your live video software, you can adjust your video and audio settings to ensure the highest possible quality. You can set your video resolution, tweak the brightness and contrast, as well as adjust the frames per second (FPS) and other technical settings that can make a huge difference in your results.
If you want to improve the quality of your live video but aren't too familiar with its technical aspects, check out this blog post:
11 Actionable Tips to Improve Your Live Streaming Quality
Help students learn effectively
Not every student learns in the same way. Similar to other kinds of content consumption, students tend to absorb knowledge in various forms. It might be easier for some of your students to grasp concepts through images and text filled with metaphors and analogies. Others need concrete and palpable examples. As an online teacher, you have access to countless resources, from images and slide decks to an infinite video library.
Regardless of your area, if you want your students to learn effectively, adding extra resources to your online classes can be a game-changer. With live video tools, online teachers have the power to create an optimal learning environment, which incorporates visual elements, additional assets, and seamless transitions.
Make your online teaching better with ManyCam
With a general understanding of how you can make online teaching better, now let's go over some of the most popular ManyCam features among online teachers and tutors.
Multiple video sources
ManyCam allows users to add different sources to their video calls, live streams, and online classes. Online teachers find particularly useful to be able to add pre-recorded videos, various camera angles, and their screen. Once you add the video sources you want to use, you can switch between them with the click of a button, creating a seamless experience for your students.
What resources can you add to make your online teaching better?
Slide decks, presentations, and any teaching app
Custom areas of your screen or the entire screen
YouTube videos, video and image files
Webcams, IP cameras, and the ManyCam mobile app
Blank image as a whiteboard to write on
Picture-in-picture
Another feature that helps online teachers increase engagement is picture-in-picture. It allows teachers to add multiple sources with different sizes to their main screen. For example, if your main focus is a slide deck presentation, you can add your webcam view in a small window in the corner so that the student can still see you while you explain the deck.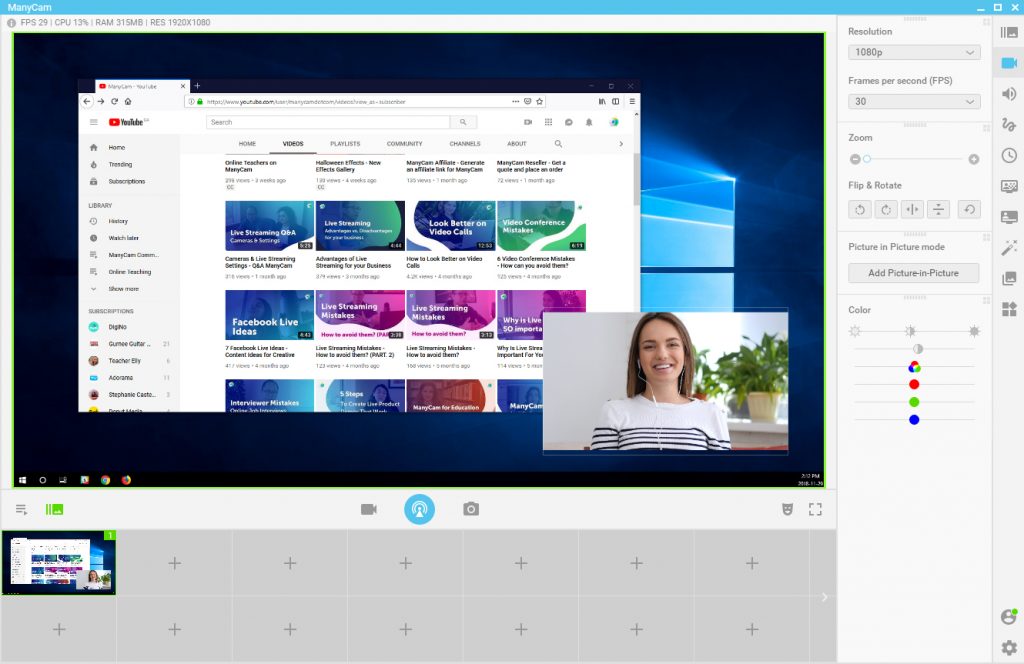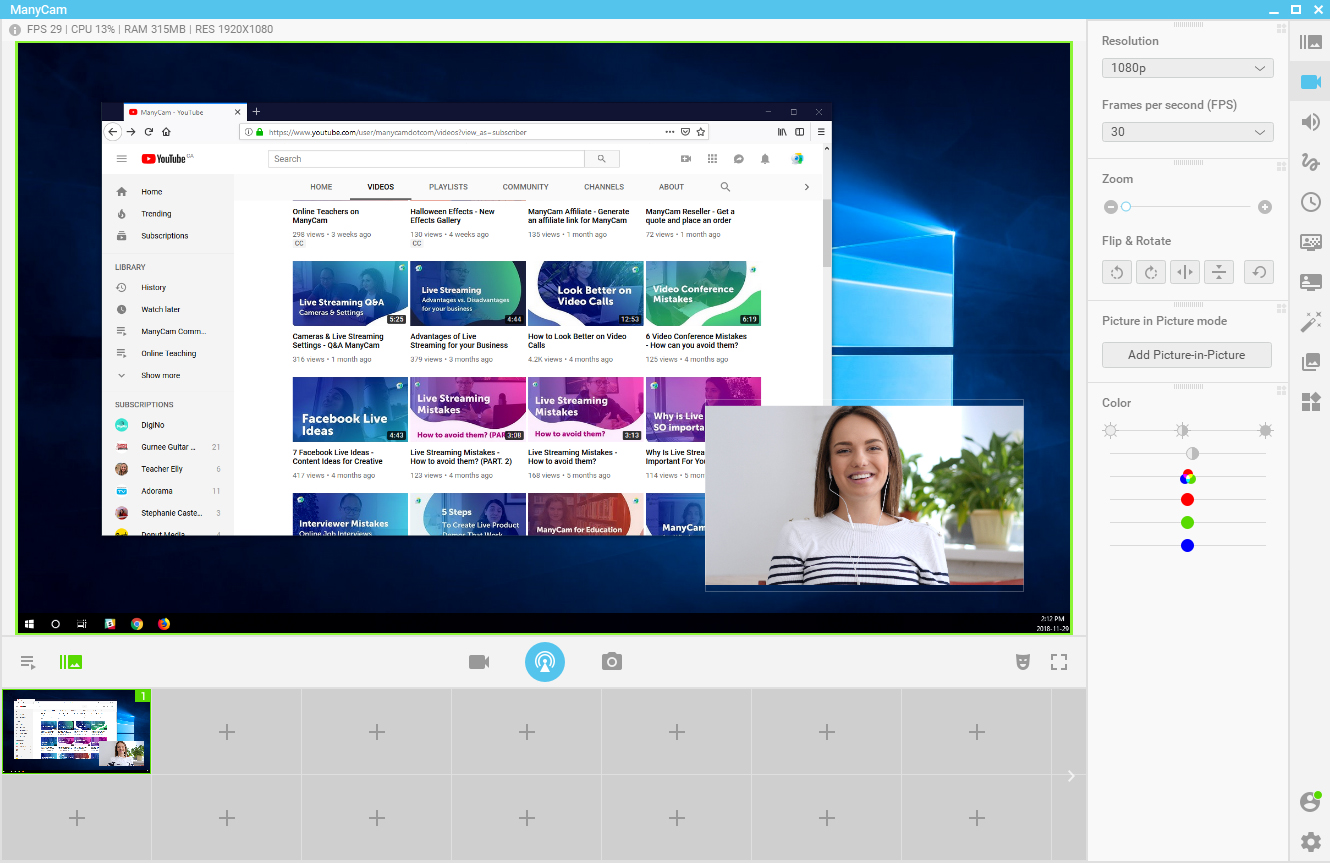 Chroma Key (Green screen)
An online teacher favorite is the Green Screen effect. We previously mentioned Hollywood productions, and this is as close as it gets. The Chroma key feature allows online teachers to replace their backgrounds with images or any other video source. In other words, you can customize your backdrop according to your lesson and WOW your students.
Younger audiences tend to respond really well to animated backgrounds and real-time changes. It keeps them interested in your online class, wondering, "what will my teacher do next?" 
Video playlist
In addition to all the video sources you can add, with ManyCam, you can also create video playlists to prepare your classes in advance. As we mentioned earlier, this can be a huge productivity boost. Instead of collecting your assets last minute, you can add them all to ManyCam and create a video playlist.
Your video playlist will be one of your video sources. This makes it easy to switch back and forth between the playlist and your webcam view or presentation.
Final thoughts on making your online teaching better
As far as live video software applications go, one of ManyCam's goals is to offer an intuitive and easy-to-use interface that helps online teachers improve their online classes. The learning curve can be shortened by recorded practices and following some of our tutorials.
Many online teachers have created extensive tutorials to help you get the most out of this software application and enhance your online classes. To check out our community tutorials, you can:
Check out the ManyCam for Education help center