When it comes to creating live streaming quality content, there are a lot of details involved. While most people have great content to present and a solid plan on how it'll be presented, they often forget the key elements in the preparation stage of a live streaming video which hurts their end result. That's why we've put together this live streaming checklist with some of the most important elements for you to double check before going live.
Live Streaming Checklist
Filming spot
To make sure you pick a good spot to film your live video, you must have:
o   A nice and clean background (or you can use a Chroma Key/ green screen)
o   Good lighting (indirect natural light looks great on video)
o   A quite place (or with as little noise as possible)
Internet connection
The speed of your internet connection is crucial to the success of your live stream.
o   Go on speedtest.net and double check our Upload Speed. Above 3 Mbps will allow you to stream in SD (standard definition). Ideally, having 10 Mbps upload speed will give you great results.
o    Get an ethernet connection instead of wi-fi, to gain more stability. Even better if it's a dedicated line, that you are the only one using.
Equipment
The list of equipment needed for a live stream differs a lot, because it depends on the kind of content you have, the goals of your live stream and your resources. Generally, this is what most live streamers use:
o   Camera / Webcam
o   Second cam / Mobile
o   Lighting
o   Tripod
o   Computer / laptop
Testing
Test all your equipment before a live stream, make sure the batteries are fully charges and have backups of everything, within your budget. But, at least, have a plan B in mind, in case something doesn't work.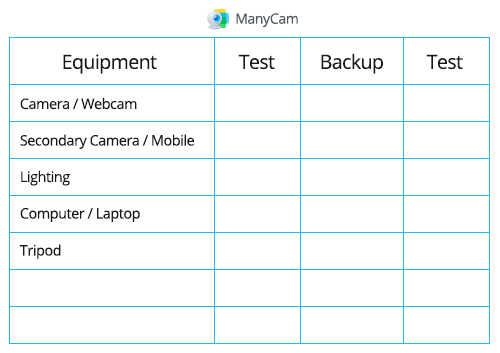 Prepare your material
To take full advantage of your live video, you'll need compelling material, such as images, slide decks, pre-recorded videos. The visual elements should reinforce what your trying to get across to your audience. A playlist is also helpful to set the mood of the live stream, and avoid the dreadful silence. So, before your live streaming video, don't forget to:
o   Get your pre-recorded videos ready
o   Create compelling images
o   Put together your slide deck
o   Plan your playlist
Software setup
To help you manage your live stream and multitask efficiently, make sure you get the right software. Preferably, a software that allows you to have control over your video and audio sources, as well as, add multiple video sources and broadcast to multiple platforms simultaneously like ManyCam. Learn more about ManyCam here.
This part of the checklist is based on some of the ManyCam's features. To get your software ready for your live video:
o   Add all your different sources (webcam, videos, images, slide deck etc)
o   Set up your desktop for sharing (if needed)
o   Add your playlist
o   Adjust the video's colors, brightness and saturation
o   Adjust the microphone's settings (e.g. Activate noise suppression)
o   Connect with the live streaming platforms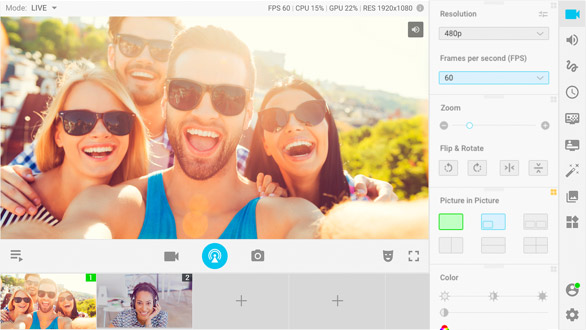 Platform setup
There many different live streaming platforms that you can choose from, Facebook, YouTube, Twitch and many others. But, independently of the platform, you'll need to:
o   Create an account and make sure you're able to live stream on it (for example, you're your YouTube Channel, you'll need to activate the live streaming feature)
o   Make sure you have the proper privacy settings
o   Get a good profile picture and cover image
o   Have your title and description ready to go
Test everything, together
Equally important to testing everything separate, is testing everything together. Do a dry run of your whole video. This will ensure you have a good flow throughout your live stream and that every element works.
        To make the most out of your dry run, you can record it, watch it and analyze it, just to make sure that everything is well explained, that it is the length you envisioned and that all your equipment, material, software and platform work well together.
o   Recorded dry run
o   Watch and analyze
o   Adjust elements accordingly
Even though, live streaming started out as something more spontaneous and without much preparation needed, our audience has become more demanding, that individual broadcasters and later on brands, are now putting a lot more effort into it. So, apply this live streaming checklist to your next live video and take full advantage of the power of live video.
What else is on your live streaming checklist?