Mobile live streams are more popular than ever, but are there any advantages to it? Will streaming on mobile bring you the results you are expecting?

Whether you are looking to increase your online presence, grow your business, or build a personal brand, mobile live streams might be able to help. Though it might seem as easy as picking up your phone and going live, just like any other live stream, mobile live streams have their challenges. Have you ever tried streaming on mobile before?

In this blog post, we will show you how to go live on mobile like a pro and what are the advantages of mobile live streaming.
Find all the ManyCam download links here!
How to do mobile live streams on Facebook, YouTube or any other platform

Despite common belief, mobile live streams can be much more than a spontaneous live Instagram. With your mobile device, you can create professional-looking live videos, such as webinars, live Q&A sessions, live classes, and so on. Even though you won't have the same resources you would on a computer, mobile still allows you to produce high-quality content.

Spontaneous mobile live streams

Without a doubt, spontaneous live streams have their advantages, especially if you already have a big audience. Going live just to chat with your followers can help you establish a deeper connection with them. You can answer their comments live and let them into your day-to-day life.

For this kind of live stream, it's easier to go live directly from the platform you want to reach your followers. Regardless of the platform, make sure you have a stable internet connection before hitting the live button.

Scheduled mobile live streams

If you want to grow your audience, scheduled live streams are the way to go. It gives you time to spread the word and, hopefully, gather more viewers.

Doing mobile live streams is super easy. Similar to the spontaneous live streams, you can stream directly on the platform. But, if you want to produce professional streams, you might need more resources than the platform can offer.

With the ManyCam, available on Android and iOS devices, you'll get access to live video tools that help you live stream like a pro.

One of the most significant issues when it comes to live streaming is keeping your audience engaged. If you deliver a dynamic live stream, it will be much easier to hold their attention. The ManyCam app allows you to add multiple video sources and switch between them while live. Instead of having one point of view the entire stream, you can switch to pre-recorded videos and images during your stream.

You can also add a picture-in-picture and filters to enhance your stream.

Here's the step-by-step on how to do mobile live streams with the ManyCam app:

1 – Prepare your stream
Download the app
Log in if you have a subscription to unlock more sources
Add your pre-recorded videos, picture-in-picture and filters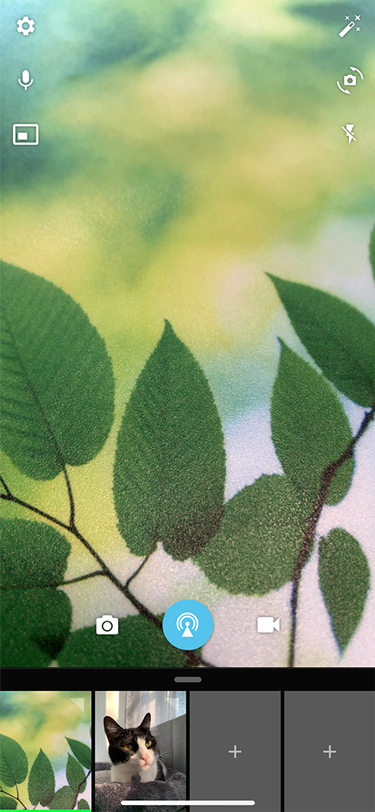 2 – Click on the blue button (Broadcast Button)
3 – Choose the platform you want to live stream to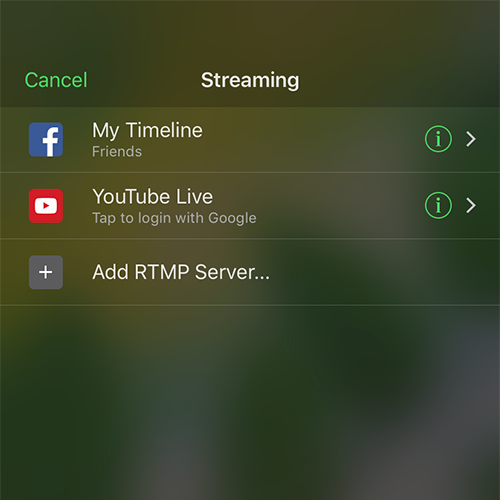 4 – Go live
What are the advantages of mobile live streams?

As a business or personal brand, if you want to grow your online impact, high-quality content is vital. If your goal is to deliver as much content as possible, while increasing productivity without huge investments, mobile live streams are one of the best options for you.

Minimal Equipment

One of its advantages is how practical streaming from your mobile can be. You don't need lots of equipment, and you might already have everything you need. For a more professional look, when it comes to mobile live streaming gear, the investment is little compared to most video-related content productions.

Cost-effective

As mentioned above, you can create pro mobile live streams on a low-budget. The amount of content you'll be able to produce in juxtaposition to how much you'll have to spend makes mobile live streaming a fantastic option for small businesses, personal brands and anyone trying to grow an online following.

On the go

Mobility is a major benefit of mobile live streaming, obviously. You can do it anywhere, as long as you have a stable internet connection and a charged phone. More than that, you can take advantage of your surroundings to deliver a highly engaging and unique video to your followers.

Easy setup

Another great advantage of mobile live streaming is its easy setup. Sometimes, the technicalities of live streaming from your computer can be overwhelming. Mobile live streams are a perfect way to simplify your life while producing quality content.
The possible disadvantage of mobile live streams

Some mobile live streams can fall short when it comes to quality. It's important to consider the lighting before going live, as well as audio, which are two common issues regarding quality. To make sure you deliver the best possible live streams, look for natural light, AKA sit by a window, or try to find the best lit place around. As far as the audio goes, having an external microphone attached to your mobile device can solve the problem.

To deliver high-quality mobile live streams, and have the tools necessary to engage your audience, make sure you download the ManyCam app today!
Key Takeaway

If you want to create content online but you're not sure what's best for you, mobile live streams might be a great place to start. The entry cost is low, and the engagement with the audience is high. Among most mediums, live video has one of the highest engagement stats on social media. Ready to go live on your mobile?

Let us know how it goes in the comment section below!
Want to learn more about live streaming?
Our smartphones are with us 24/7, or at least half the time. They are packed with apps and tools to help us share quality content with our audience… (Continue reading)
Going live for the first time is scary for most people. The thought of what could go wrong can be daunting. As with most things, the best way to conquer this fear is by giving it a try… (Continue reading)