There's no doubt about how important it is to have a presence on Facebook. It doesn't matter if you're a business or an "one-person band", having followers on this social network can really help you grow your audience. However, as we all know too well, Facebook is crowded. To make sure you stand out and get more exposure, creating Facebook Lives is the way to go.
We've talked a bit about Facebook Live before and if you want to learn more about giving your audience an amazing live stream experience, check out this blog post:
Facebook Live – Give your audience an amazing experience
Facebook Live with ManyCam
With ManyCam, you can create professional-looking Facebook Lives and have control over your live video. For example, you can add different video sources (up to 12) to show on your live stream, such as your webcam, your screen, a presentation, etc. and transition smoothly between them.
More than that, you can manage each video source, adjust the resolution, frames per second (FPS), zoom, use the picture-in-picture mode and do color correction adjustments. Same idea goes for the audio controls, you can add a playlist, choose with video source has sound, use noise suppression and so on. Learn more about ManyCam features.
Having all these tools and features while broadcasting live on Facebook, makes your life a lot easier and takes your live streams to the next level.
ManyCam 6 Update (for Windows and Mac)
Important: Make sure you download the latest version of ManyCam to get this update
Creating Facebook lives with ManyCam is better than ever. Now you can broadcast to personal pages, business pages, groups and events. You can also change the privacy settings and change the title.
Check out how it works: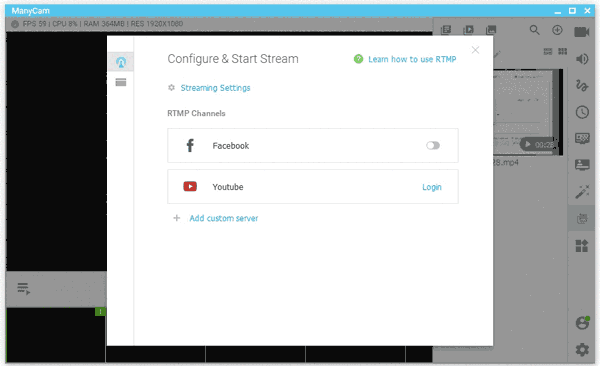 How great is that? Download the newest version now and start live streaming on Facebook!