Chroma key can be a huge asset to live video. Whether you want to make better video calls and conferences or create highly engaging live streams, green screen effects can help. In this blog post, you'll find out why chroma key can be so relevant to live video, what are its possible applications and how you can use Chroma Key on live videos.
Want to enhance your video calls like never before? Try connecting ManyCam to your video calling app!
Is it Chroma Key or Green Screen?
Chroma key and green screen, or chroma keying and green screening, are two different names for the same visual effect, which consists of layering two images or more together through color.

Let's say you place your camera between your subject and a green background to record a YouTube video. Then, in editing, you can easily remove that green background and replace it with a shot of the Himalayas.
Why is the Green screen, green?
Chroma keying can be done with any backdrop color. In software applications that have this feature, such as ManyCam, users will select the color of the background with an eyedropper. It will remove everything that has that color in the footage.

The bright green is the color of choice because it doesn't match any skin tone and won't be easily found in objects. If the actor or presenter has to use something green that might disappear with Chroma Key, the backdrop is usually bright blue instead.
How can you use Chroma Key on live videos?
Chroma key or green screen effects have endless applications in the video industry, from the most widely popular superhero movies to an important private video call between peers.

Here are a few ideas to use Chroma Key to enhance your video calls and live streams.

Replace your background to match your topic

During your live video, your background can become part of your topic. For instance, when you live stream about a product launch, your background image, or video can be used to capture your audience's attention. You can show the product, one particular feature or just a sneak-peek that will later be revealed. Anything that will emphasize your topic.

Create a professional background

Whenever you have a video call or conference, and you sit in front of your webcam, your background is relevant. With Chroma Key, you can always have a clean and professional-looking background image, without worrying about whether you remembered to position your camera away from the messy corner.

Add videos to your background

Chroma key makes it easy to get creative with your live videos. With the green screen effect, you can replace your real background with any pre-recorded video. If you have footage from a professional environment, it might come in handy to use the Chroma Key for your business video call.

Other Chroma Key applications for live video

When you have live streaming video software like ManyCam, the chroma key possibilities are endless. ManyCam allows you to add multiple video sources to your broadcast or video call, such as:

Various webcams
IP Cameras
Screen share
Mobile phones
Media files (images, videos, and audio files)
YouTube URLs
Websites
Blank images
Any of these sources can be used as a background for your live stream or video call.
What are the advantages of using Chroma Key in live video?

As important as what you can do with the green screen, is why you would want to use it, besides having some fun making videos. To live video, Chroma Key represents the power to change your environment to your advantage.

Some reasons to consider using Chroma Key effects during live videos are:

Engagement increase

As we know, engagement is crucial to live video. Distractions are everywhere, and viewers need to be highly engaged during your video conference or live stream. Otherwise, they might drift off to their social media profiles and lose focus.

When your background matches your topic and adds to it, it helps your audience keep focused. We, as human beings, tend to be incredibly visual creatures and providing the right amount of stimuli will help you get your message across.

Deliver dynamic live videos

By the same token, green screen effects help you deliver dynamic live streams and video calls. In other words, your live video won't be tedious. The duration of a live video is usually much longer than videos on demand (VOD). While lives tend to last around one hour or more, VODs go for 4 minutes, on average. Which means you need to make an extra effort to deliver an exciting live video. Chroma key makes it much easier.
Professional look

Whether you are planning a live streaming video or a web conference, giving your live video a professional look might be exactly what you need. As mentioned above, you can create a background suitable for business and deliver your live video with ease. Viewers will be engaged, and you will increase your credibility.

Control your environment

Another advantage of using Chroma Key on live videos is the power to control your environment. Your real background is unpredictable. There might be people walking around or things happening which can be distracting to your audience. With Chroma Key, you have total control of your environment. You can not only prevent distractions but, most importantly, drive your viewers' focus to what is relevant.

Easy setup

A massive benefit of having a green screen setup that many people forget about is how practical it can be. When you set up a green screen somewhere, let's say a small room in the office or at home, you always have that setup ready to go. Add proper lighting to the mix, and you'll be able to increase your productivity and go live faster than ever.
How to use Chroma Key on video calls and live streams?

ManyCam makes it quick and easy to apply green screen to your live videos. Despite it being called the green screen, as we talked about, you don't necessarily need a green screen to use the effect. For better results, we do recommend using a solid colored background, preferably green or blue. It costs around $20 online.

Lighting also plays a huge role to get the best possible Chroma Key results. When you and your background are well-lit, the effect can do a much better job at recognizing and removing your backdrop.

Once you have the green screen backdrop and the lighting in place, you can follow these easy steps to apply the Chroma Key on live videos.

Step 1 – Add your camera on ManyCam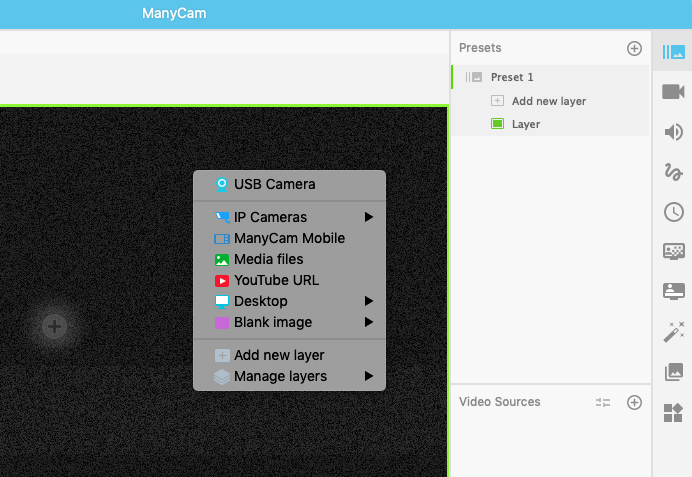 Step 2 – Select the Chroma Key tab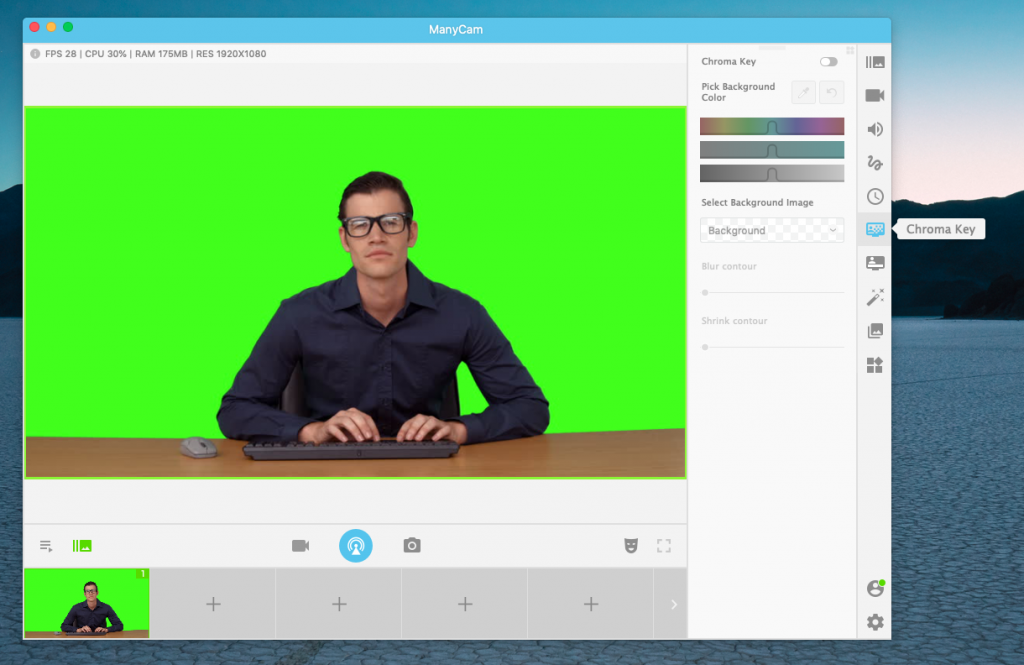 Step 3 – Pick out the color that should be excluded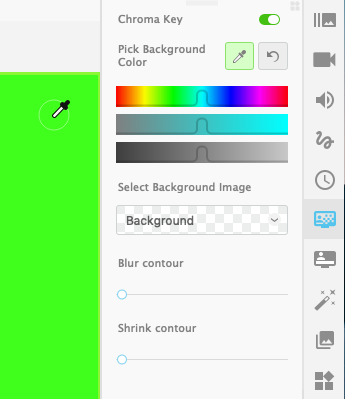 Chroma Key Adjustments

Within the Chroma key panel, you can adjust the color selection to make sure it gets all the right shades. Also, you can try different contours options and see what works best with your setup.

Select your background

The Chroma key menu allows you to choose images as your background or just keep it transparent. Selecting the latter will enable you to add any video source to the next layer below.

In this example, we've added the computer screen.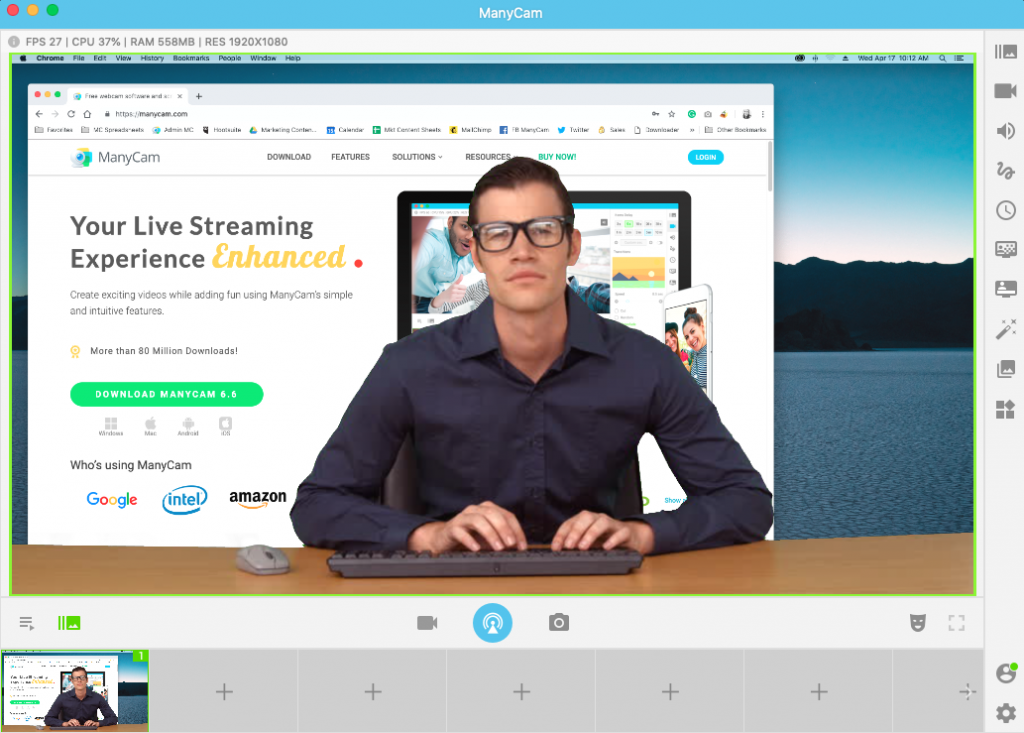 Key Takeaway

Using Chroma Key on live videos is a fantastic way to enhance your live streams and videos calls. Whether you want to create more professional and engaging live videos or just want to deliver an exciting live stream, the Chroma Key feature on ManyCam can help you.

Important: To use the Chroma key on live videos, ManyCam users will need a Studio, Premium, or Enterprise subscription.
What will your new background be?
Apart from using Chroma key on live videos, you might also like:
In this blog post, we share with you what you need to get started, some of the benefits of video conferencing and how you can make your video calling experience much more engaging. (Continue reading)
Business presentations play a massive role in success. Whether you are a business owner, consultant or freelancer, knowing how to deliver compelling live online presentations is an absolute must. We've put together 11 tips to help you create rich presentations that get you the results you need. (Continue reading)