Industries from healthcare, marketing, and education to financing and entertainment have experienced first-hand the countless benefits of video conferencing. At first, video conferences were only available for major corporations but, now any business can take full advantage of video calling tools.

In this blog post, we share with you what you need to get started, some of the benefits of video conferencing and how you can make your video calling experience much more engaging.
Add more tools to your video conferences with ManyCam, download it for free today!
What's video conferencing?

Video conference is an online meeting, conduct on a video call. While a few years ago, the go-to software for video calls was Skype, nowadays you can find endless options such as Zoom, GoToMeeting and Webex.
What is the video conferencing equipment you need?

Video conferencing allows two or more people to join an online conversation while being on a video transmission. To conduct a video conference, you and all participants will need a stable internet connection, as well as a computer, webcam, earphones and a microphone.

WiFi vs. Ethernet Cable
Some WiFi connections can be quite unstable, especially internet connections with too many users, as you'd expect in a hotel or public area. Sometimes, it might be best to use your mobile data as a personal hotspot (if you have enough data).

Computer
There's no need for state of the art technology to join a conference call, as long as you access to everything you need during your conference. Sometimes, you might need to show reports, graphs or examples and you need to make sure everything works ahead of time.

Webcam, earphones with a microphone
Many computers come with built-in cameras, speakers and mic. While you can use the built-in webcam during your call, the other two might give you some trouble. Having earphones with a mic will save you a lot of headaches.

Participants don't necessarily need all these pieces of equipment since some platforms allow them to join from their mobile phones or without a webcam. Nonetheless, if you want to avoid the most common video conferencing mistakes, consider getting the gear and testing it before the web conference.
Benefits of Video Conferencing for your Company

Save money

One of the most significant benefits of video conferencing is the impact on your pocket. Even if you have to subscribe to web conferencing services and any other additional ones, the cost is relatively low.

Video conferences tend to be more productive and to the point than in-person meetings, which saves a lot of time. Apart from effectiveness, video conferences can help your business:

Minimize travel time and costs, since employees can do it from home.
Optimize employee onboarding, saving time and money.
Increase meeting attendance

A massive advantage to video conferencing is its flexibility. Since participants can join from anywhere, you'll be able to increase meeting attendance, even if employees are out of the office.

Improve communication among teams

As far as video conferencing benefits go, one that can really make a difference in your company is the ability to improve communication among teams. Failing to communicate effectively can be costly, and we see it everywhere in the business world, don't we?

Making mistakes is human and expected from time to time. The best way to address them and make sure they don't hurt your business is through effective communications. Video conferences are a quick and easy way to keep all departments on the loop and in touch with one another.

Boost productivity

When you add up all the benefits of video conferencing, the result will be a boost in productivity. With efficient meetings, employees will have more time to work on what matters most and be able to deliver their best, instead of wasting time on irrelevant subjects or going in and out of conference rooms.
Transform your video conferences

Whether your video conferences are online meetings, job interviews, one-on-one review sessions, employee onboarding or any other topic concerning your business, engagement is key.

Since it's online, it might be harder to keep participants focused on your subject. No one likes to sit through a tedious video conference. Having a software application like ManyCam, connected to your video conferencing app, can make a massive difference.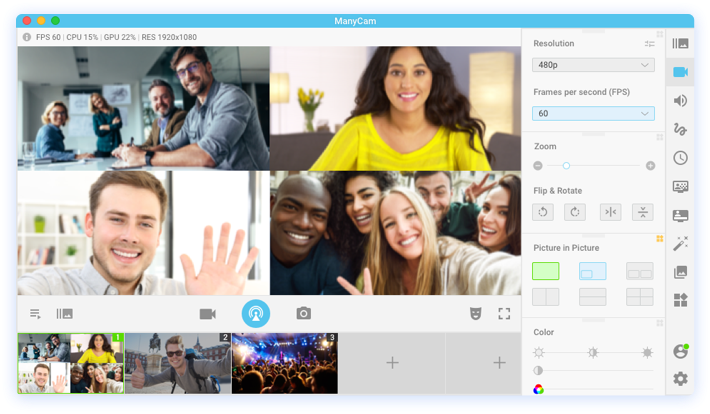 With ManyCam, you can "show & tell" and create a much more dynamic meeting.
Share your screen or specific apps with participants and draw on the screen.
Add videos, images, and other resources to your video conference.
Record your meeting to create accurate logs and meeting minutes.
Check out everything ManyCam for Business has to offer!
Check out more professional live video tips:
Effective online presentations are critical to any organization or industry. Your success can depend on it. You might need to prepare an online sales presentation, present an idea for your team, lead a professional conference or even teach something to your audience, on a live performance. (Continue reading)
Business presentations play a massive role in success. Whether you are a business owner, consultant or freelancer, knowing how to deliver compelling live online presentations is an absolute must. We've put together 11 tips to help you create rich presentations that get you the results you need. (Continue reading)