Almost everyone claims to having "good communication skills". How good you think your communication skills are when it comes to making video conference calls? In business conferences or personal video chats, when we make better video calls on Skype, we make a good impression and get our point across.
In this article, we are going to talk about the importance of improving your video calls and some of its applications. Most importantly, we show you how to make better video calls on Skype by having a live video production studio right on your computer.
Why is it important to make better video calls?
According to Dr. Albert Mehrabian, author of Silent Messages, more than 50% of messages are conveyed through nonverbal elements, such as facial expressions, gestures, posture and so on.
His study, along with many others, tells us that at least half of our communication (if not more), is visual. For video calls, this means that just showing up is not enough.
If you have a video conference with your team or a business video call with a client, having the proper setup and preparation is crucial.
Take into consideration that we are mostly visual and prepare extra images and videos to use during your calls. Make sure they empower your speech, and your message will get across with ease.
Another common application of video calls, that make them so important to be improved is job interviews. If you're the interviewer, you might want to present the company to help the candidate get a sense of it. Make no mistake, being organized and professional is paramount, especially when dealing with many applicants.
If you're applying for the job, then you want to triple the amount of effort you'll want to put in. You need to make sure you stand out and deliver an amazing experience to the interviewer.
Make better video calls on Skype (or any other software) with ManyCam
How does it work?
This kind of software, Skype or any other video calling ones, usually connects to a webcam that is plugged in. So, on the video call, you have that video source without the possibility to adjust it or add other sources.
ManyCam can be identified as the webcam by the video calling software of your choice and then, instead of one camera, you get to use up to 12 video sources.
What's more, you can use all the adjustments (color, brightness, contrast), effects and every feature within ManyCam to make better video calls on Skype.
If it's a job interview, you can add your portfolio as a video source and transition smoothly between your camera view and your work, or use the Picture-in-Picture feature. You can also adjust your video's brightness, contrast and color, to make sure everything looks its best.
How to use any video calling software with ManyCam?
In this example, we connected ManyCam with Skype but the same concept can be applied to any software of this kind.
The process is really simple. Instead of connecting Skype to your webcam, you'll connect it to ManyCam. ManyCam will then act as a hub transferring all the information through Skype to your video call.
On Skype, all we need to do is go the Audio & Video Settings and select "ManyCam Virtual Webcam" as your Camera of choice. You can also select it as your audio of choice and use the audio settings on ManyCam for fine-tuning. The audio controls allow you to apply noise suppression, add a playlists or effects amongst other options.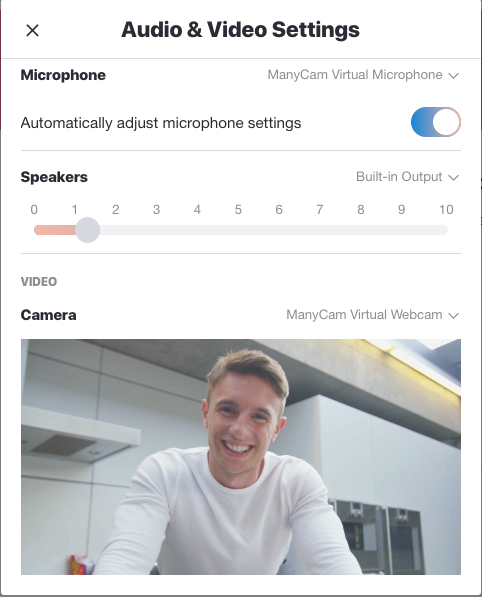 Once that is done, you can control your video call through ManyCam. For example, transition from one video source to the next, apply effects and adjustments, share your screen and much more.
It's much easier to make better video calls on Skype once you have the right software to help you set everything up. So, if you don't have ManyCam yet, make sure you download it now  before your next video call!

Here are other blog posts that you might like:
Video Conferences have proven to be an important and versatile tool for business. It can be used for online business meetings, job interviews, product demos, meetings with clients, educational seminars, webinars  (Continue reading)
In fact, Skype, a known video-chatting platform, has 5 million users per day and this number increases every day. It's more important than ever to have a proper video calling set up to make sure your video calls are up to standard.  (Continue reading)