The best video calling tips for 2020 are here. The time to improve your video calls is now, and it's never been so simple.
Technology has transformed the way we communicate and expanded our reach far beyond what meets the eye. Through video calls, we can talk to people located anywhere in the world, but it doesn't always go according to plan. The variables on a video call, if overlooked, can ruin the call. In 2020, video calls are more relevant than ever, which is why we've put together the best video calling tips for 2020.
With the following video calling tips, you can ensure your calls have the high-quality necessary to get your message across every time. Whether you've been on a thousand great video calls before or you've never had a good experience with it, these actionable tips can help you push your calls and video conferences to the next level.
Best video calling tips for 2020 – Summary
Get the right video calling equipment
Mind your background
Lighting is necessary
Use additional resources
Mute and unmute your microphone
Don't forget your earphones, ever
Want more live video tools for your video calls? Download ManyCam for free today!
Best video calling tips for 2020
The most important thing about these video calling tips for 2020 is applying them to your reality. So, let's take a closer look at each of these tips and see how you can quickly implement them.
Get the right video calling equipment
The business professionals and individuals that use video calls regularly tend to navigate the video calling equipment topic in one of two ways. Some go for the expensive state-of-the-art video equipment in hopes it will make up for any other quality issues they might encounter. Others choose to have no extra equipment at all, hoping their laptop will deliver.
Though high-quality video calls don't require expensive video equipment, they can benefit from a small investment in video gear, namely an HD webcam, a quality microphone, a powerful computer, and extra lighting if necessary. This simple setup is enough to make high-quality video calls without breaking the bank.
Depending on how often you attend video calls, it's useful to have backup equipment in case something stops working.
Mind your background
Nowadays, getting distracted in easier than ever, and things aren't looking up in 2020. During video calls, depending on the topic, attendees might struggle to keep focus. Therefore, it's important to work extra hard to mitigate possible distractions, particularly related to your background.
If you want people to ensure attendees are focused on you and your message, keep your background in mind. For instance, if there's too much movement going on behind you, the video call might not go very well.
Other common background distractions are:
Busy backdrops with lots of colors, objects, and patterns
Loud or constant background noises
Lighting is necessary
Lighting doesn't necessarily mean buying professional studio lights for your office. It means finding the best possible lighting during your video call, which might be something as simple as sitting near the window.
Soft lights will always make you look better on video calls than hard lights. An example of soft light is a cloudy day when it's still bright, but it only casts soft shadows, whereas a hard light would be a sunny day without any clouds. The hard light casts hard angular shadows.
Before your video call, take a look at yourself on your webcam and analyze how lit is your face. Sometimes, moving slightly within your environment can make a big difference in the visual output.
Use additional resources
One of our best video calling tips for 2020 is to use additional resources during your calls to incite interest. Whenever you make video calls, make sure you captivate your audience and drive their focus toward your message, regardless if you are talking to one person or an entire conference room.
Additional resources that help drive focus can include:
Powerpoint presentations
Picture-in-picture windows
Split screens
Pre-recorded videos and images
Screen sharing
Drawing and writing on your screen
Mute and unmute your microphone
As far as video calling tips for 2020 go, this one is fundamental and straightforward. Whenever you are not taking part in the discussion, especially during video conferences, consider muting your microphone. Before you speak, unmute it and carry on.
This simple action can help you avoid distractions during video calls for you and the other participants. It can be particularly useful if you have some background noise going on. It also keeps users from interrupting one another, which is vital during video calls.
Don't forget your earphones, ever
One of the most common video calling mistakes people still make is not using earphones during video calls, which leads to sound feedback. In other words, participants can hear themselves echoing through the call because the sound travels through the computer speakers back into the microphone.
With earphones, you can avoid this common issue on your video calls and have better audio.
What's the best video calling app in 2020?
With so many video calling apps available, it's hard to determine which one is the best. Similar to other online endeavors, there's no one size fits all in this situation. Even though video calling apps have comparable functions, each one has specific benefits.
Skype
Skype tends to be one of the most popular choices for one-on-one video calls, in particular for personal calls. It's easy to use, and most people already have it on their computers, so there's less friction.
Facebook Messenger
Another high-ranked video calling app is Facebook Messenger. You can use it on your computer for additional resources or make the video call on your phone.
Skype and Facebook Messenger are two of the most popular video calling apps, but you can just as easily go with Google Duo, Facetime on iOS, and many others.
The best video calling app in 2020 and for years to come depends on your specific needs. For instance, businesses that use video conferences regularly can benefit from GoToMeeting, Webex, and Zoom.
The key for high-quality video calls, regardless of the video calling app you use, is to use extra live video tools and don't rely solely on the app.
Virtual Webcam Software
When you make video calls with a virtual webcam software such as ManyCam, you have access to many live video features that allow you to enhance your video call. Instead of just using your webcam, you can use the picture-in-picture windows to split your screen between your webcam view and a powerpoint presentation or a pre-recorded video.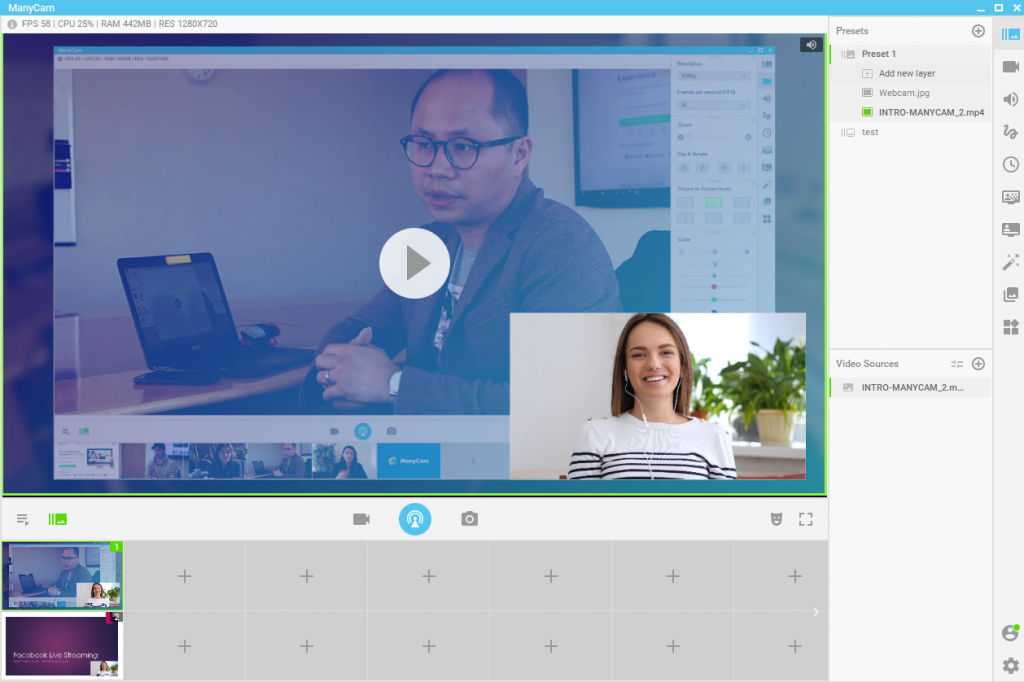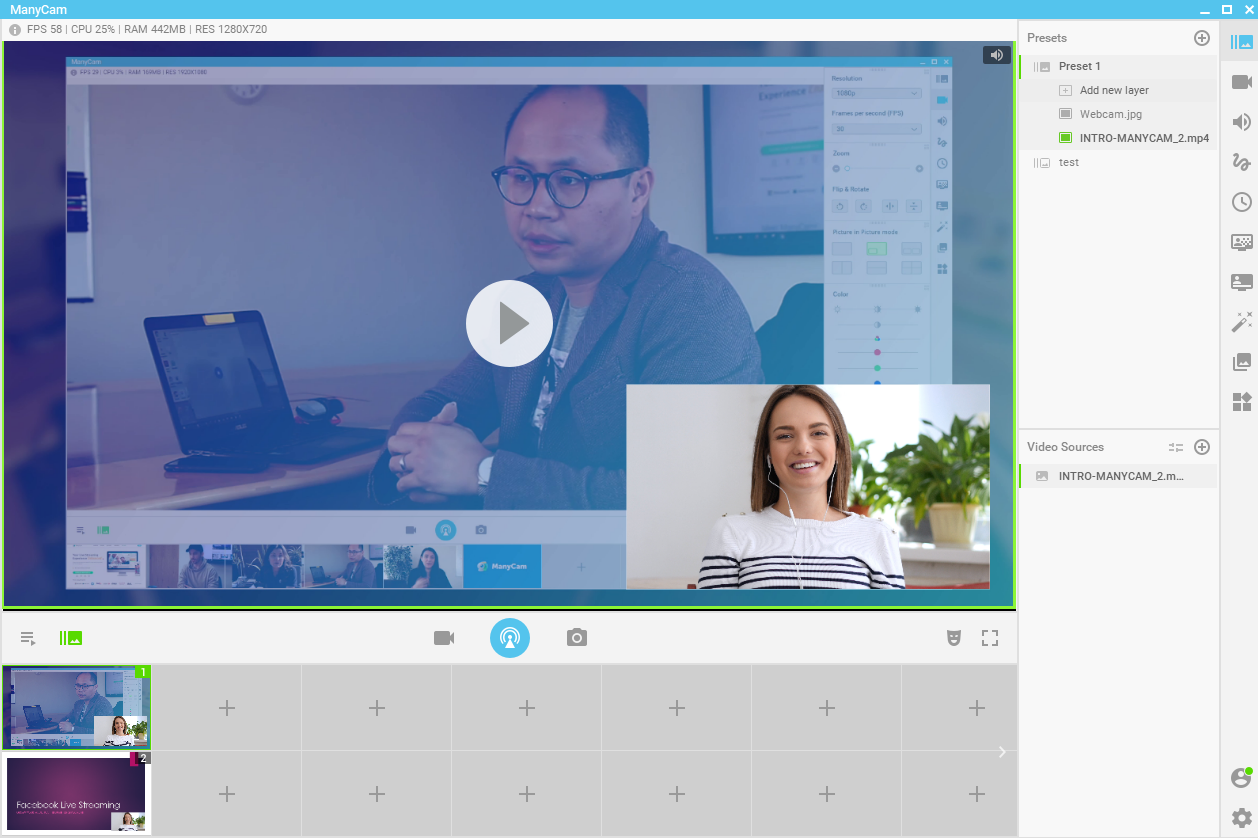 While talking on your video call, you can illustrate the points you are making with images, effects, and digital props. Or, if you are teaching someone how to do something online, you can share your screen with them.
The possibilities are endless when you aren't boxed in the video calling app's tools and, instead, have features like multiple video sources, transition between sources, picture-in-picture, chroma key, and many more to enhance your video calls.
Key Takeaway
When you put together these video calling tips for 2020 with ManyCam's resources, your video calls will reach another level. Video calling in 2020 requires that. Businesses and individuals expect high-quality, professional video calls. Mic issues are no longer an excuse, it's time to take your video calls further!
Check out ManyCam to access fantastic free features before your next video call!
Check out more professional live video tips:
Do you want your video conferences to be more productive? How about establishing effective channels of communication? With these practical 9 video conference call etiquette tips, you can! (Continue reading)
When you work from home effectively, increasing productivity means finding work-life balance and living your best life. (Continue reading)