Enhance your online lessons and help students learn the most with these online education background ideas!
Online education backgrounds can play a massive role in online classes. The wrong background can be too distracting and get in the way of the students' learning experience. But, the right background, can keep your students engaged and help them learn the most. In this blog post, we've gathered 6 best online education background ideas for your next online lesson.
Why use virtual backgrounds for online teaching?
Whether you teach from home or have a setup location for your online teaching, always changing your real background can be a hassle, not to mention expensive. Meanwhile, keeping the same background without any novelty might become boring to students after a few lessons.
The best alternative is to use online education virtual backgrounds, which gives you:
Total control over the backdrop
Possible changes to keep students engaged
Power to enhance your online classes
Below, you'll find 6 of the best online education background ideas!
If you want to use a virtual background on your online classes, live videos, and conferences, check out ManyCam! 
Note: To use the Virtual Backgrounds feature, users require a Studio, Premium, or Enterprise subscription.
Best online education background ideas
#1 Classic classroom
A straightforward way to give your online lessons a "learning environment feel" is to use a classroom background. On ManyCam, when you go to the Virtual Backgrounds tab and click on Replace, one of the options available is a classroom: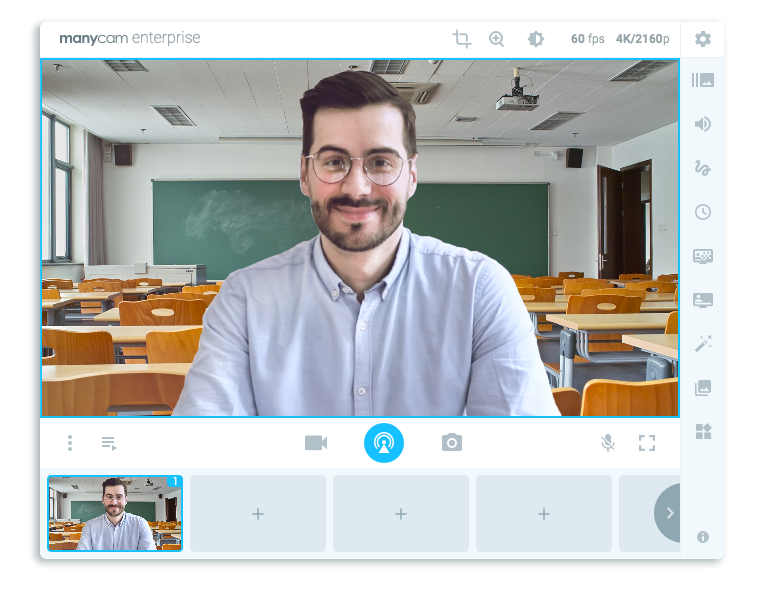 Check out the full tutorial here!
If you find other classroom images online that you think will be perfect for your lesson, all you need to do is save them on your computer. Then, follow these steps:
Go to ManyCam (Virtual Backgrounds Tab)
Click on the image box to select your virtual background
Click on Custom, find, and select the saved image.
#2 Lecture slide decks
As far as online education background ideas go, this is one of the most practical ones. Most online teachers, particularly university professors, public speakers and lecturers, use slide deck presentations as part of their lessons. If you have your slide deck ready, and want students to focus on your content, use them as your virtual background.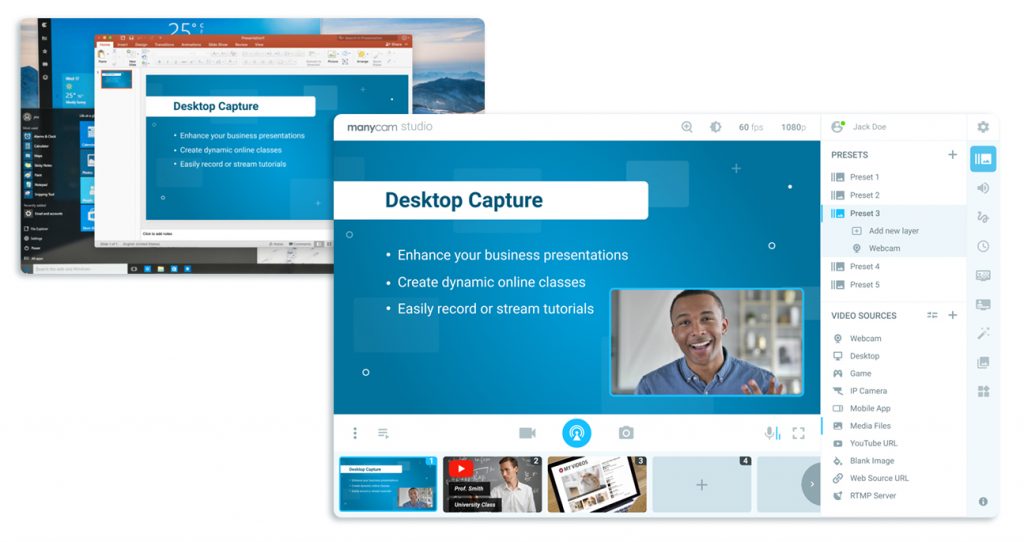 #3 Maps
Another background idea that can be engaging is using maps as your background. Depending on the map you choose, it can be integrated as part of your lesson. Otherwise, it can also be just a subtle background, not too distracting but still interesting.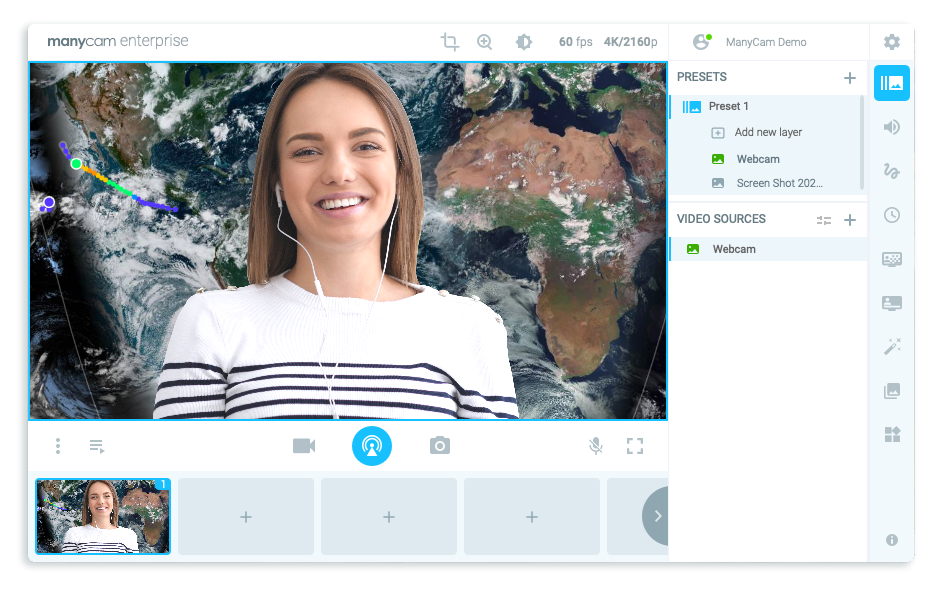 If you are on Windows, you can also add real-time maps, satellite images, and any other website as your background. As we did in this example:
#4 Whiteboard
If you are looking for the most useful online education background ideas, here is the one for you. On ManyCam, you can simply remove your real background and add a blank white image as your backdrop. Then, you can write and draw on it as a whiteboard. It can help you create a learning environment in which students learn through visuals as much as audio.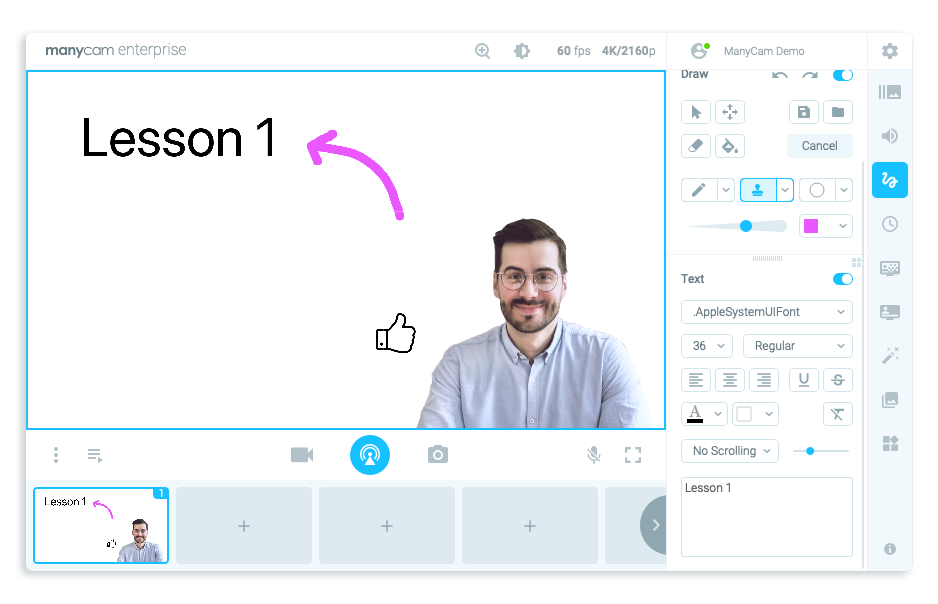 You can also add whiteboard or blackboard images if you want to deliver a more real classroom feel.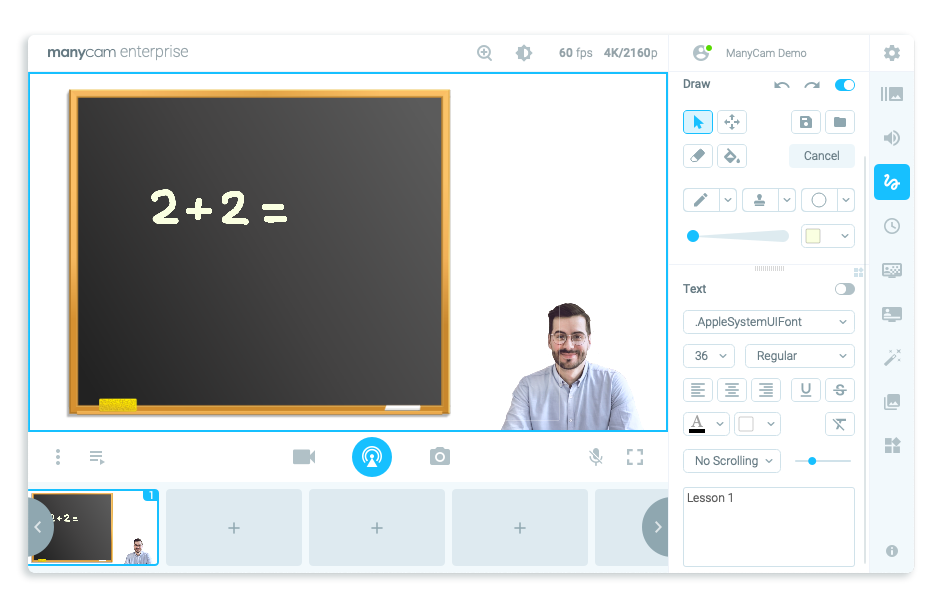 #5 YouTube videos
Another virtual background idea is to your YouTube videos as your background. This is perfect for online teachers looking to explore their creativity and add some novelty to their lessons. You can choose videos related to your theme and abstract videos with beautiful visuals to serve you as an animated backdrop. If you have your own videos on YouTube, that can be an opportunity to merge both worlds.
#6 Customized online education background ideas
The possibilities of virtual backgrounds are genuinely endless. Apart from all the online education background ideas mentioned above, you can also create virtual backgrounds with personalized images and videos to use.
The best part about this is you don't need to be a design expert because there are free online tools to help bring your ideas to life. One of the web tools available is Canva, and it comes with tons of templates. Check out a complete tutorial here!
Once you create your image, you can download it to your computer and then follow the steps we mentioned, in the beginning, to add it as your virtual background.
Key takeaway
These virtual background ideas can be applied to any kind of online teaching, from K-12 and ESL to university lectures, online courses, and beyond. It's all about adapting each of these online education background ideas to your topics and students. Your background can be vital to keep your students engaged, and that's when they learn the most.
What is your favorite virtual background?
Download ManyCam for free today!