ManyCam 5.4 changes
Dear Windows users, ManyCam 5.4 is here! With your feedback we've made some great improvements that we think will enhance your video streams, chats and calls!
First off, we've completely enhanced the RTMP streaming feature (authorization, RTMPS, RTMPE and RTMPT) and even improved the UI for an easier streaming experience on your favorite websites (UStream, Livestream, Youtube …)! Also, you can directly broadcast on Facebook Live from ManyCam.
Many of you asked for a specific control bar to manage your video within the webcam software. We heard you and we are happy to announce we integrated a Play/Pause control for local media files and YouTube sources.
For Standard edition users, the custom watermark feature is now available for you to use (limited to one) and it is possible to rename the virtual camera as you need.
Furthermore, ManyCam 5.4 offers you a all new ManyCam mobile support (BETA) to use ManyCam wherever you are and stream from any iOS or Android device that is connected to your ManyCam account!
Finally, we fixed various bugs, and improved stability & performance to create an even better experience!
Hurry! Promo ends soon!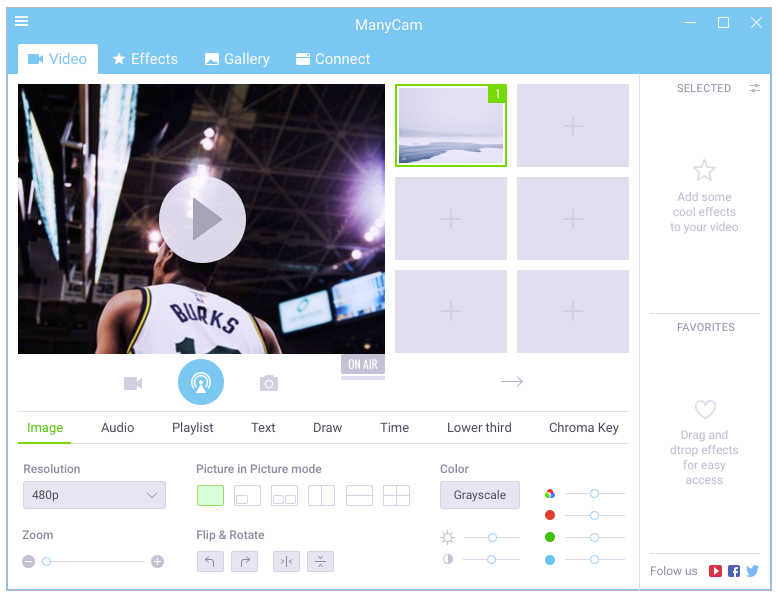 Update to ManyCam 5.4
ManyCam 5.4 is a free update for current ManyCam 5 users. For users who are presently using an older version of ManyCam, update to ManyCam 5.4 to enjoy all of our new features and improvements!
We've also been receiving a couple support requests asking how to upgrade. If you're already a ManyCam 5 Standard, Studio or Enterprise user there is nothing more you need to pay for! All you need to do is click on "Download" under the "Free" column and then follow the installation instructions. This will bring your version of ManyCam up to date with the latest version that is available without removing your activated features.
ManyCam video tutorials
Need help using ManyCam? Check out the how-to videos on ManyCam's official YouTube channel
How to broadcast live on the Web : How to use ManyCam RTMP to broadcast live on the Web