Do all meetings have to be the same? Here is how you can change things up and make your virtual meetings fun! 
Every manager strives hard to create a positive environment for their team. They continuously keep everyone on track and encourage individuals to reach their fullest potential. However, improving the morale of your team is not easy as remote meetings galore. In this blog post, we've gathered some ideas to help you make virtual meetings fun and much more engaging.
Want more live video tools to make your virtual meetings fun? Download ManyCam for free today to add multiple video sources, use YouTube videos, replace your background, add GIFs and effects, and much more!
7 Ideas to make your virtual meetings fun and entertaining
1. Solve An Escape Room
Virtual escape rooms offer an immersive and challenging adventure for teams of all sizes and types. Send the same tasks and puzzles to each participant and ask them to solve them as they used to during a physical room while working towards a shared goal: escape.
There are many remote adventure games that you can play on video conferencing platforms. These games accept a fixed number of players where a host guides them to a room with a live camera feed. Teams interact with their guide throughout the adventure and pick up clues from the digital dashboard to solve puzzles and complete their mission within the specified time limit.
These games can include themes like solving an art heist, finding the gold, or breaking out of prison. It is a terrific method to improve bonding and communication between your team and find out more about their personalities.
2. Virtual Scavenger Hunt
This is one of the most enjoyable activities that you can organize without any lengthy preparation. Just schedule a virtual meeting, call everyone on your video conferencing app, display a list of items, and ask them to collect the mentioned items from around the house. The first person to return to their seat with the items is the winner.
Examples of items include:
Kitchen gear
Breakfast food
Postcard
A toy
A teddy bear
A DIY tool (e.g., hammer)
A great way to display the objects and make your virtual meeting more engaging is to use a live video software like ManyCam connected to your video conferencing app.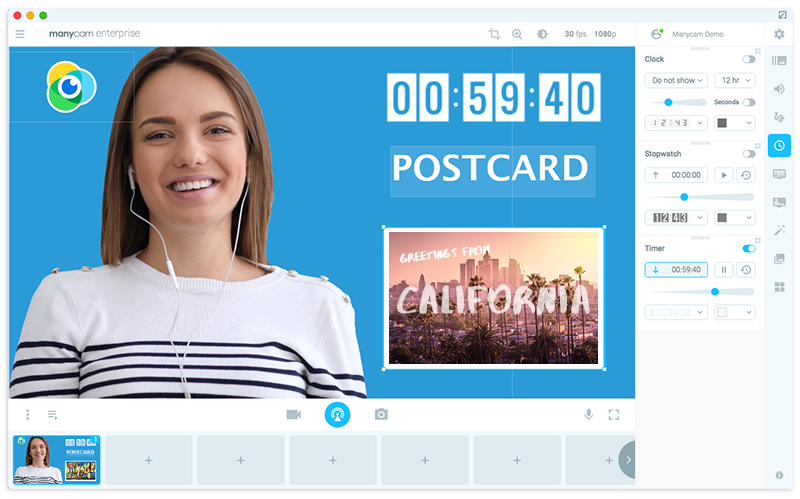 3. Whose Office Is It Anyway?
This is another fun activity that doesn't require any preparation.
If your employees joined the team after COVID-19, it could be puzzling to learn more about them without making it awkward. Therefore, organize this activity to get to know your team members.
Here's how this works:
Ask each colleague to capture a photo of their office and upload it to a shareable file. 
Encourage participants to let their working space and desk remain as it is, so the guessing game remains fair. 
Get everyone to look at photos and guess which desk belongs to whom. 
4. Book Club
Book clubs are an excellent way to connect with each other's experiences and stories. It can help you bond with the team and make your virtual meetings fun. Start a virtual book club to create a way of learning from each other and get some time to work on non-work-related conversations. Your teams can pick books that focus on fiction or any other topics of their liking. 
5. Virtual One-On-One Coffees 
In larger teams, group video chats can be overwhelming, and not everyone gets the opportunity to speak their mind. You can have one-on-one meetings between your team members, which can take the shape of a meet and greet or an informal coffee chat.
These casual chats replicate informal office interactions and provide your team members with a sense of connection and inclusion. Teammates can also learn more from each other's personal lives and job roles while getting a break from work. 
6. Two Truths and a Lie
This highly popular game is simple: each team member lets the participants know about three personal statements. The team then sets out to find the false one. It motivates colleagues to pay attention to the stories and personal traits of their coworkers. It also builds focus. This is a perfect game during a virtual coffee break. 
7. Use visual elements
A common issue regarding online meetings is the lack of visual engagement. Participants have to keep on staring at each other's camera angles, but they often just check on their own view to make sure they look good on the video call. What if, instead, you had exciting visual elements that could help you communicate better?
For instance, to make your virtual meetings fun, you could add animated GIFs and digital props to your webcam. You could also add videos as your virtual background so that it all relates to your message. Plus, you can create quizzes with visual elements that would ensure all participants are engaged. 
This is a tip we talked about in this video on How To Run Successful Meetings:
Final Thoughts
Virtual meetings don't have to be all the same. Sometimes it's good to schedule time for fun with your team. It will help overall morale and productivity. These tips are a few of the many ways to make your virtual meetings fun and engaging. If you know your team well enough, you will know the activities that will resonate with them better. Otherwise, start with visual engagement and the virtual coffee breaks.
If you haven't yet, make sure you download ManyCam for free today. It connects to your video conferencing app as a virtual camera, and you can access tons of tools to amp up the engagement.