Is it taking you too long to reach 1K+ subscribers? Great news, you can live stream to YouTube with your phone without hitting that mark!
Back in 2019, YouTube gave creators the ability to go live from their channels via their smartphones, but with one catch, it was only accessible for content developers that had 10,000 subscribers or more.
If you have been eager to hop on the live streaming train but have not reached that 10,000-mark yet, we have good news for you. YouTube has dropped the requirement from 10K to 1K followers. Although it is still not open for everyone, this is a smaller hurdle.
Everybody can stream from their desktop systems or laptops, but only people with over 1K subscribers will be able to go live from the YouTube mobile application.
If you don't have 1K subscribers yet, here is a simple how you can live stream on YouTube from your phone without having the required followers.
How to Live Stream to YouTube with Your Phone Without 1k Subscribers
With the ManyCam mobile app, users can live stream to YouTube directly from their devices without the minimum subscribers' requirement. The best part is that it's super easy to use, and it's available on iOS and Android devices!
Here is the step-by-step to start live streaming on YouTube with your phone:
#1 Download the app on App Store or Google Play
#2 Connect ManyCam to your YouTube channel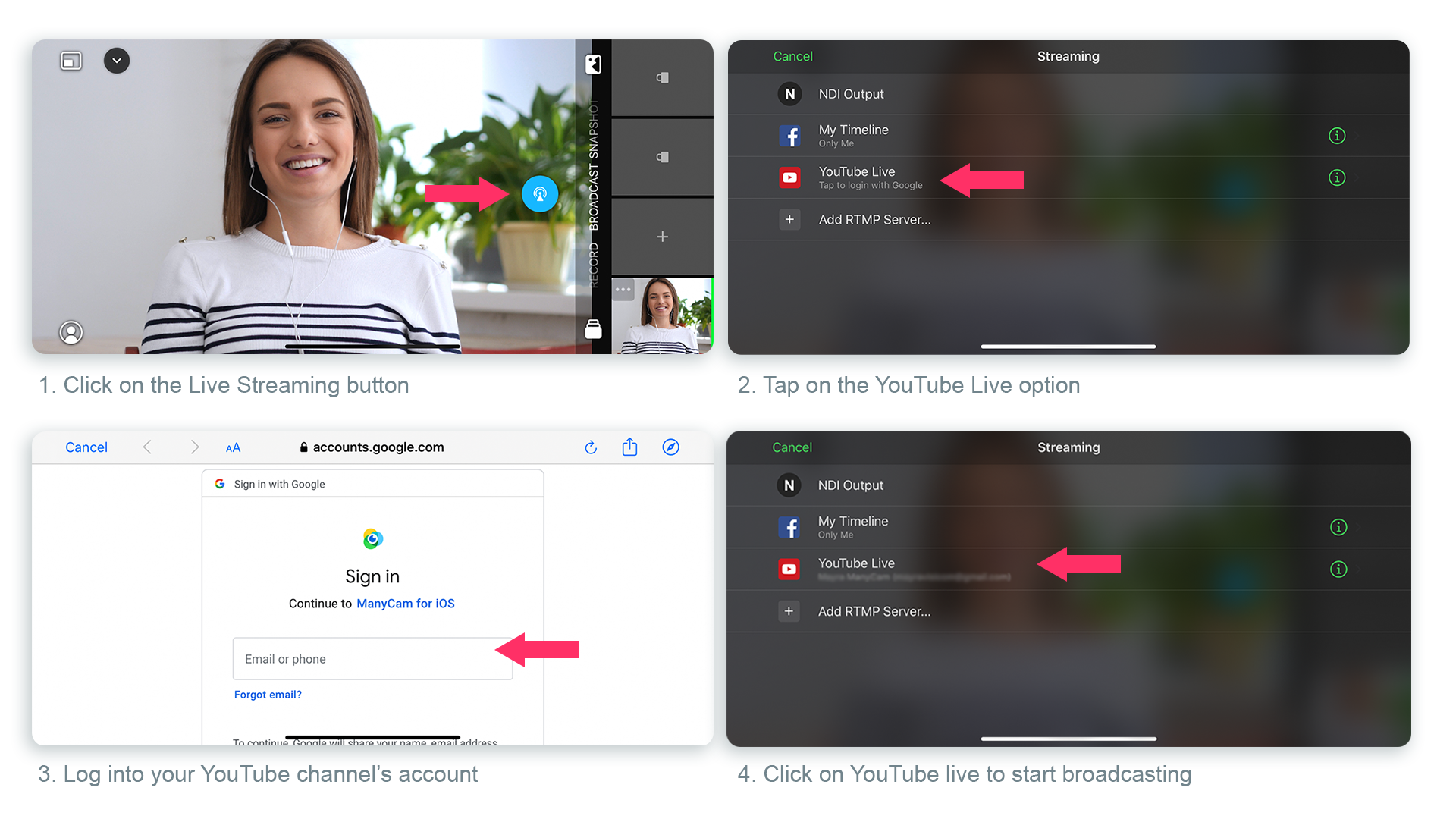 When you open the app, you'll see the main button is the Live Streaming button. Once you click on it, it will show you the streaming platform options. This app allows you to broadcast to any platform, such as Facebook, YouTube, and so on.
Click on YouTube, and it will redirect you to log into your YouTube channel.
#3 Start broadcasting!
Now that you are logged in, all that's left is to start your live stream. So, click on the YouTube option. You'll see that the live streaming button will turn red, which means you are live.
Benefits of live stream on YouTube from your phone
1. It is effortless and quick.
2. It helps to give a more authentic, raw, and natural feel to the watchers. Professional looking broadcasts from mobile are usually seen as less personal. Therefore, natural mobile live streams might attract more viewers. 
3. Live streaming on YouTube from your mobile is an easy and great way for outdoor broadcasts and if you are giving a tour.
4. YouTube's mobile app live streaming feature is excellent for connecting and bonding with your audience in a personal way. This opportunity lacks in the traditional videos. Viewers can watch and respond to the content presented in real-time, and so can the creator.
5. Whether you seek to freshen up your content with something unique or want to expand your audience, going live is an excellent way for broadcasters to mix different content on their channels.
The do's and don'ts of live streaming to reach 1K+ subscribers
Here is a list of do's and don'ts of live-streaming to attract more viewers to your channel and eventually reach the 1K minimum subscription limit set by YouTube mobile.
The Do's
Before going live, make sure you practice first to avoid any mistakes and overcome the fear of seeing yourself on the screen. 
Make sure you have a stable internet connection to prevent a slacking video. Also, test your equipment ahead of time to avoid unforeseen technical issues.
Do promote your live session ahead of time to attract a bigger audience and make the overall session more engaging and interactive. Inform viewers about the right date and time by creating an event.
The best way to earn more followers is to engage with the audience during your live-sessions and make sure to respond to their comments. 
The Don'ts
Do not limit yourself to one place while you're live on any digital platform. Instead, do something innovative and entertaining to attract more followers.
It is very easy to get distracted and fall off the rails while you're on a live session. Therefore, make sure you stick to the topic of the session. Connecting with the audience is great, but going off-topic sucks the relevancy out of the session.
The biggest mistake you can make as a content developer is to leave a live session unfinished. Bear in mind that the longer you broadcast, the more time viewers will have to join you, but make sure that you do not stretch it for more than 90 minutes.
Never end your broadcast without a CTA. The aim of your live session should be to make the audience act upon it, and this is not possible until and unless the right call to action is stated at the end of the video. Lead the audience to the path that assists you in achieving your goals.
Creative Content Ideas to Build Social Presence
Following are only a few of the many ways content creators can use live streaming to enhance their follower base:
Cover an event
Create opinion videos
Respond to someone's video
Review a book or movie
Host a thought stimulating discussion
React to a current trend
Have a Q&A session
Host a giveaway
Compare products
Document interesting experiences
Check out this blog post for more mobile live streaming content ideas!
Final Thoughts
Live streaming is a fantastic tool to reach more people online and engage with your audience. Following the steps above will allow you to live stream to YouTube with your phone without 1k subscribers.
What will your next mobile live stream be about?
If you need more live video tools, consider live streaming from your computer with ManyCam!