When we conduct video conferences, one of the goals is to increase productivity in communication. That goal can only be achieved if we get the participants' full attention. But how?
Attending video conferences and conducting them are two completely different things. When the responsibility of conducting video conferences falls on you, you get a chance to increase efficiency and reach better results in communication. Let's get you ready to conduct video conferences!
In this blog post, we've put together actionable tips that can help you conduct video conferences with ease while increasing engagement and improving communication.
Want to enhance your video conferences? Download ManyCam for Free today!
How to conduct video conferences
There are many ways to conduct video conferences effectively, and each industry most likely has their "dos and don'ts." But, when we consider video conferencing a live communication tool, it's possible to apply live video concepts and techniques across all fields.
Regardless of your industry, when you conduct video conferences, it's vital to captivate your audience. Even if your audience is comprised of one person. What's more, you'll have to put in action the basics of video conferencing and follow a certain "etiquette."
Finally, when conducting video conferences, engagement is crucial. This is a fundamental element of live video in general, and online meetings are no different.
Captivating your audience
If we look back at video conferences we've attended in the past, many of them were, well, boring. More often than not, participants struggle to keep focused on the meeting. Though that can be an issue of in-person meetings as well as online meetings, the online aspect adds a new layer of distraction potential.
So, how can you beat distractions and get your attendees attention?

Engagement & Interaction
Two key elements can help you captivate them, engagement and interaction. We'll talk more about engagement below but it's all about creating an exciting experience for all participants.
Interaction plays a big role in video conferences because when people feel valued, they tend to pay more attention. Otherwise, if they are not going to participate at all, a recorded video would have done the work.
What's in it for them?
The most important question you can ask yourself before even inviting participants is What's in it for them? Perhaps they will learn something that will help them achieve better results. Or, it's an opportunity for them to shine and voice their opinion on a matter.
Any meeting has its goals, but they might differ from each attendees motivation for being fully present. When you give them a good enough reason, participants will be more engaged, attentive, and interested, which is vital for any successful video conference.
Before your meetings, think about the compelling reasons for them to attend and make sure they are aware of them.
The basics when conducting video conferences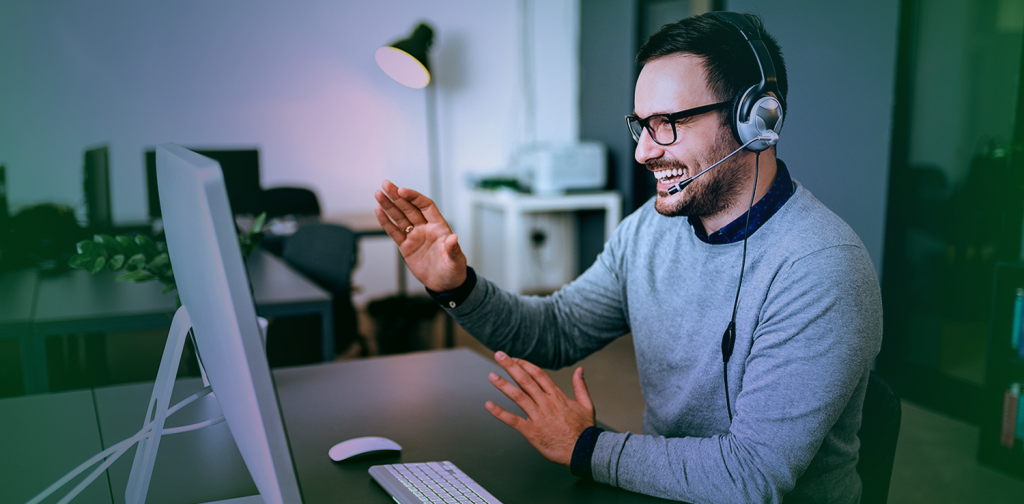 Test your equipment beforehand
Testing your video conferencing setup will ensure you have everything in place. It's key to be prepared for your video call. During your video call, you'll still have to keep an eye on the gear but, when you test in advance, it gives you more time to focus on what matters, which are the goals of the meeting.
This live video checklist, though it was created for live streams, fits perfectly for video conferences.
Send a reminder before the meeting starts
Sending all participants a reminder that the web conference is about to start can help you increase attendance. Also, you can offer to help others test their equipment with you before the time scheduled.
Introduce yourself and participants
Most people overlook the introduction of a video conference. Introducing yourself and other participants can help you create better relationships. Plus, it allows you to get others to interact.
State the goals and agenda of the meeting
The beginning of your meeting is also the perfect time to state your goals and agenda. When they know what to expect, it's easier for them to keep up with the meeting. Plus, you can give them some teasers to hold their attention until the end of the conference.
Keep everyone engaged
Addressing participants by name and raising the interaction allows you to keep people engaged. Others need to have a chance to talk during the online meeting or use a chat function to share what's on their minds.
Video conferencing etiquette
Here are some quick video conferencing etiquette tips that you can share with all attendees. It will make each conference much more productive.
Mute microphones
All participants should mute microphones when they aren't speaking. That goes for you as well. It allows the audio to be much clearer.
Headphones
Advise all attendees to use headphones during the call to avoid getting feedback sound, which will certainly distract everyone. A headset with a microphone will increase the audio quality of your video call.
Delay
During any video call or conference, there's usually a delay between the time a person said something and the time all participants heard it. A stable internet connection and proper software applications can minimize that but not completely mitigated. When you talk or listen, it's essential to keep the delay in mind.
Controlled movements
Another essential video conferencing etiquette tip is to be aware of your movements. The webcam during a video call tend to show your face and part of your upper body, so there's not much room to move around. Abrupt movements can be distracting, and continuous movements might annoy the participants.
Taking that into consideration will help you improve your video conferences while keeping participants focused on the topic at hand.
Video conference engagement
Increasing the engagement during video conferences can make a massive difference in the results you achieve. Whether your goal with the video conference is to solve problems, implement new procedures, or update and motivate the team, conducting a highly engaging video conference will get you there. Or, at least, much closer.
How can you increase engagement on video conferences?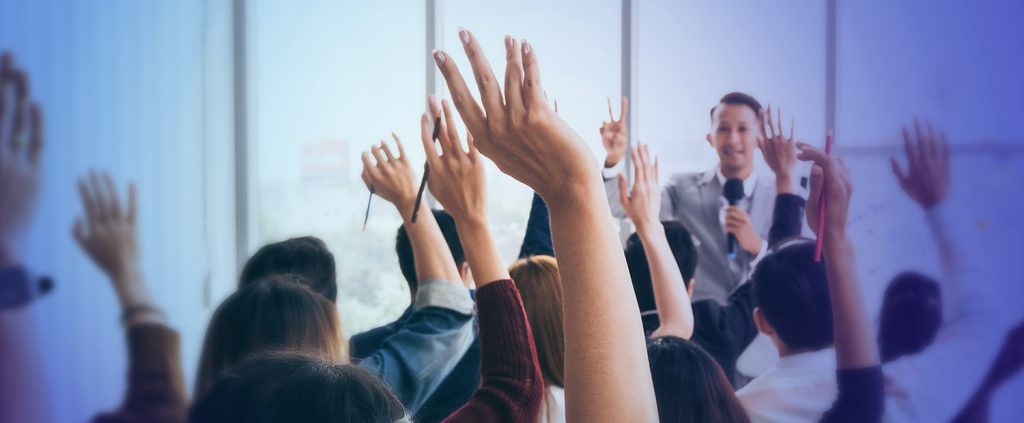 Dynamic videos
Focus on your goals
Encourage participation
Time for Q&A
Dynamic videos
Watching someone speak to a webcam for an hour is not engaging. It bores attendees within the first 5 minutes. But, with proper transitions, screen sharing, objects, and picture-in-picture windows, your video call becomes much more engaging. Your attendees will want to know what comes next.
With ManyCam, you can get access to a ton of live video tools such as the ones mentioned above. Download it for free today!
Focus on your goals
Many video conferences lack in focus, despite being dynamic, participants feel like it's a waste of their time. If you focus on your goals and deliver your message effectively, the meeting will be much more productive.
Encourage participation
As we talked about above, a significant part of engagement is interaction. Some participants might need an extra push or motivation to take part. You, as the host, have a responsibility to encourage the attendees to participate. It's part of the job when you conduct video conferences.
Time for Q&A
When you allocate time for your online meeting, always put aside some time for Q&As. Either before the end of the call or during it, you should prompt attendees to ask questions. These questions are a great way to increase interaction and to make sure they are keeping up with the topics.
Key Takeaway
When you run an online meeting, it's on you to achieve the intended results. Getting participants engaged will help you make the most out of your video conferences. Simple changes in your tactics can boost engagement, productivity, and results when you conduct video conferences.
How are you going to improve your next video conference?
Check out more professional live video tips:
Industries from healthcare, marketing, and education to financing and entertainment have experienced first-hand the countless benefits of video conferencing. At first, video conferences were… (Continue reading)
Business presentations play a massive role in success. Whether you are a business owner, consultant or freelancer, knowing how to deliver compelling live online presentations is an absolute must. We've put together 11 tips to help you create rich presentations that get you the results you need. (Continue reading)