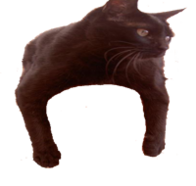 Nedscot just uploaded some cool graphics today, including my personal favorite called "cat wig".  Want to make it look like you have a cat sitting on your head?  Try out Ned's cat wig now!
Thanks Ned for uploading these cool new graphics.
Don't forget any ManyCam users can add graphics to the ManyCam Effects Library.  Check out the ManyCam Help page for instructions.