Improve communication when video conferencing from home with ManyCam
In between COVID-19, self-quarantines, and lock-downs, the need for effective video conferencing from home is more significant than ever. Businesses worldwide rely on daily communication to keep producing results in or, at least, minimizing the impact of such challenging times. Access live video tools to ensure effective communication and successful video calls when you do your video conferences with ManyCam.
Video conferencing apps
Regardless of the video conferencing app your team uses, whether it is Bluejeans, Zoom, Webex, or any other, the key to better video conferencing at home is expanding your live video toolbox. With a live video and webcam software, you can use additional tools seamlessly during your video conferences.
Picture-in-picture windows, pre-recorded videos, screen sharing, and background replacement are just a few examples of what you can do to enhance your video call with webcam software. ManyCam goes beyond the capabilities of any other webcam software because it's also a live video software. In other words, you get many more features to apply to your web conferences when working from home.
Download ManyCam today to enhance your video conferences!
What's a webcam software?
A webcam software application connects your webcam to the platform you are using, for example, video calls or conferences. It usually has basic functions to help you improve the image quality. ManyCam goes far beyond the basics.

ManyCam is a live video software application that can be used as a webcam software or virtual webcam. Apart from its live-streaming tools, ManyCam connects to video calling apps and web conferences as a webcam and gives users access to all its tools during their online meetings.
Connect ManyCam to your Video conferencing app
Even though each video conferencing app is different, connecting ManyCam is as simple as it gets. Before your video conference, you can go to your platform's video settings (e.g. Skype) and select ManyCam as your virtual webcam and as your audio source if necessary.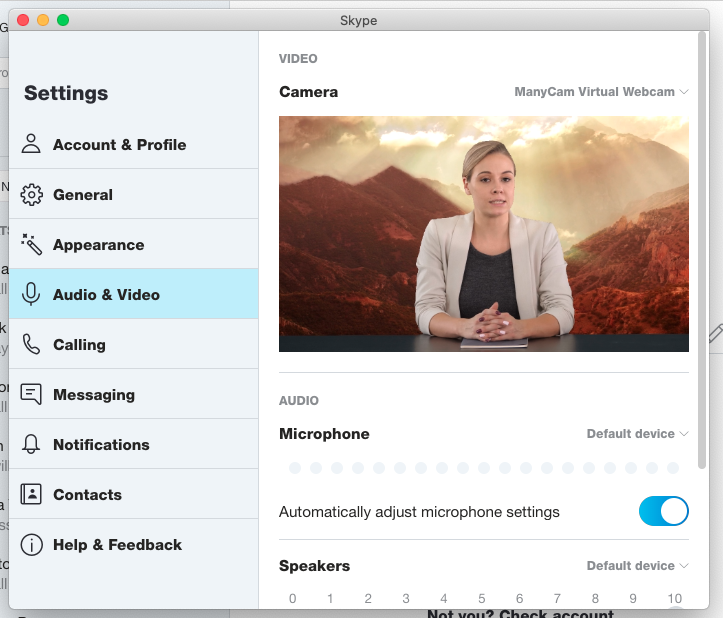 Some web conferencing apps might not show you the Video Settings right away, but as soon as you start a call, you'll see the icon for your camera, and you can change it to ManyCam. For instance, on Zoom, you can start a meeting by yourself, and the icon will pop-up.
It's a great opportunity to test your video conferencing equipment to make sure you are all set. Working from home might have its challenges, but you can still deliver high-quality video conferences when you rely on ManyCam for some help.
How to improve your video conferences with ManyCam
When working from home, video conferences become one of the most critical points of contact among teams. Emails and chat messages might be sent back and forth all day but, it's during video conferences that the I's are dotted, and T's are crossed.
Replace your background on video conferencing apps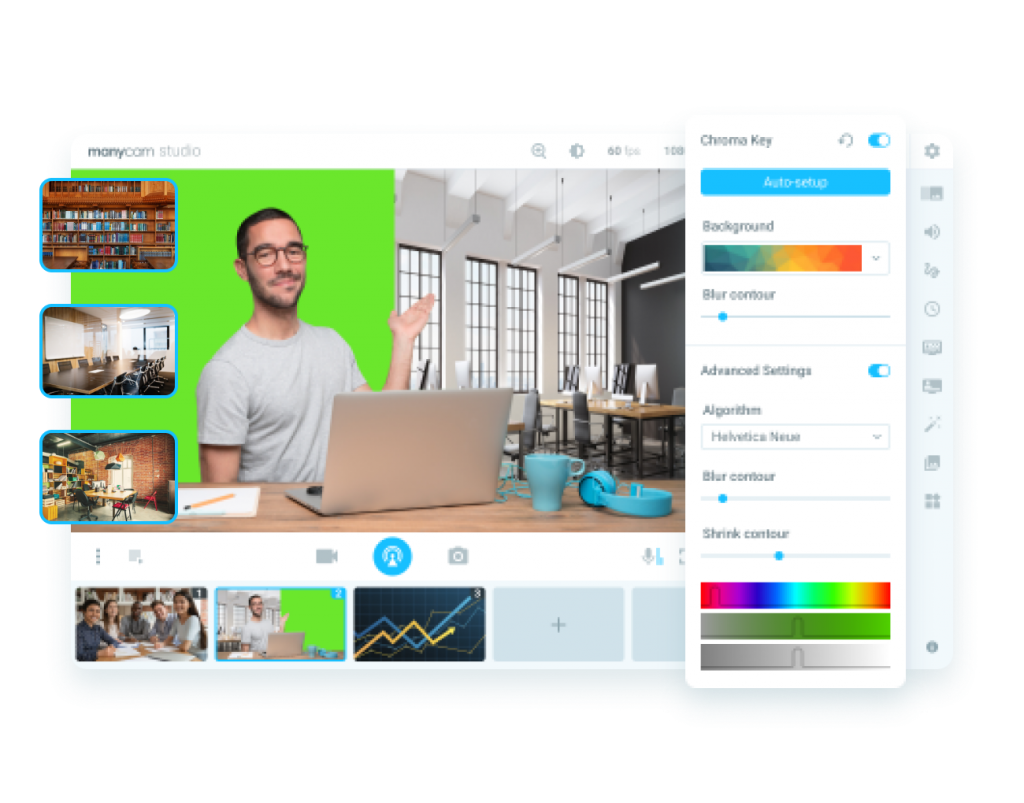 A common issue many people face during video conferences when working from home is their background. A busy or messy background might tell your boss more about you that he or she needs to know. It can also be distracting for the attendees if your kids or pets are running around in the background.
With ManyCam, users with a green screen can remove their background with the Chroma key feature and replace it with images, videos, or any other video source. Some users prefer to purchase a green screen so they can set it up properly, but it can work with other colored backgrounds too.
Also, ManyCam recently released two beta features that allow users to blur their background or replace their backdrop with a virtual background without needing a green screen. The goal with background replacement is to keep the focus during video conferences on what matters.
Get ManyCam Studio to unlock Chroma Key and other amazing features!
Add multiple resources and switch between them live
Another ManyCam feature that comes in handy when you participate in online meetings from home is the video switcher with multiple video sources. Business presentations require additional resources such as slide deck presentations, pre-recorded videos, and external websites.
ManyCam users can add all of their resources as video sources presets, and when it's time to do the presentation, they can switch between presets with the click of a button and smooth transitions.
Use picture-in-picture layers to maximize engagement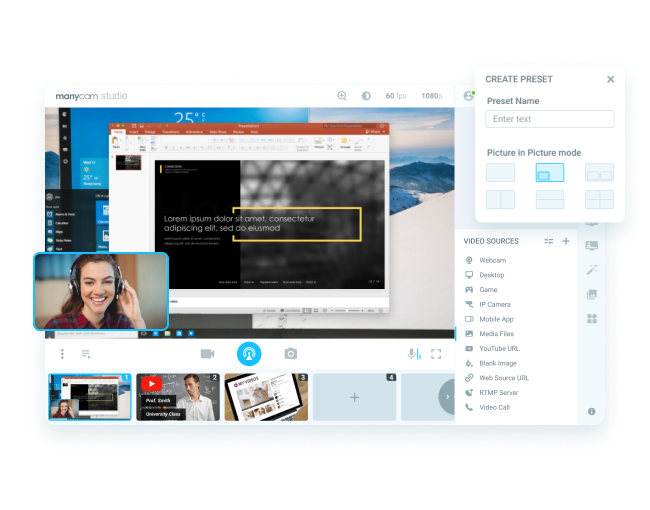 Distraction can be a common issue during video conferences, especially when working from home. If the other attendees can still see your webcam view while you talk numbers and show spreadsheets, the chances of them staying focused is much higher. Also, it improves communication all around during web conferences. This is a great way to enhance your video conferences with ManyCam.
On ManyCam, users can add their webcam as one video source and resize the window to fit the screen the way they see it's best. Then, they can add other layers with items from their presentation, such as Powerpoint presentations or any other video source.
Learn more about the Picture-in-picture feature on ManyCam!
Share your screen, websites or apps
Video conferences usually require employees to share visual information. Even though most web conferencing apps allow users to share their screen, ManyCam takes it a step further. ManyCam users, apart from sharing their entire screen, can select custom areas, specific apps, or windows to share during their video conferences.
Also, when users are sharing their screen, they can use drawing tools to highlight important information and drive attention to what matters most. That's crucial for remote work in particular because miscommunication, when the entire team is working from home, can lead to huge disasters.
Increase the video conference quality with the right settings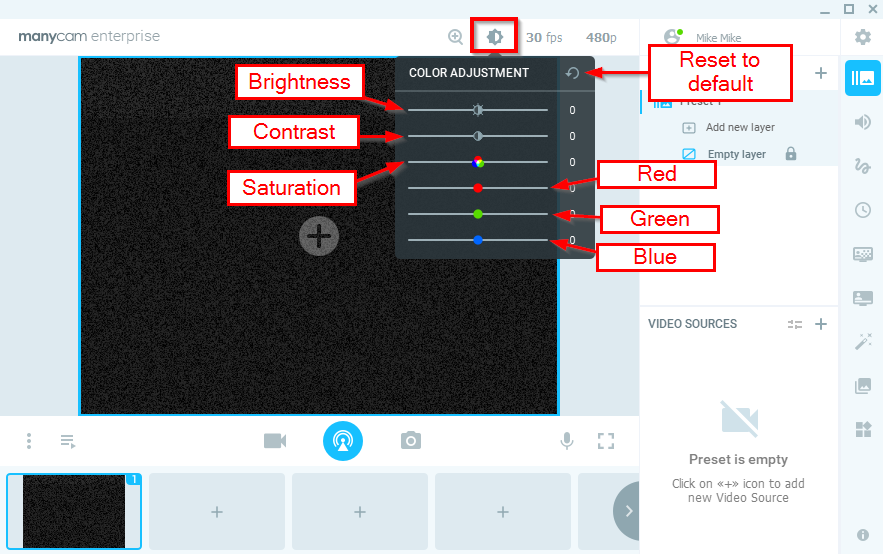 Video conferences from home can be challenging from a video quality perspective. The shift to telecommuting has been sudden due to the coronavirus situation. Most businesses and individuals weren't entirely ready. The lack of proper video conferencing equipment might take a toll on the video quality, especially for those who don't have very good lighting.
When you connect ManyCam to your video conferencing platform, you can tweak your video settings to improve the overall quality. For example, you can adjust the brightness and contrast of your webcam to compensate for some lighting issues.
Make the most out of visual aids to get your message across
In a regular meeting, it's hard for participants to wander off and do something else with the "I'm listening" excuse. Online meetings require the use of additional resources to keep everyone focused. When doing video conferences with ManyCam, you can add effects, lower thirds, clocks, and much more while on your video conference.

Final Thoughts
If you are working from home, improving your video conferences is paramount. Even if you only apply one or two tools mentioned above, you'll already improve your web conferences and the overall communication.
Share this working-from-home solution with your team so that everyone can communicate in the best possible way during these challenging times.
Check out more blog posts about video conferences with ManyCam:
When you work from home effectively, increasing productivity means finding work-life balance and living your best life. (Continue reading)
Business presentations play a massive role in success. Whether you are a business owner, consultant or freelancer, knowing how to deliver compelling live online presentations is an absolute must. We've put together 11 tips to help you create rich presentations that get you the results you need. (Continue reading)