Virtual Backgrounds Made Easy
Manycam is the go-to virtual camera to blur, replace or remove your background while live. It connects to any video conferencing app and helps you elevate your meetings, virtual training, presentations and webinars with tons of professional live video tools.
More than 100 Million Downloads!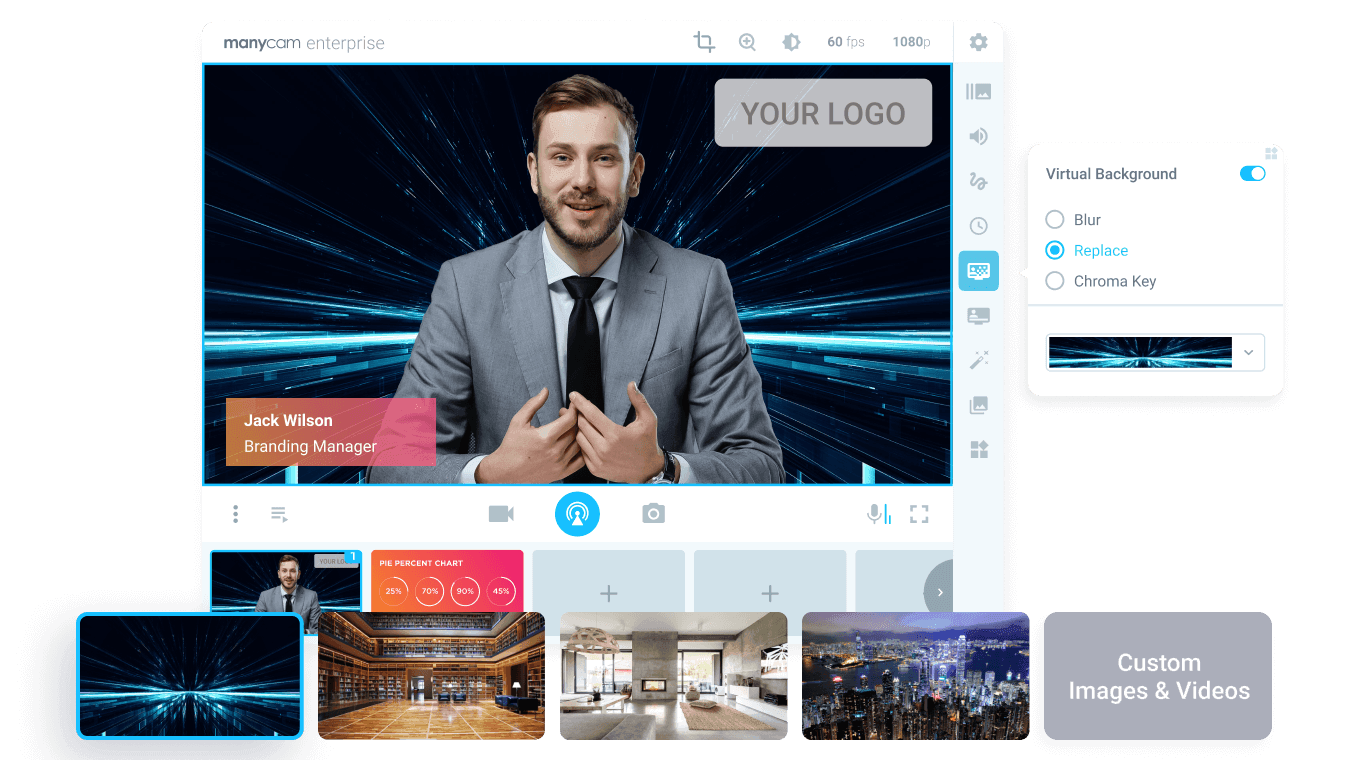 Trusted by






































































Blur, Remove or Replace Your Background While Live
Optimal Performance (Win & Mac)
HD Images & Videos
Custom Virtual Backgrounds
With Manycam, you can activate the Virtual Backgrounds feature with the flip of a switch. It identifies your background and allows you to quickly blur it before your virtual meeting, webinar, remote training or live stream. You can also remove your background or replace it with the high-quality images and videos available, without the need for a green screen!
Best of all, you can add your custom images or videos so that your virtual background is completely personalized and branded.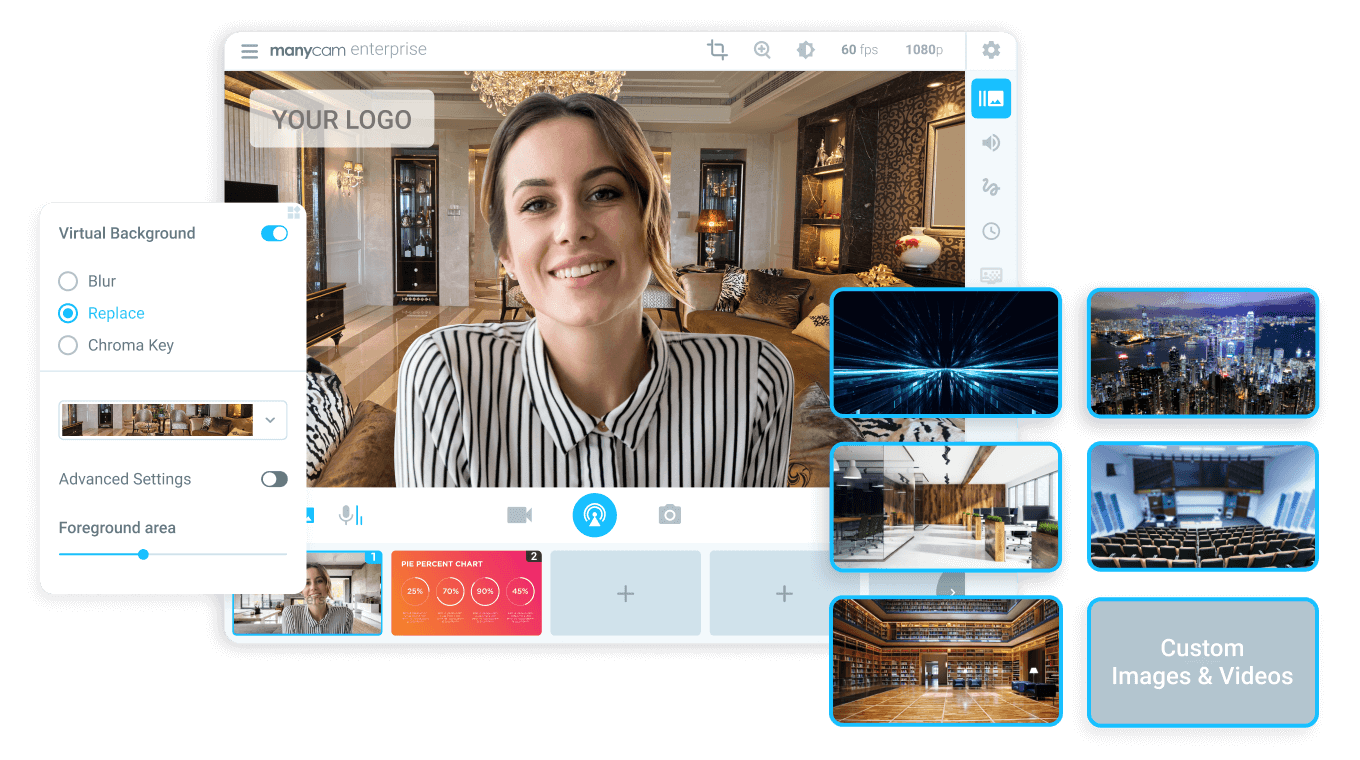 Expand Your Video Tools on Any Video Conferencing App
Virtual Camera Software
Multiple Video Sources
Crop Webcam View
Manycam is a virtual camera that easily connects to video conferencing apps, teaching platforms and live streaming channels. Once connected, you can access the Virtual Backgrounds feature and a ton of video tools. With a quick custom build, Manycam can also be used with your VDI solutions along with your preferred video conferencing apps.
Users can add layers, crop and resize video presets, use PowerPoint slides, documents, video sources and much more. For maximum productivity, save your presets and projects to use again in the future.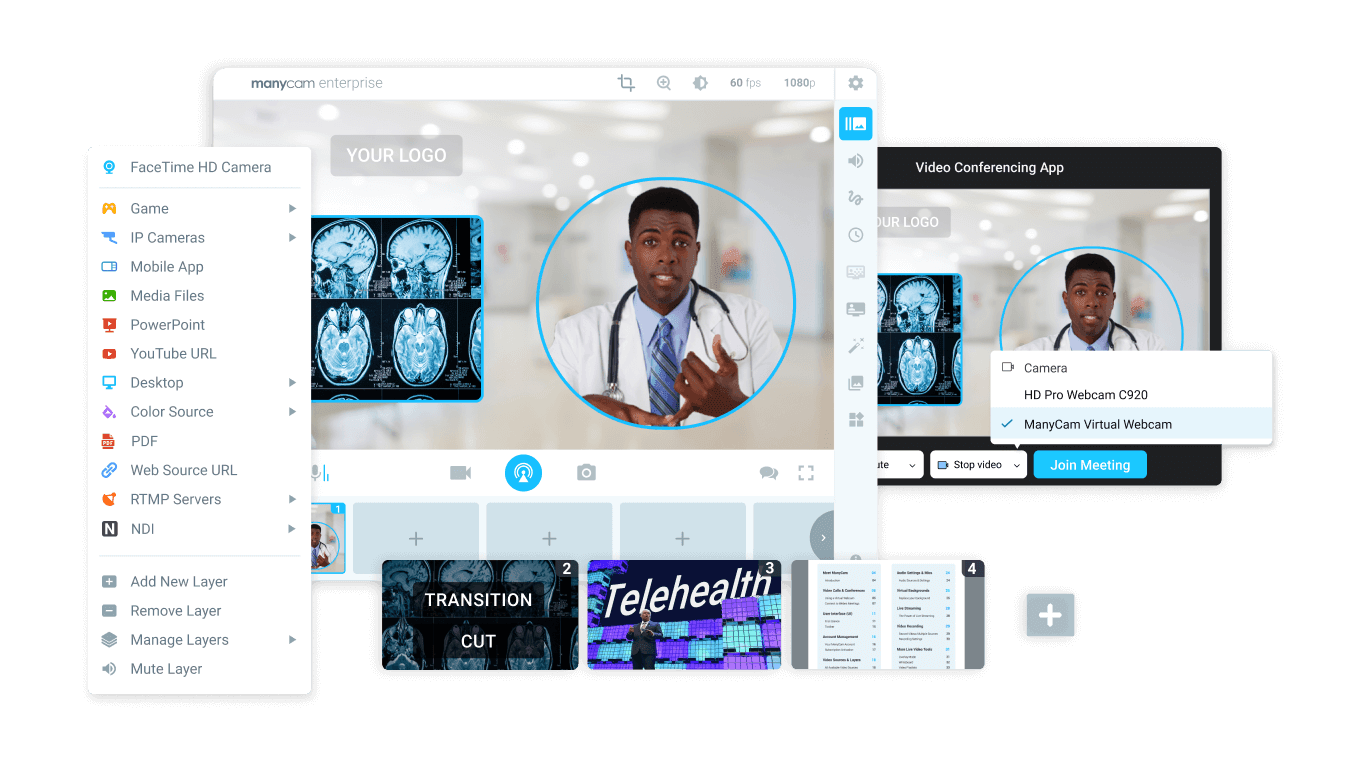 Use Chroma Key to Replace Your Background Like a Pro
Green Screen Feature
Advanced Adjustments
Crisp Background Removal
If you have a green screen for your live videos, the best way to remove or replace your background is to use the Chroma Key feature. Manycam's Chroma key is easy to use and gives you full control of your background removal for high-quality remote meetings, business presentations, virtual training and online classes with glass boards and much more.
The green screen advanced adjustments allow you to fine tune your results and produce high-quality videos.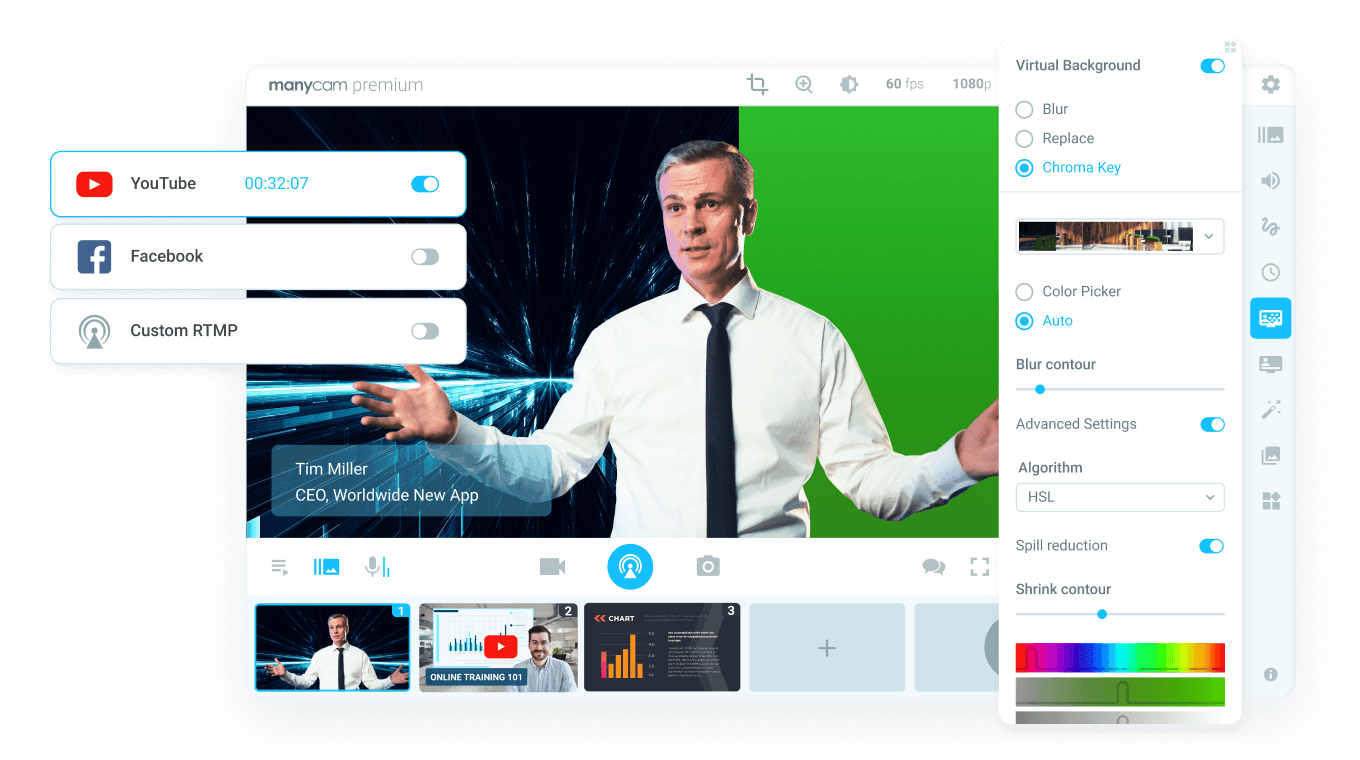 Quick Overview
Easily add high-quality Videos & Images or use video sources as your background.
Low CPU usage with hardware acceleration on Windows & Mac.
Crop your webcam view, add other layers on top and customize your videos.
Save your video presets and projects for future meetings, trainings & webinars.
Upgrade your live videos with Manycam's Virtual Backgrounds today!
Customize Manycam for Your Business' Needs!
Each business has its own needs. Manycam's team is ready to help you get the solution that's right for you.
Whether you need a custom build with specific features, your own background images or for your VDI solution, we are here for you.
Contact our Business Team today!



Thank you for your interest!
We will reach out to you shortly.