Getting Started
Overview
ManyCam got its name from the ability to use a webcam with many webcam applications or websites simultaneously. For example ManyCam allows users to use Skype, Google Hangouts,and Facebook video chat simultaneously. Since its 1.0 release in 2006 ManyCam has added many more incredible features including amazing video and audio effects, text over video, broadcasting your desktop as a video source, broadcasting videos and photos, recording video to your desktop and saving photos, plus the ability to add the date and time to your video and much more.
ManyCam 5.0 has many exciting new professional quality video broadcasting features. ManyCam has now become a professional quality video switcher. Use ManyCam Pro to quickly switch between video sources including multiple webcams, your desktop, videos, photos, and broadcast your live video show to the world using any app or website!
System Tray
When ManyCam is launched, it appears as a tray icon. If ManyCam is not active, the tray icon has a red rectangle in the bottom right corner. If ManyCam is used, the red rectangle is replaced with a green triangle.
Clicking on the tray icon will open the main ManyCam window (thus making ManyCam active).
Main window & Menu
Clicking "ManyCam" in the top left corner of the main window opens the main ManyCam menu with the following options:
Hide/Show ManyCam — minimize the ManyCam window to tray.
Full Screen Broadcast — allows you to see your live output video in a separate full-screen window. For example, you can drag this window to another monitor and use it with a projector.
Getting started — opens a web page with lots of different useful "How-To videos".
Settings — opens the ManyCam Settings window.
Help — the ManyCam Help page on the website.
About — shows the ManyCam version, copyright information and a shortcut to the manycam.com site.
Exit — closes the application.

(ctrl + Q)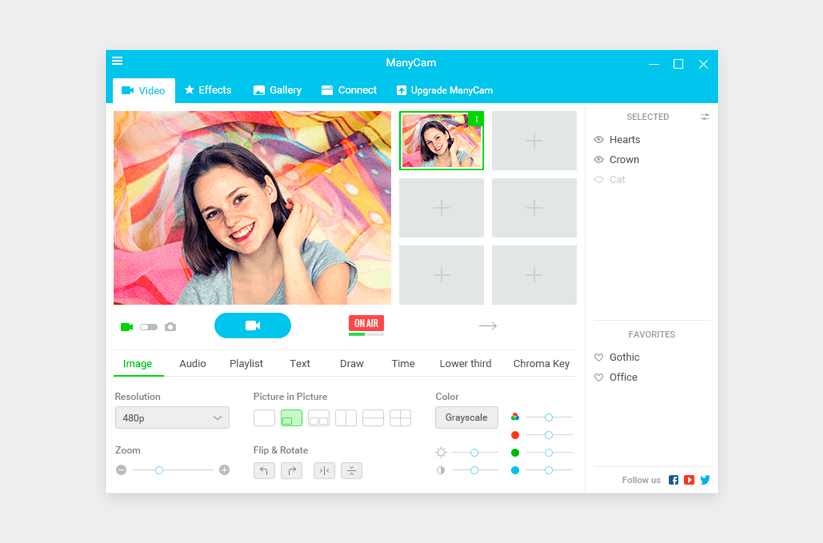 Was this article helpful?
405

out of

792

found this helpful