ManyCam 7.8 is live with new features and improvements to make your video conferences, online classes, and live streams better!
The world, more than ever, relies on digital solutions for effective communication. The shift from physical to digital continues to expand, and live video has become a crucial part of business. Whether you take part in video conferences, provide online classes or stream live content, ManyCam 7.8 has the right tools for you.
This blog post is an overview of the new features and improvements added to the new version of ManyCam. Discover how you can make the most out of the latest update!
 If you want to jump right in, download the latest version here.
What's new on ManyCam 7.8?
ManyCam 7.8 is live on Windows and Mac OS with new features and overall improvements that will make your live video production better and your workflow much more smooth.
Live whiteboard
Whiteboards have long been a part of the educational environment, regardless of the age group or type of class. They also play a role in many business meetings such as brainstorm sessions, strategy development, and training. Now, you can have your very own digital live whiteboard to deliver engaging live videos.
With ManyCam's Whiteboard, you can easily draw, scribble and add text on your virtual whiteboard while live or when recording. Users have a ton of tools at their disposal, such as pens, highlighters, shapes, stamps, text, and colors. Also, when using the whiteboard, you can reposition the canvas on the screen, change its opacity or even save your notations for later use with ease.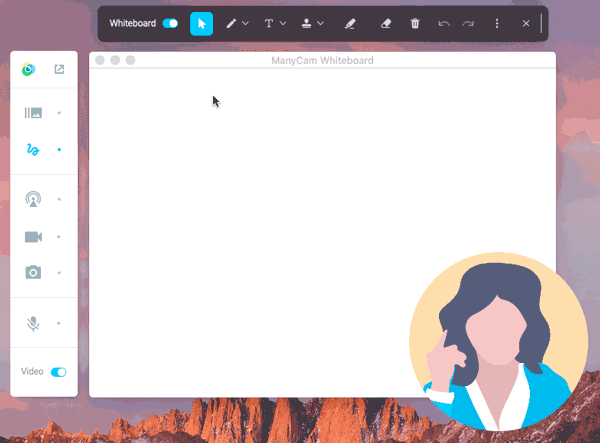 Save projects
When working with video, productivity is essential. If you are a teacher, you want to be able to prepare your classes in advance, as well as save your class's content to reuse with other students, and so on. The same goes for business meetings, consultations, and product demos.
With that in mind, you can now set up your video presets with sources and then save them as a project on your computer. When you are ready to use it again, you can simply open your saved project inside ManyCam. 
With this functionality, users can save their work for future use as well as a backup. It's a great way to save time and improve your overall workflow with live videos.
Export and import presets
Sometimes, when working on live videos, we might need to use similar presets on multiple projects. With the new export and import presets feature, you can now set up your preset and export it. It will save a file on your computer, which you can later import into another project. 
With this feature, you don't have to recreate your preset every time, thus amping up your productivity with live videos like never before!
New virtual backgrounds model
As we all know, working from home means we have to consider our backdrop when we participate in video conferences, teach online, or live stream. Not surprisingly, virtual backgrounds have become standard practice on live video. It saves time since we don't have to worry about organizing our real environment, and we can choose to be anywhere in the world. It's nice to dream. 
ManyCam version 7.8 comes with a new virtual background model with better quality and overall performance. Among the backdrops available, users can even find a high-quality office video. Plus, users can add their own images and videos as a background while live!
ManyCam 7.8 – Ending Note
Apart from these features, this version comes with performance improvements and bug fixes to help you take your live video productions to another level.
Download the latest version of ManyCam here and take it for a spin!
To stay up-to-date with ManyCam, follow us on social media!