Live video tools are essential for high-quality video conferences and live streams. Here is what's new on ManyCam 7.7 to step-up your live videos!
ManyCam has all the live video tools to enhance video conferences, live streams, and online classes. Version 7.7 comes with new features and improvements that will make your live video productions better than ever. In this blog post, we've gathered some of the highlights of this update. 
What's new on ManyCam 7.7?
New feature: Overlay
The overlay feature is a quick access panel that takes very little space on the side of your screen. It allows users to access the main functions such as Presets panel, Drawing, Live Streaming, Recording, Snapshots, Audio Inputs management, Background replacement, and Live Preview controls.
It's a great way to enhance business' presentations on video conferences and online teaching classes. The overlay also helps users create video tutorials quickly while recording their screen. 
Learn more about the overlay here!
New video sources
Multiple video sources are the best way to deliver dynamic video conferences, live streams, and online teaching. That's why ManyCam's always adding new options so that users can amp up their creativity and productivity.
Here are the new video sources available:
PowerPoint Slides
Add your PowerPoint slides as a source and flip between the slides right on the layer window.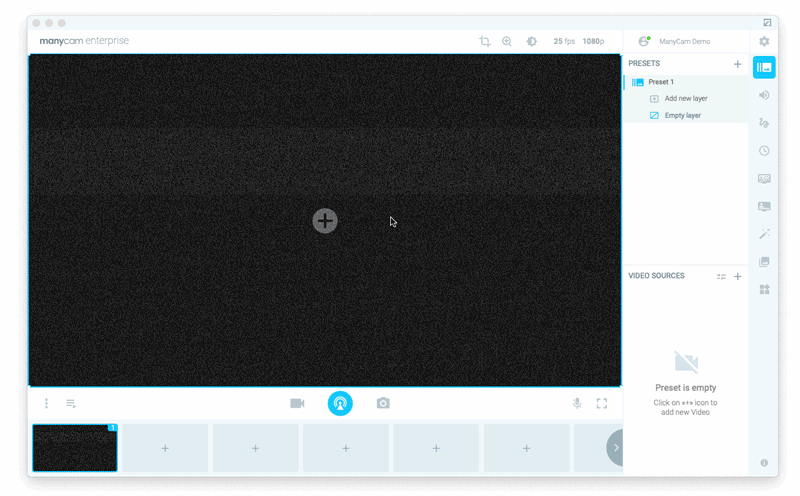 PDFs
Use PDF files as a video source and change pages with the controls on the layer itself. 
Color source
Previously known as "blank image," the color source option allows users to add layers with a solid color. 
NDI Source
In case you missed our previous updates, another recently added video source is the NDI source.
NDI® (Network Device Interface) is an open protocol for Video over IP, developed by NewTek. It allows the distribution of live professional video over an existing IP infrastructure, freeing users from hardware constraints with little latency.
Skype and Microsoft Teams are two examples of compatible NDI sources that you can add to ManyCam. It's a great option to live stream interviews, podcast recordings, and so on. You can also add the NDI sources and record your meetings.
ManyCam can also be used as an NDI output source, which means you can add it as a video source onto any compatible app. 
Extra tip: The new ManyCam app for iOS can be an NDI source. So you can use your mobile devices as document cameras on ManyCam.
Layers
Working with different layers is crucial when creating dynamic live videos. This version of ManyCam makes it easier for users to manipulate layers. Let's take a closer look.
Crop panel
The new crop panel is a fantastic addition to ManyCam. Not only does it give users the ability to crop layers and adjust how they fit inside the window, but it also allows users to round the layers' corners and change its opacity.
Extra tip: When resizing layers, if you hold down shift, ManyCam will maintain its current aspect ratio. If you hold down control or command on Mac OS, it will make a perfect square.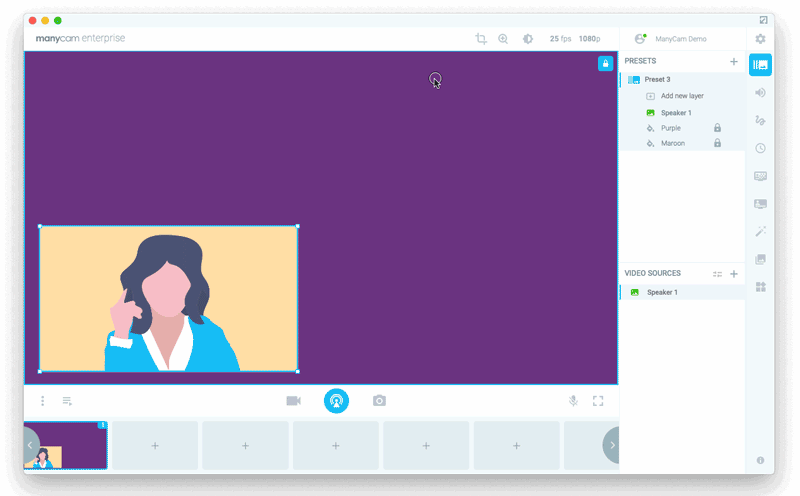 Repositioning layers
When you click and drag a layer on the live window, ManyCam displays basic guidelines to help you align layers with ease. The layers also stick to the centered guidelines as well as one another.
Check out the example below of how the layer snaps to the guides.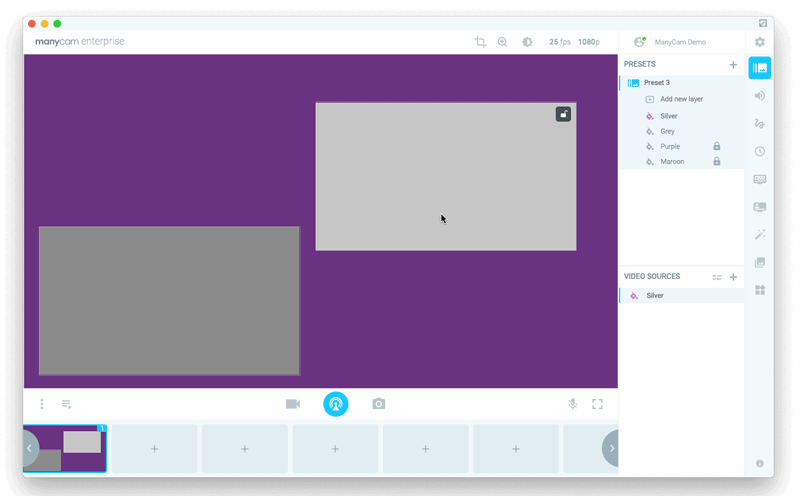 Zoom
To zoom in and out of a layer, apart from the controls on top, you can also hold down control (or command) and scroll in and out of the layer's source. Then, if you want to reposition the source within the layer, you can hold down the same key, click on the layer, and drag to the desired position.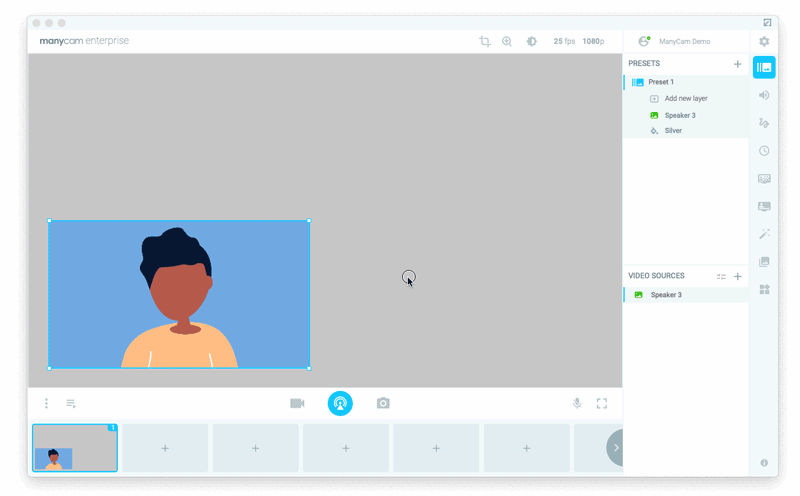 Lock button
Another addition to the layers functionality is the lock button right on the live window. It makes it easy for users to lock layers to ensure they don't make any changes by mistake.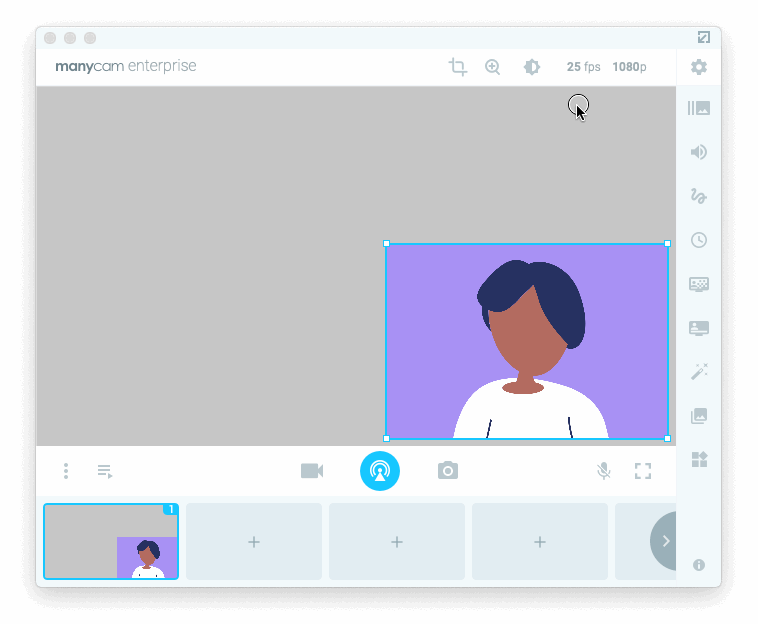 Virtual backgrounds
The Virtual Backgrounds feature of this new version of ManyCam performs better than ever. Best of all, users can now add videos as their background source as well as images.  
Performance update
In terms of performance, the latest version of ManyCam is better than ever. The team added new encoders for hardware acceleration, including OpenVINO and Intel encoders, making a massive difference in the overall CPU usage.
Download the latest version of ManyCam here!