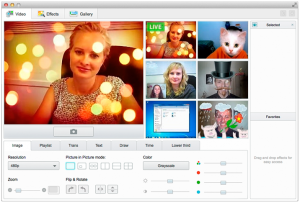 We are very excited to announce that ManyCam 3.0 for Mac is officially available for download on our website. This major new version includes many awesome new features such as:
A totally new user-interface: ManyCam for Mac's new user-interface is more responsive and intuitive. Much like our Windows software, everything is now organized under three tabs – Video, Effects and Gallery.
Multiple video screens and input sources: We have added multiple video screens and input sources, allowing users to quickly switch between video screens and sources with our live video studio switcher. Input sources include web camera, desktop capture, media files, and blank images.
New Gallery Feature: Easily access your saved videos and images in the new Gallery tab!
New Favorites Feature: Drag and drop frequently used effects to the favorites area for quick and easy access!
Search Feature: Look for effects, pictures or videos by typing in the new ManyCam search box.
New video options: We have added several new video resolution options, video playlists and pre-sets as well as transitional layers.
Picture-in-Picture modes: As seen in our Windows software, ManyCam Mac users can now take advantage of new Picture-in-Picture modes.
Lower Thirds: Your broadcasts and videos will look more professional with our new Lower Thirds feature!
New and improved effects: Not only did we add a new effect category – Emoticons, but all effects found on our website can now be used on both Windows and Mac versions of ManyCam. You can also create your own effects and download them directly to your computer.
There are also many other small changes and bug fixes that are available on the detailed change list.
Download ManyCam 3.0 for Mac Today!
ManyCam 3.0 Pro for Mac is also now available and allows users to unlock more video screens and video sources, HD resolutions, picture-in-picture modes and much more! We are even offering 20% Off ManyCam Pro for Mac for a limited time only. Check out our website for more details.
Buy ManyCam 3.0 Pro for Mac Today!
Please note that ManyCam Mac 3 is not compatible with older versions of ManyCam Mac Pro. If you are already a ManyCam Mac Pro user for version 2, you will need to purchase a new activation code for version 3.
Current ManyCam Mac Pro users can upgrade for 50% off, just enter your current activation code at checkout! Click Here to Upgrade.