ManyCam just launched version 6.5 for Windows with a completely recreated driver, a brand new Picture-in-picture feature and much more. In this blog post, you'll learn everything about this new update and how ManyCam 6.5 can help you level-up your live videos.
When it comes to live video, whether they are live streams, video calls, web conferences or webinars, it's crucial to have the right tools. Live videos need to have rich content, be engaging, interactive and they leave no room for mistakes. With ManyCam, you'll be able to create engaging content with up to 24 video sources, multiple picture-in-picture options, different types of effects and many other features.
ManyCam 6.5 Summary
Here is a list of the changes made to ManyCam 6.5:
Added Metro Apps support.

Added YUV color space support.

Improved scaling quality.

Improved cropping logic.

Added a few more resolutions (2K, 4K).

Improved visibility for business applications.

Added free Picture-in-Picture.

Added Sync Offset feature for web camera source.

Added ability to rename default video driver.

Added QSV decoder for IP cameras.

Resolved several crashes.

Bug fixes and stability improvements.
Download the latest version here
ManyCam 6.5 Highlight: Updated Driver
ManyCam's driver has been completely recreated which led to many other improvements. The driver allows for better recognition of ManyCam as a virtual webcam. Which means, ManyCam can easily be connected to many more apps, for example, Adobe Connect and Metro Apps.
Within the driver, ManyCam 6.5 has also improved the scaling quality and cropping logic. So, if there's any scaling or cropping due to the app specifications, ManyCam will find the best scaling solution for your video.
Regarding the video quality, the new driver also added YUV color support which is a different color coding system. It also added more resolutions (2K, 4K) and the frames per second were drastically improved.
ManyCam 6.5 Highlight: Picture-in-Picture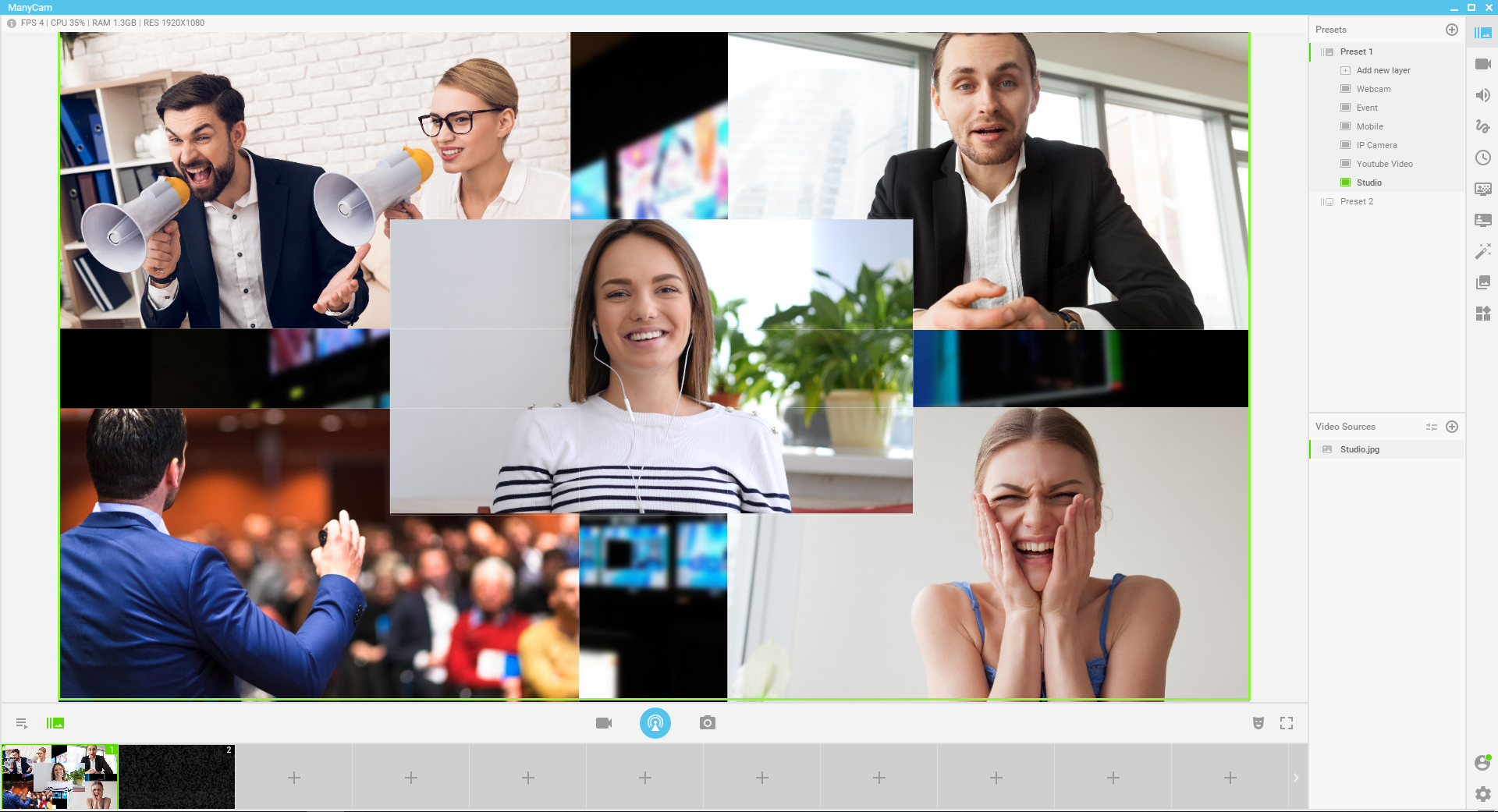 The Picture-in-Picture feature has been redesigned and is more exciting than ever. Now you have much more control over your Picture-in-Picture sources and endless possibilities. Since you can control the disposition of the layers within your main scene, you can choose to add as many layers as you would like and position them to best serve your video.
When you right click on any of your Picture-in-Picture layers, you can rearrange their position, bring that forward or send them backward. Combined with resizing them and dragging them around in your scene, which was already possible before, the possibilities are endless now.
Make sure you head up to our Download page and get the latest version today!
When it comes to ManyCam, there's always something new coming up and if you want to keep up with ManyCam news, make sure you follow us on Facebook and Twitter. We're always there, talking to ManyCam-ers or sharing the latest blog posts, news and promotions.
If you are just starting out with ManyCam, we recommend you visit our YouTube channel, where you'll find many tutorials, live video tips and videos from our community.
For any assistance, contact us at support@manycam.com.
Let us know what you think of ManyCam 6.5 in the comment section below!
Note: If you already have an active subscription to one of our plans, you can update your version for free. Just go to Download ManyCam, hit the Download button under Free Version. Once you install it, log in to your account, activate your subscription and enjoy ManyCam 6.4!